Estimated read time: 4-5 minutes
This archived news story is available only for your personal, non-commercial use. Information in the story may be outdated or superseded by additional information. Reading or replaying the story in its archived form does not constitute a republication of the story.
LAYTON — As Janelle Call Davis sifted through submissions to her Giving Earth Project, former federal special agent Christopher DeSantis' story of working with veterans "just clicked."
"He signed up with this group to help veterans, because I think he can relate to the background that they have," Davis said. "You've got soldiers coming home that have seen things that the rest of us are lucky enough that we haven't had to see but we're blessed because there's people out there who are willing to go and fight the hard fight for us. And I think he's just trying to find peace now in his life, and it seems like he is… he's able to help these veterans find their peace and find a new way to adapt to what their circumstances are now."
Davis started the Giving Earth Project last March. She is a stay-at-home mother, but wanted to reach outside of her home and recognize someone for the good they are doing out in the world. As a ceramic artist, she decided she could honor one of these people with a piece of art about their story.
"I don't think volunteers do this for accolades, I think they do it because they're trying to put good out there," she said.
She was looking for anyone, really. Her flexible criteria included active volunteers and "someone who's continually baking meat loaf for the neighborhood when they're sick."
More than 30 people submitted suggestions for recognition, Davis said.
Interested in adaptive recreation?
Visit recreation.slco.org for general adaptive programs The county offers archery, rock climbing and golf programs specifically for veterans, though community integration is the goal of all adaptive recreation programs, program manager Jeff Burley said. You can contact Burley at 385-468-1515 or jburley@slco.org for program details.
"I spent a lot of time crying, to be honest. I knew I would get that because you're asking for people's stories of goodness and you're getting it. It's like honey, how wonderful all of these bits of goodness are coming together."
Davis ended up choosing to recognize DeSantis, a retired federal special agent. Since his retirement, he has spent his time working with veterans in climbing and kayaking programs with the Salt Lake County Parks and Adaptive Recreation, the VA and Team River Runner.
DeSantis, who said he has experienced PTSD, has found peace in nature, and enjoys sharing his passion for it with veterans in adaptive programs. During the summer, he is gone for weeks at a time, kayaking and climbing all over Utah and the Grand Canyon.
"The whole climbing, kayaking, escaping into nature thing really brought me back from kinda the brink of madness," DeSantis said. "Spending so much time in federal law enforcement, you see the worst of everything in life and people. Guys in the military, they sign up and they do it for four years, six years, but people in law enforcement do it for 10, 15, 20 years."
The vessel Davis made echoes his story. She says her artwork is supposed to be a narrative, and this one, tells of DeSantis' love of nature, including the red rocks of Southern Utah and the Quaking Aspens found in Utah's mountains.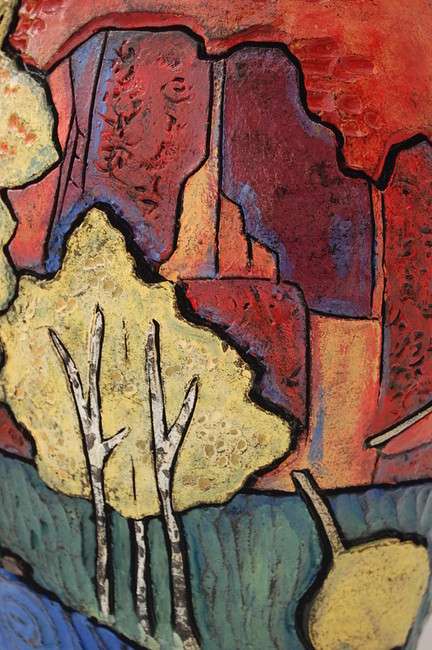 "(It's) a collection of his favorite things from nature and how it brings him peace," she said of the finished vessel.
The recognition came as a surprise to DeSantis, who said he didn't feel he was the person who deserved it. He was nominated by Susie Shroer, the adaptive program coordinator at Salt Lake County Recreation and was presented the gift Monday.
"To be nominated by someone like Susie. I just don't get it," he said. "She's like the purest, most selfless soul I think I've ever met. She dedicates her life to helping everybody else and she does it full time, over time. … If I were going to nominate somebody, I would nominate Susie."
Still, he said the recognition has helped reinvigorate him, for which he said he has Davis to thank.
"It's nice to have something that I can wake up and look at every day and kinda remind myself of those things," he said of the things represented on the vase. "Because they're the type of things that if you're not constantly reminded of or constantly mindful, it's easy to regress and slip backward."
Davis is already accepting submissions for her next Giving Earth Project recipient.
"I'm hopeful it will continue on and that I will be able to connect with more volunteers and that we can actually give recognition to these volunteers," she said. "I know it's kind of ironic to give volunteers recognition, because they're doing it for a different reason. But I think it's important, too, that we give them a pat on the back every once in awhile. Because that's what life needs to be — we need to stop focusing on dark things and start focusing on the lighter things too."
To submit someone to the project, email Davis at givingearthproject@gmail.com before April 20.
×
Photos
Related stories
Most recent Utah stories