Estimated read time: 3-4 minutes
This archived news story is available only for your personal, non-commercial use. Information in the story may be outdated or superseded by additional information. Reading or replaying the story in its archived form does not constitute a republication of the story.
KAYSVILLE — A Kaysville man recently recreated Star Trek's famed Starship Enterprise using more than 18,000 Lego bricks.
The model is a little over 5 feet long and took about eight months to complete, including breaks for the holidays, according to builder Chris Melby. He supported the structure without any glue by using various layering techniques, like building modules that can slip into each other.
"My mission is to do things that have never been done," he said. "I'm trying to experiment with different techniques. I'm using the Lego brick in a different way to make a real smooth look, so most of my builds are nontraditional. I've made it a real point to brand my builder name with projects that would have been thought impossible to build out of Lego."
Melby said there was a lot of trial and error involved since the Enterprise is so round and delicate. He used Lego's free digital designer program to try different techniques before placing orders for the pieces and building it in real life.
"My little boy has been pretty involved in watching it," he said. "Of course, we had to build some small ones for him and we displayed them with mine. It's been a fun thing for him."
Building with Legos has been a lifelong passion for Melby, who is 41, but it wasn't until about five years ago that he picked the hobby back up at a higher level. He discovered there were adult communities throughout the world who were building giant projects.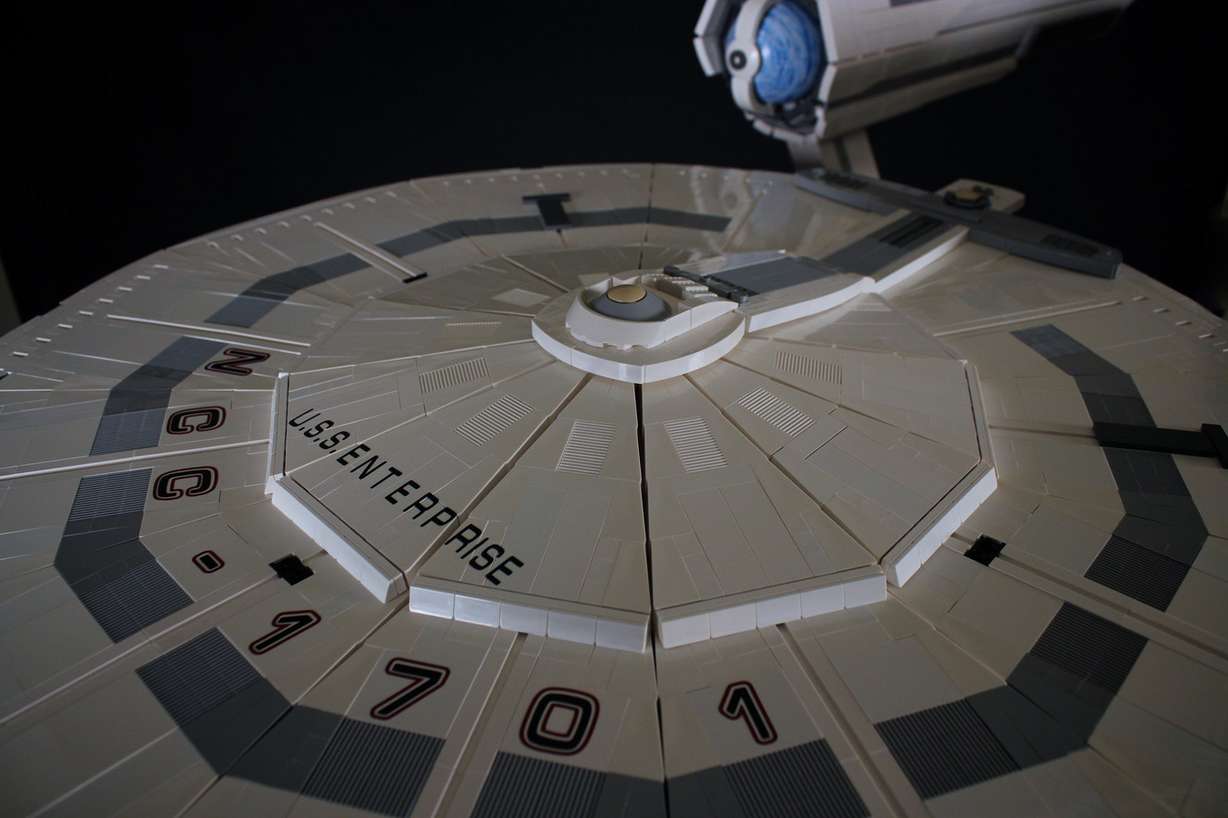 Since then, his builds have included a scale model of Charles Darwin's HMS Beagle and Superman's Fortress of Solitude. His wife photographs the projects to post on his website, Zmasterbrick.
This isn't the first time Melby has made a Lego Enterprise. When he was a child, he made what he described as a "simple, rudimentary" version of the ship. It was displayed at the old ZCMI Mall as part of a Lego exhibit.
"My parents took me to it, and my grandparents were there," he said. "It was real notable, and it was something I had always wanted to do, so that's why I consider this build a bucket-list build because it is something I have always wanted to do, and I finally, with the support of my family, did it."
Although Melby's builds are quite intricate, he hopes the "art of basic Lego building" never dies.
"I would like to see more kids get back to basics and enjoy sculpting with Lego on a very basic brick level, because in this modern day have really evolved into a very dynamic toy and there are a lot of custom parts and a lot of different genres of Lego sets," he said. "It's a fun thing to take a handful of little blocks and make something that is actually recognizable."
Melby and his wife have been thinking about tackling a large model of Millennium Falcon from "Star Wars" next. He said it would probably be about 40 inches around.
×
Photos
Related links
Most recent Utah stories