Estimated read time: 4-5 minutes
This archived news story is available only for your personal, non-commercial use. Information in the story may be outdated or superseded by additional information. Reading or replaying the story in its archived form does not constitute a republication of the story.
SALT LAKE CITY — Utah's homegrown geek convention rolled out its second FanX event this week, a smaller, streamlined version of its previous record-shattering conventions.
Halfway through its third and final day, Salt Lake Comic Con announced it had sold out its FanX event and was closing on-site ticket sales. Unlike previous comic con events, which drew as many as 120,000 attendees, ticket sales were capped at 50,000, with attendance measuring just above that, according to preliminary reports.
"I think we kept it just about the right size," co-founder Bryan Brandenburg said. "
FanX officials ironed out logistical concerns from previous events, including the second Salt Lake Comic Con that was held just four months ago in September. Wristbands with RFID chips kept lines flowing in and out of the Salt Palace while the limited ticket numbers ensured the previously crowded convention floor was comfortable to navigate.
"I think we've learned a few lessons from last time," Brandenburg said. "I think we kept it just the right size, and our customer support lines were more quiet than they've ever been, which is great."
James Bennett, of Rose Park, has brought his family to every Salt Lake Comic Con event since they first attended FanX together last spring. Dressed in a full, furry Wookie costume while his son dressed up as a Jedi, Bennett was delighted that the hassle-free convention meant more time playing and less time in line.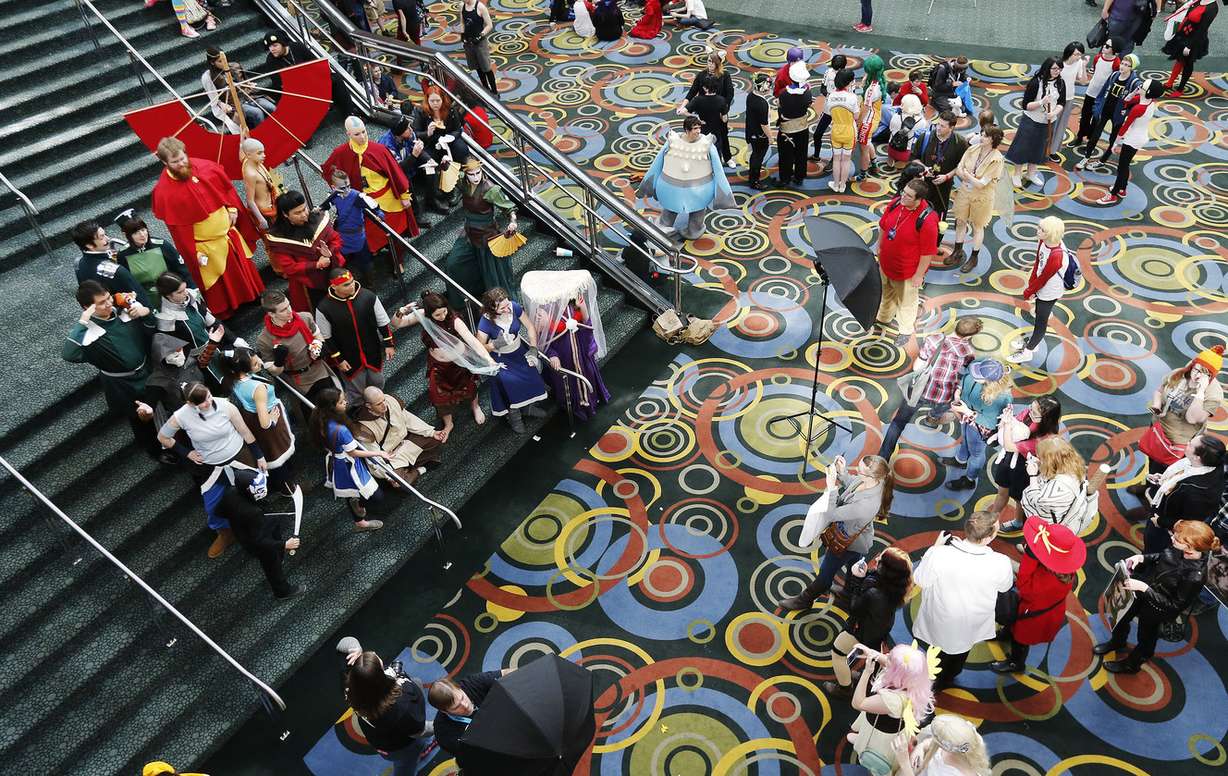 "It doesn't seem small, it seems pretty big … but we've been able to get into every panel that we wanted to, which wasn't the case last time," Bennett said.
Bennett and his 6-year-old son, Atticus, were especially excited to see panels by Star Wars stars Ray Park (Darth Maul in "Star Wars: Episode 1 - The Phantom Menace") and Carrie Fisher (Princess Leia in the original trilogy).
Overall, the chance to show off their interests together has been a confidence-building experience for the young boy, Bennett said.
"I think it makes him feel better about himself. It celebrates the things he has an interest in," Bennett said.
First-time attendee Shannyn Palmer and her infant son Jackson wowed attendees with their elaborate homemade costume, themed from the movie "Up." Palmer dressed in blue with a specially fitted backpack to give her the tall, skinny neck of the bird Kevin, while her son was dressed as Russell. The baby's stroller was decked out with balloons to look like the flying house from the movie.
The costume, which Palmer had made for Halloween, won her family the FanX tickets in the first place.
"There's something for everyone here," Palmer said. "Mostly I've liked meeting people, they're so nice."
Brandon Palmer, Shannyn's husband, couldn't help but smile as passersby applauded the costume or asked to take photos. The family recently moved to Salt Lake City and hope to return to future comic con events.
---
September is our big event, it's a different flavor. With the things we're doing for September, we'll exceed our record from the previous event.
–Bryan Brandenburg, Salt Lake Comic Con co-founder
---
The scaled-down "boutique" event will help lay groundwork for the next Salt Lake Comic Con, expected to take place sometime in September, Brandenburg said. That event will once again stretch the convention's geeky limits while avoiding some of the growing pains the young convention has previously experienced.
"September is our big event, it's a different flavor," Brandenburg said. "With the things we're doing for September, we'll exceed our record from the previous event."
Additional upgrades to the convention included a redesigned app, along with a separate app to help coordinate volunteers and a back-end scheduling system to keep the show running smoothly. The innovations, as well as demographic and attendance data collected through the RFID wristbands, will play a key role in planning future events, Brandenburg said.
Ultimately, the event's success comes down to loyal fans, said Brandenburg, marveling especially at the enthusiastic crowds that came to see celebrity panels.
"The energy of the Doctor Who room in the Ultimate Experience panel just made tingles run up my arm," Brandenburg said. "We had so many great guests. … It's so fulfilling to talk to them and hear, 'This is the best convention I've been to. You guys really know what you're doing. Please invite us back.'"
The panel brought in Matt Smith, Karen Gillan and Billie Piper, stars of the BBC hit "Doctor Who."
×
Photos
Related stories
Most recent Utah stories