Estimated read time: 4-5 minutes
This archived news story is available only for your personal, non-commercial use. Information in the story may be outdated or superseded by additional information. Reading or replaying the story in its archived form does not constitute a republication of the story.
SALT LAKE CITY — Larry Mullin and Sanela Piragic were literally scouring the streets of Salt Lake City before daylight Thursday.
As seasoned homeless outreach workers with Volunteers of America – Utah, they are familiar with about every vacant lot, porch, hillside, gully and structure in Salt Lake County where homeless people seek shelter.
Ordinarily, outreach workers contact people to check on their welfare, offer them food, clothing, and blankets, or refer them to other agencies that can help them with medical conditions, mental illness or addiction.
On Thursday morning, Mullin and Piragic were also looking for unsheltered people for the Point In Time Count, which is required by the U.S. Department of Housing and Urban Development.
Tamera Kohler, director of the Utah State Community Services Office, said the data collected during the count are used by HUD for funding and other administrative decisions. It also helps state and local governments and service providers better target their resources.
"We added a survey about three years ago on our unsheltered count and got amazing additional information — names of these individuals; we did photographs, which we weren't sure they were going to participate in. That is hugely beneficial when you're trying to identify someone who is not in a shelter but a high user of services and to kind of know how they move about the community. Because we do it statewide, we have that same data across the state," Kohler said.
Twenty teams with more than 100 volunteers assisted with the count on Thursday, which is conducted from 4 a.m. to 6 a.m. on three consecutive days in late January.
Mullin and Piragic surveyed two men camping outside in tents covered in tarps and blankets in a field on the city's west side.
One of the men, Joseph, said he had lived in supportive housing but had been evicted because he had repeatedly allowed homeless friends to stay with him.
"That's a tragedy," Mullin said, after interviewing the man. "It's a failure of our housing-first approach. He was not getting the case management he needed."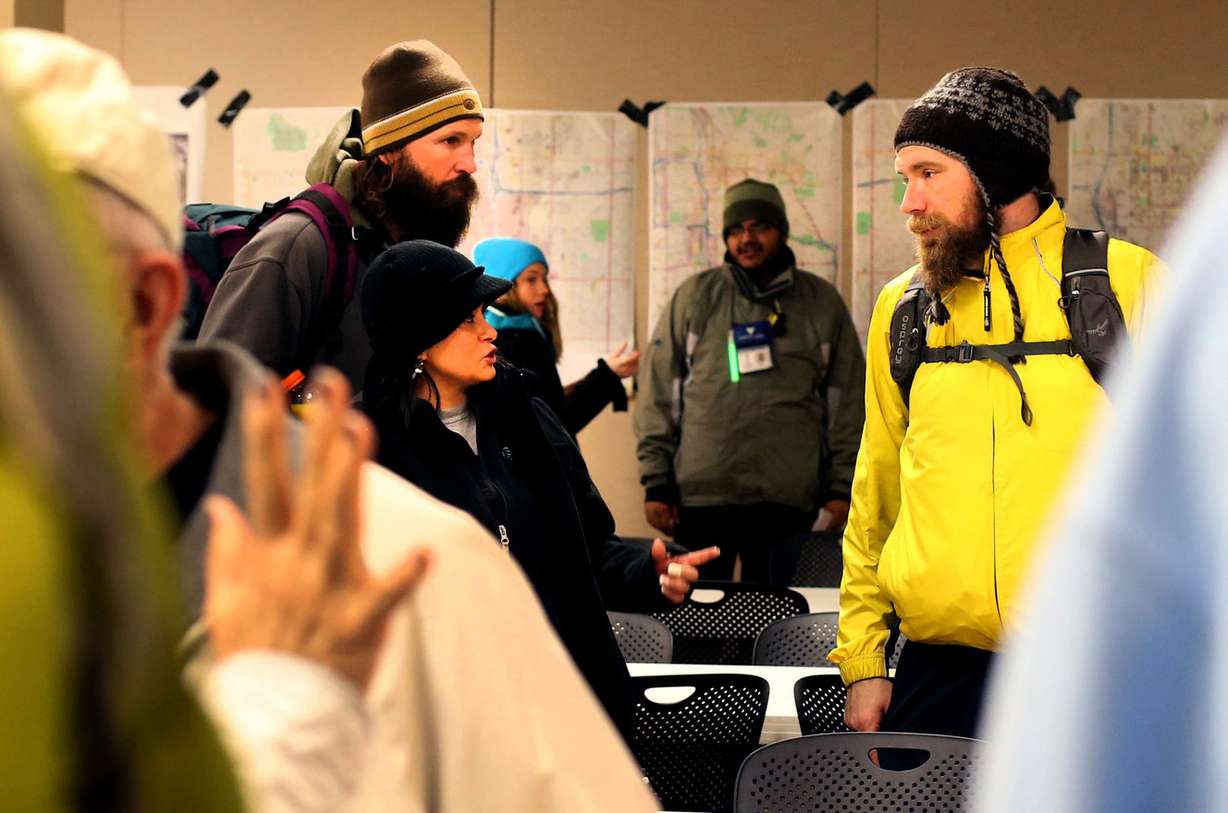 The housing first program offers free or subsidized apartments to the homeless and actually saves Utah money because there are fewer chronic users of emergency rooms and police services as a result. The program participants are then given supportive services so they don't end up back on the street.
Joseph told Mullin he receives Social Security disability benefits, which Mullin said could help him qualify for other housing.
But the team had a more immediate concern about Joseph's mental health after a man sharing the camp told them he had not stopped talking for three days. A separate outreach team specializing in mental health issues run by Valley Behavioral Health was asked to check on him.
Elsewhere in the city, another Point In Time team encountered a young woman sleeping in a Dumpster.
She apparently woke her up when team members called down the alley, said DeAnn Zebelean, spokeswoman for VOA – Utah. Outreach teams were dispatched to assist her.
Many government and nonprofit officials anxiously await the outcome of this year's count. This year is the final year of a 10-year effort to eliminate chronic homelessness in Utah.
Utah's rate of chronic homelessness has dropped 72 percent since 2005, according to the state's Comprehensive Report on Homelessness.
Kohler, who heads the office that produces the annual report, said the Point In Time Count is one data set the state uses to measure rates of homelessness.
Related Story
"What we find is, that we still have significant work to do. I think we've made major strides," Kohler said.
Utah's housing first approach has been life-changing for many chronically homeless people and provided state agencies and nonprofit providers a wealth of information about how to better serve homeless people, she said.
Best practices and resources definitely help, but sometimes there is no substitute for building trust over many years, Mullin said.
Mullin and Piragic are working with a man who has been unsheltered for 16 years. Because he has refused to come into a shelter, Piragic said VOA outreach workers bring services and supplies to him, employing "harm reduction" practices by providing him food and water and other items he needs to keep warm and dry in inclement weather and sunscreen and shade to protect him from the summer's heat.
"He finally said he's ready to come in," Piragic said.
"It's been 16 years and he says he's ready. Let's get him in," Mullin said.
×
Photos
Related stories
Most recent Utah stories