Estimated read time: 3-4 minutes
This archived news story is available only for your personal, non-commercial use. Information in the story may be outdated or superseded by additional information. Reading or replaying the story in its archived form does not constitute a republication of the story.
MURRAY — After more than a decade of decline in highway fatalities in Utah, the numbers rose for a second straight year in 2014.
The latest report from the Utah Department of Transportation shows more people were killed on Utah roads last year than in any year since 2008.
Last year, 256 people died out on Utah's roadways. That's up 36 from 2013.
"We haven't had a number this high since 2008 (when there were 276 traffic fatalities)," UDOT spokesman John Gleason said. "So that's a number of years that we've regressed. That's cause for major concern."
Preliminary numbers show aggressive driving resulted in 68 deaths; 45 deaths were motorcycle fatalities; 37 were pedestrian fatalities; and 26 were DUI or impaired accidents, according to the report.
"Those are somebody's wife, or husband, or child, so it's always disturbing to us," Utah Highway Patrol Sgt. Todd Royce said.
A disproportionate number of those motorists who died were not wearing seat belts. Spot checks by UDOT show that 83 percent of people wear seat belts, but nearly half of all people killed in vehicle crashes last year were not.
"We're looking at preventable crashes, preventable fatalities," Royce said, adding that many of those fatalities were single-vehicle rollovers.
"It's the No. 1 killer on Utah roads, and it's something we need to focus our efforts on," Gleason said. "It's the No. 1 thing you can do to protect yourself in a crash."
The numbers also reveal a stunning surge in pedestrians killed on interstates. In 2013, only one pedestrian was killed on a Utah interstate, last year there were nine.
"People aren't recognizing the dangers of the interstate," Gleason said.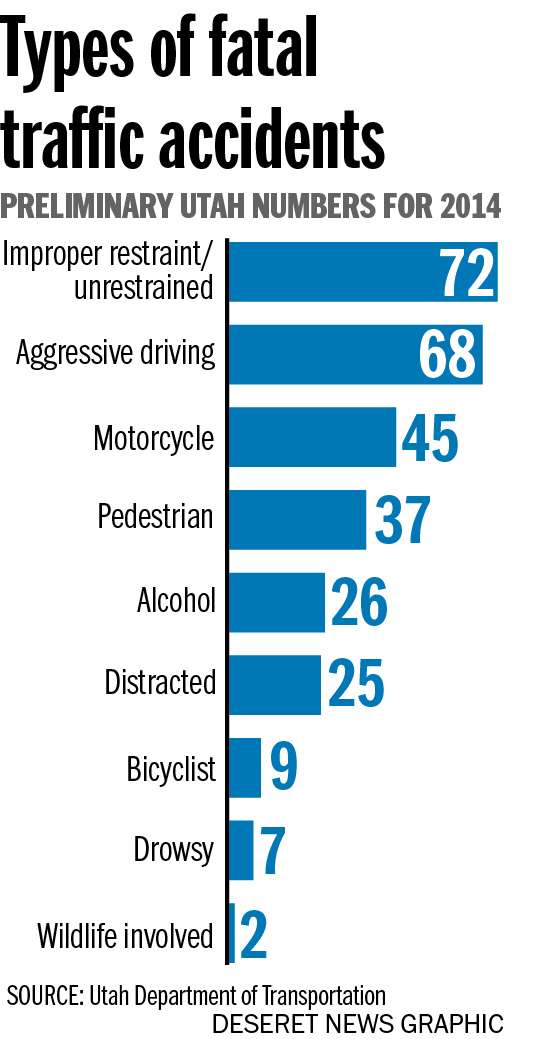 Last year a couple of motorists were killed when they got out of their vehicles to inspect damage to the car.
In October an Idaho man was struck and killed by a car while running across I-15 near Midvale after his vehicle ran out of gas. The man was returning to the car with gas from a nearby station when he was hit by a vehicle going about 65 mph.
"When you're pulled off the side of the road, say you have a flat tire or you've crashed in inclement weather or something to that effect, just because you're in the emergency lane doesn't necessarily mean you're safe. It's very dangerous out there," Royce said.
If the car is drivable, Royce suggests drivers go to the next exit ramp and off the interstate and call for help, but remain in the vehicle with the seat belt fastened.
In the event of an injury crash or if the vehicle is not drivable, motorists are asked to remain inside the vehicle with their seat belts on and dial 911.
The goal is to keep troopers, emergency responders and motorists safe. Last year, 17 troopers were involved in crashes while helping motorists on the roadway. Some of the troopers' vehicles were damaged, and some troopers were also injured, but none of those crashes were fatal.
Also by moving the vehicle, it reduces the chance of a secondary accident, reduces traffic congestion and keeps traffic moving.
And while many crashes happen during inclement weather, those accidents usually happen at lower speeds and are less likely to result in a fatality.
UDOT says the majority of fatal car accidents in 2014 happened on dry roads, 83 percent; during clear weather, 73 percent; and during the daytime, 56 percent. The reason for that is people are driving faster.
Since the No. 1 thing drivers can do to protect themselves in a crash is to wear their seat belt, Gleason issued a challenge.
"If you wear your seat belt, we still want to challenge you to make sure that everyone who gets into your vehicle is buckling up," he said.
Contributing: Viviane Vo-Duc
×
Photos
Related links
Related stories
Most recent Utah stories