This archived news story is available only for your personal, non-commercial use. Information in the story may be outdated or superseded by additional information. Reading or replaying the story in its archived form does not constitute a republication of the story.
RIVERTON — Brian Larson was just 9 years old when his father, Bruce Larson, was shot to death in 1990.
"I haven't had him (nearly) my entire life. I haven't had that father figure. And my mom did an excellent job playing father figure growing up, no fault to her. But it's not the same as having a father. And I blamed Eugene for that. That was his fault. He's the one who took him away from me. And it was painful at times," Larson said.
Eugene Woodland, also known as "Captain Nemo," was arrested and eventually convicted of murder and sentenced to prison.
He died on Thursday at the age of 85.
The day after his death, Larson posted a message on his Facebook page referring to a dream he had just had about Woodland's passing. But rather than experiencing feelings of anger or of ill will, Larson dreamt that his father was one of the first people to greet Woodland.
"I had a vision that my father was one of the first people to welcome him on the other side and see him come across, fully forgiving of what took place and understanding of the situation because I don't think Eugene Woodland would have done what he did if he had been completely himself at the time," Larson said.
"Seeing him in this dream, he welcomes him with open arms and wanted to teach him."
Larson's message of forgiveness has become an inspiration for others.
"Despite him having murdered my father, he's still one of God's children. And he's still going to have the opportunity to be forgiven. The Atonement is there for everyone. Not just those who do small things," Larson said.
Never admitted guilt
Bruce Larson, 40, of Sandy, a contractor acclaimed for his integrity, a devoted husband, a father of five children, and someone who served in many callings for The Church of Jesus Christ of Latter-day Saints, was shot and killed on March 20, 1990.
His viewing was attended by thousands of people and took six hours to complete.
"Everyone was willing to wait hours to see him because he had done so much for so many people," his son recalled.
Even today, Larson said strangers occasionally come up to him and tell him stories about how Bruce Larson helped them many years ago.
Woodland once owned property at 4050 S. 900 East. He had planned to turn the building into "Captain Nemo's Dinner Theater Atlantis & Fitness Center." He lost the building to bankruptcy, however, and Larson ended up buying it. On the day of the shooting, Woodland sought out Larson, who was visiting the property, and shot him five times.
Woodland spent nearly four years being evaluated at the Utah State Hospital. Although many questions surrounded his competency, he refused to be declared mentally incompetent. And despite testimony from six people who all witnessed the fatal shooting, Woodland maintained his innocence throughout the proceedings. He denied guilt during the trial and even at his last parole hearing in 2008 still proclaimed his innocence.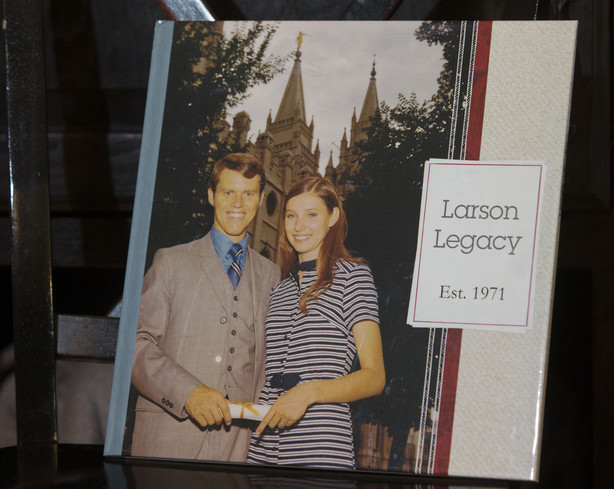 Larson doesn't believe Woodland was in his right mind at the time of the murder.
"I think had he been fully competent at the time, he wouldn't have done it," he said.
Woodland's next parole hearing wasn't scheduled until 2018. But on Aug. 31, 2012, the Utah Board of Pardons and Parole agreed to release Woodland to a care facility in South Ogden under a state statute that allows for early release of chronically or terminally ill inmates.
Brian Larson said his family did not have a problem with Woodland being released from prison.
"He wasn't a danger to anyone at that point. He was basically bedridden in prison, from my understanding, and had been for some time," he said. "He wasn't a danger to society, he wasn't a danger to our family. I don't think he was a danger to anyone. And there was no point in us preventing his family from having that peace."
After learning of his death, Larson said his mother called Woodland's daughter to say, "'I want to let you know we understand your father has passed away and we're there to support you.'
"My mom is truly the most forgiving person in the world," Larson said.
Woodland's daughter thanked his mother for allowing their family the opportunity to be at their father's side when he passed away.
"And the death certificate doesn't say 'the prison.' So just those little things made a big difference to his daughter and I imagine the rest of his family. To us, no, I don't think any of us really had a concern about that," Larson said.
In fact, upon agreeing to talk about Woodland's death, Larson wanted to make sure that Woodland's family was respected.
"This is his death. And the same as when my father passed away, I wouldn't want anyone to have said something negative about my father," he said, "Likewise, I wouldn't want anything negative said about Eugene. Yes, there was a poor decision made a long time ago and he's had to live through that. And I think his family has probably suffered a little through that as well. I don't think that's easy to live with from anyone's side."
At peace
Larson, an active member of the LDS Church, said he and his siblings were raised to understand the principle of forgiveness. It was something that was very important to his mother, who early on forgave Woodland.
As part of his dream, Larson said he envisioned his father actually apologizing to Woodland, "in the feeling of 'I'm sorry this happened. I'm so glad we have the opportunity to get you to the next level.'"
But Larson also believes it wasn't until he had his dream that he realized he hadn't yet fully forgiven Woodland.
---
While murder isn't something someone typically goes out and (says), 'Oh, you're good. Don't worry about that,' it's something you really have to dig deeper and find that you've forgiven him. And it hasn't been easy.
–Brian Larson
---
"I know that the gospel of Jesus Christ teaches us to forgive all men and I was impressed that my father not only forgave him, but wanted to teach him more about the gospel. His example in this dream makes it easier for me to fully forgive Eugene Woodland for what happened. I was able to get a glimpse into what happened 25 years ago and saw that there was more going on than what was seen on the surface with Eugene, and believe that not only has he been forgiven by my family for his actions, but that he will also be forgiven by Heavenly Father for what he has done, through the Atonement of Christ," he wrote on his Facebook page.
When he awoke the morning after the dream, Larson said he was finally at peace.
"While murder isn't something someone typically goes out and (says), 'Oh, you're good. Don't worry about that,' it's something you really have to dig deeper and find that you've forgiven him. And it hasn't been easy," he said.
Now, Larson said there's a peace knowing not only that he will one day be reunited with his father, but that Woodland is also in a better place.
While he knows that he missed out on a lot of activities over the past 25 years because his father was taken away from him, "I've learned a lot because of it and I'm a better person for it."
×
Photos
Related Stories