Estimated read time: 8-9 minutes
This archived news story is available only for your personal, non-commercial use. Information in the story may be outdated or superseded by additional information. Reading or replaying the story in its archived form does not constitute a republication of the story.
RIVERTON — When Bruce Gourley's children were young, he would challenge them to sprint races.
As the former sprinter and pole vaulter tells it, he won most of the time.
Over time, Gourley's knees began degenerating. Sprinting was out of the question, as were everyday tasks he met as a floor manager at Intermountain Riverton Hospital.
Gourley began ducking under the yellow tape placed around refinished floors, which earlier in his career he would have cleared with ease. Bone began grinding on bone, and his knees began popping, causing him severe pain. It became clear he would need knee surgery.
"I started up thinking, 'Oh, I don't like the old, boring looking cane. I'm going to make something a little different,'" Gourley said.
With one semester of sculpting under his belt and his deceased father's wood-carving tools, Gourley got to work. Within the past year, he has finished six wooden canes of various animals: a lion, a cougar, an elk, a moose, a gemsbok, and a bulldog for his grandson in North Carolina, an athlete who needed a cane after emergency surgery earlier in the year.
Knee replacements are on the rise in the United States. In 2004, there were 454,652 knee replacements performed in the country, which jumped to 719,000 in 2010, according to the Centers for Disease Control and Prevention.
By 2030, knee replacements are expected to hit 3.48 million in the United States, according to a 2007 study in the Journal of Bone and Joint Surgery. Intermountain Healthcare, where Gourley works and received surgery, also saw a rise in knee surgeries, from 4,680 in 2010 to 5,461 in 2013.
"As the patient population is getting older and people are … staying active longer, people want to maintain their active lifestyle, and so knee replacement often is a valuable tool to enable people to maintain the lifestyle that they want to keep living," said John Brady, an orthopedic surgeon at Intermountain Riverton Hospital.
Brady attributes the rise in knee replacements to an increased activity level and longer-lasting knee replacements rather than to a spike in arthritis.
"We feel more comfortable putting them in people who are a bit younger than we used to," he said.
Knee surgery
Two years ago, while trying to remove a black mark from the hospital floor with his shoe, Gourley pulled the meniscus on his right knee. One year ago, the meniscus on his left knee went out.
Brady scoped both of Gourley's knees and the two "(exhausted) all the non-operative management strategies" before considering knee surgery. Gourley opted to have both knees replaced at the same time.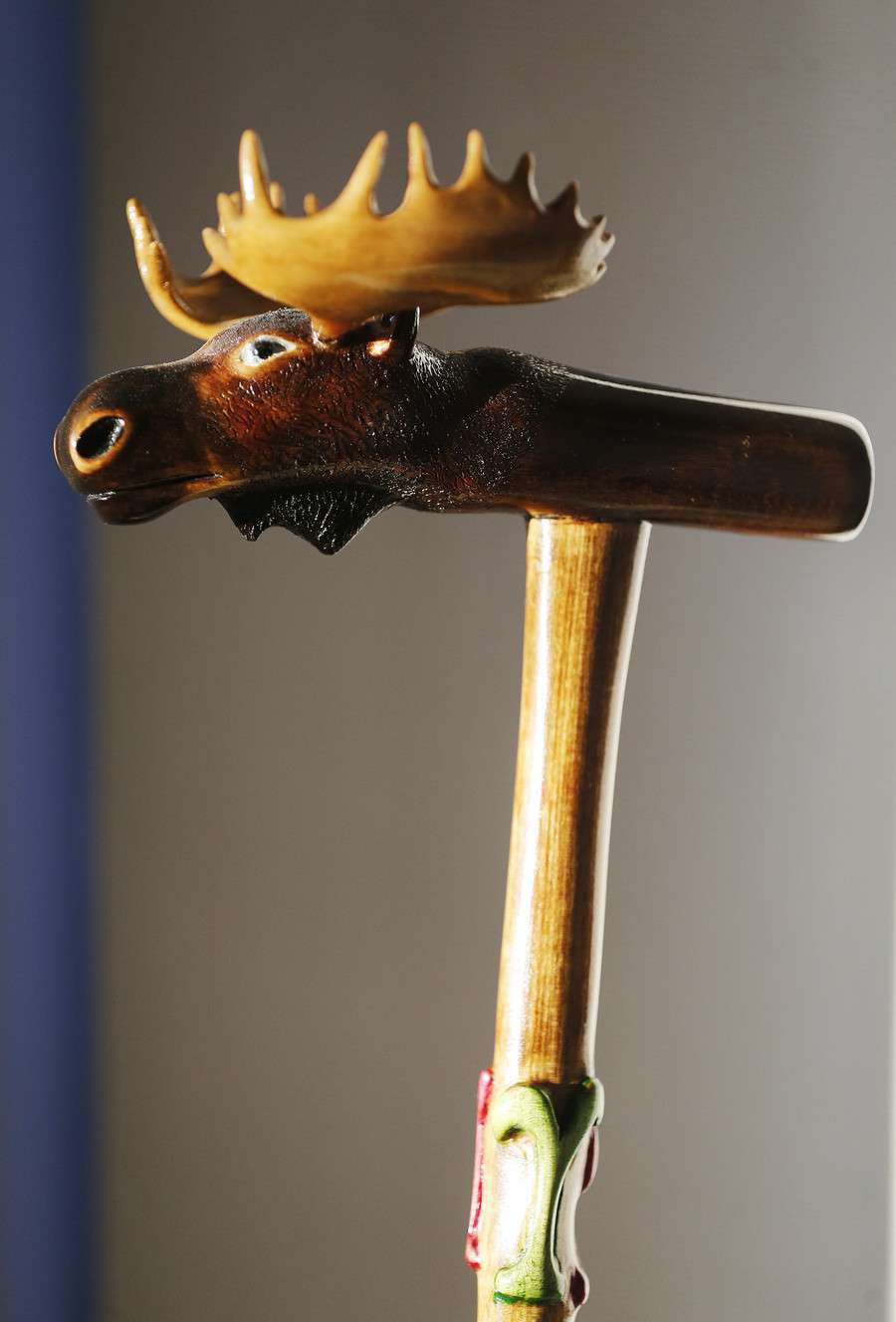 On Dec. 2, Gourley and his wife, Martha, sat in a patient room waiting for the 7:30 a.m. surgery.
"I'll be taking him to the gym all nice and shaved," Martha Gourley joked as the nurse shaved the hair off Gourley's legs.
"Thank you for getting that the first time," he told a nurse who was inserting an IV.
The night before the surgery, Gourley fell asleep in his recliner after putting the finishing touches on his most recent cane: a lion head carved into the handle and the words "majestic" and "lion" on the sides. His wife held the cane the morning of the surgery and joked that she would hit him with the cane if he wasn't nice.
Brady visited the room before the surgery, marking each leg with a pen. He suggested that Gourley try to stand on the first day if he could, which would help speed up recovery.
"Every day you get a little bit stronger and walk a little further, to where (you're) going out in the hall and then walking around those nice halls that (you have) cleaned up out there," Brady said.
Martha Gourley, who was heading back to work, requested that the nurse leave messages for her with updates about her husband's surgery.
"So I know that he's alive, so that I don't have to go find another guy," she joked. "It took me 17 years to catch this big one right here."
Brady told the Gourleys that they would operate for about two hours on each leg.
"We're not in a race. We just take our time and make it perfect," he said.
"We'll be praying for you," Martha Gourley told him.
A better name for knee replacement would be "knee resurfacing procedure," Brady said, comparing the operation to placing a crown on a tooth.
"Some people have the misconception that we cut off their leg and then put in a robotic knee," he said. "What we do is we just remove a small portion of bone on the two ends on the femur and the tibia … and then put the resurfaced metal implants on the ends of the bones."
Grandson's gift
Across the country in North Carolina, the Gourleys' 17-year-old grandson, Teva Smith, prepared to go in for hip surgery the next day.
In February, Smith was getting ready for the high school wrestling state championships, where he was predicted to place third, when his hip began hurting. Within 11 hours, he was in emergency surgery.
Doctors found that Smith had strep type A in his blood that had settled in his right hip. He spent 18 days in the intensive care unit, where he had two hip washout surgeries.
"His main goal was to be able to go to prom on a cane, rather than a walker or crutches. He did not want to go to school with a … generic old-lady cane," his mother, Kenna Smith, said. "It's hard being a 17-year-old and going back to school on a cane when you've been one of the top athletes in the school."
Gourley called and asked his grandson about his school colors and mascot. Teva Smith did not know what he was getting until a cane arrived about a month later.
"It was very cool. It surprised me big time. I didn't know entirely, like, what it was going to be until … it actually came here," he said after his most recent surgery. "I've had a lot of people love it."
Rest and recovery
Gourley's double knee replacement was a success. Doctors spent two hours and 20 minutes on each knee.
Days after his surgery, Gourley was already walking around the halls and up and down stairs at Intermountain Riverton Hospital, with the help of a walker and canes.
When physical therapists were not working with him, Gourley would toss a sheet around one foot at a time to pull each in for exercises.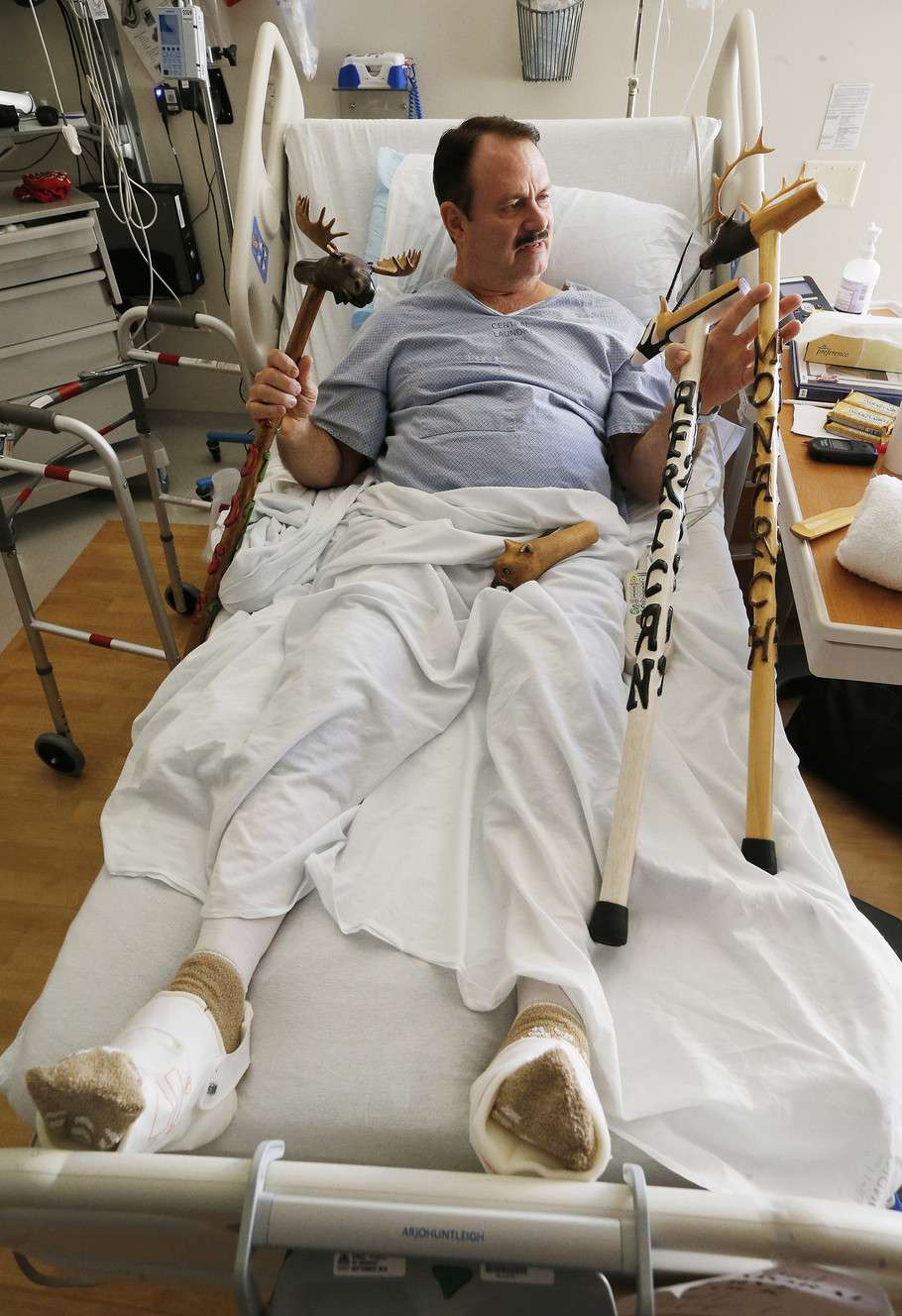 "You set a goal and want to get there, so I push it a little bit, push through the pain," he said. "I want to be able to be back to normal as much as possible."
A small pile of Lorna Doone shortbread cookies was on the desk next to his bed, small tokens of thanks for his wife who would be returning later that day.
"It's my wife's favorites," he said in a whisper.
Small pumps compressed in and out on his feet to help circulate the blood. Gourley would be discharged from the hospital later in the day, and he was talking about his plans for future canes and of his excitement about testing out his new fly-fishing equipment.
"Probably the No. 1 predictor of how someone does is their motivation," Brady said while visiting Gourley that day. "Clearly, Bruce is at the head of the class as far as recovery goes."
The doctor had been with Gourley for his entire journey with knee surgeries and said it was rewarding to see the progress he has made. The two also knew each other from Gourley's work at the hospital.
"Bruce not only is a … good guy, but he's great at his job and he's always a hard worker. I see him out on the hospital floors late at night, you know, when no one's around, just working diligently," Brady said.
Gourley takes pride in his work as a floor manager, making sure to get the corners and each area cleaned.
"When you look at a floor and you see the results after you've done so much hard work on it, you feel some accomplishment," he said.
Making canes
His attention to detail also is evident in his carving work.
Before starting a cane, Gourley will watch footage of the animals, if it is available, and print out pictures he finds online to guide him in the process. He lists off various facts about each: the size of the snout, how the ears look when an animal is stalking, the shapes of the spots for each animal.
Gourley moved his hand to different parts of his face — mouth, nose, jawline — while describing the features of each animal.
"I get a lot of enjoyment out of this. It's kind of relaxing to work with that. It takes my mind off of other things, I guess," he said.
Within about a week and a half of his surgery, Gourley had gotten back to carving. Out in his garage Monday, he resumed work on a leopard and cheetah he began before his surgery.
Earlier that morning, Gourley spoke of his former sculpting teacher who told the students to expect that their artwork would in some way resemble the artist.
"It's almost like a little of both of you in there," he said.
×
Photos
Most recent Utah stories