Estimated read time: 4-5 minutes
This archived news story is available only for your personal, non-commercial use. Information in the story may be outdated or superseded by additional information. Reading or replaying the story in its archived form does not constitute a republication of the story.
OAKLEY, Summit County — Of all the gifts people want Santa to bring down the chimney this Christmas, Matthew Deane is hoping for more toilet paper.
"Right now, we are up to 690 rolls," Matthew said Tuesday. "We had to reset our goal from 500 to a thousand by the end of the month."
The Deanes had to move the rolls from under their Christmas tree to behind their living room couch because the stack grew to nearly 5 feet tall.
"We have a tower of toilet paper," Elizabeth Deane, Matthew's wife, said with a laugh.
Of course the Deanes feel it's better to have all that toilet paper inside their Summit County home than having their home covered in toilet paper — which was happening a lot.
"We weren't sure why we were getting toilet papered — if it was because we were different, or new, or we weren't from this small town and that's just kind of what you get when you're new," Elizabeth said.
The family moved to Oakley from New Hampshire recently.
"We loved the trees and the mountains, and we were just drawn to this place," Elizabeth said. "It's like paradise here. It's quiet, it's quaint, it's all-American, it's wonderful. So, we love it here; we wanted to be here."
A 4-month-long nightmare
The first time their new home was covered in toilet paper was in August.
"We knew ... part of the culture of coming to Utah was to be toilet papered, because we both lived here as kids and we both did it," Matthew said. "But you do it once and you move on."
But then it kept happening — every single Friday and Saturday night, in fact.
---
We would be sitting at our dinner table, the curtains are wide open, and we would hear something and look out. It would be 9 o'clock at night, it's not even quite dark yet, and our yard is covered in toilet paper.
–Elizabeth Deane, Oakley resident
---
"We would be sitting at our dinner table, the curtains are wide open, and we would hear something and look out," Elizabeth said. "It would be 9 o'clock at night, it's not even quite dark yet, and our yard is covered in toilet paper."
Sometimes the teenagers responsible would yell and honk their horns, bothering the neighbors.
"They would have no idea what was going on and they would ask, 'What's going on at your house?' And we couldn't tell them. We didn't know why this was happening or why we were being targeted like this," Matthew said.
Then, it started getting worse.
"Three in the morning, it didn't matter," Matthew said. "(They were) pounding on the windows, pounding on the doors, taking apart lawn furniture. "
Several times during the summer and fall, Deane waited for the teenagers then chased them down the road.
"It was stressful and it was exhausting. By Monday, we were exhausted because we were up all weekend," Matthew said. "Finally, one time, I caught them in a cul-de-sac and I opened up. I unleashed. At least on the kids that were brave enough to come out of the car."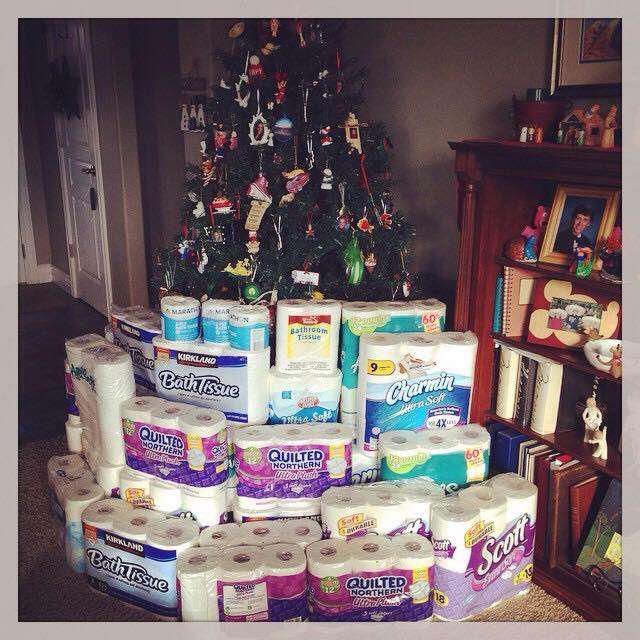 Deane asked the teenagers to stop. He asked them why they were targeting his house. He thought that was the end of it.
Until the next weekend.
"They were relentless," Matthew said.
This went on for four months. The Deanes pulled their daughter out of high school to home-school her.
Then, one evening, after calling the sheriff's office again, a Summit County deputy caught some of the teenagers and told their parents what was happening.
"They held their kids accountable and asked them to tell other kids not only that it needed to stop, but to tell them why — that it was tearing our family apart, that it had ruined our paradise," Matthew said.
"Some of them did apologize, which was really nice," Elizabeth said.
Turning a negative into a positive
Which brings us back to why the Deanes have so much toilet paper in their home: They decided to take this negative experience and turn it into something positive.
"We're going to squeeze every little bit of goodness out of this situation that we can," Matthew said with a laugh.
The Deanes asked their neighbors and others in their community to come to their home to meet them and talk. They also asked them to bring toilet paper, which will be donated to a nearby food bank in Kamas.
"We decided to take the toilet paper and do something good about it," Elizabeth said.
Matthew is also a writer and an author; and after blogging about his experience, the donations started coming in from all across the country.
"We've seen so much of the good come out; and we knew it was there, but we lost sight of it," Matthew said. "With this whole situation, we just wanted to prove that good will win over all — and it always will."
As for the toilet paper on the outside, that has finally stopped.
"It's become a happy, positive experience. I never thought it would, but it really has," Matthew said.
If you would like to donate toilet paper to the Deanes, you can reach them by email at matthew.deane@frogsdontweartights.com or on Matthew's blog contact page.
Contributing Mark Wetzel
×
Photos
Most recent Utah stories