Estimated read time: 3-4 minutes
This archived news story is available only for your personal, non-commercial use. Information in the story may be outdated or superseded by additional information. Reading or replaying the story in its archived form does not constitute a republication of the story.
SALT LAKE CITY — The recently announced discovery of a horned dinosaur started more than a decade ago with Utah paleontologist Scott Madsen.
The Aquilops americanus, a new ceratopsian dinosaur that ate plants and was only about the size of a house cat or rabbit, is close to 20 million years older than any other horned dinosaur found in North America so far, according to researchers. The discovery was announced Wednesday in the journal PLOS ONE.
Back in 1997, long before the study was published, Madsen was volunteering at an expedition on the border of Montana and Wyoming. The main focus of the expedition was to find microfossils, mammals and lower cretaceous rocks.
"I at some point was walking along the little terrace and noticed this little bit of white on the side of a rock about the size of a grapefruit right on the edge of this cliff," he said. "I picked it up and there were teeth in it, so I knew almost immediately that it was a skull and it was a pretty rare size."
Madsen brought it back to camp and ultimately to Vernal, where he was living at the time. His job was to prepare the fossils for researchers by excavating them from the rock and stabilizing them. Even at the camp it was clear the teeth belonged to a plant-eating dinosaur, so researchers thought it must be a zephyrosaurus, the only dinosaur of a similar size they knew of at the time.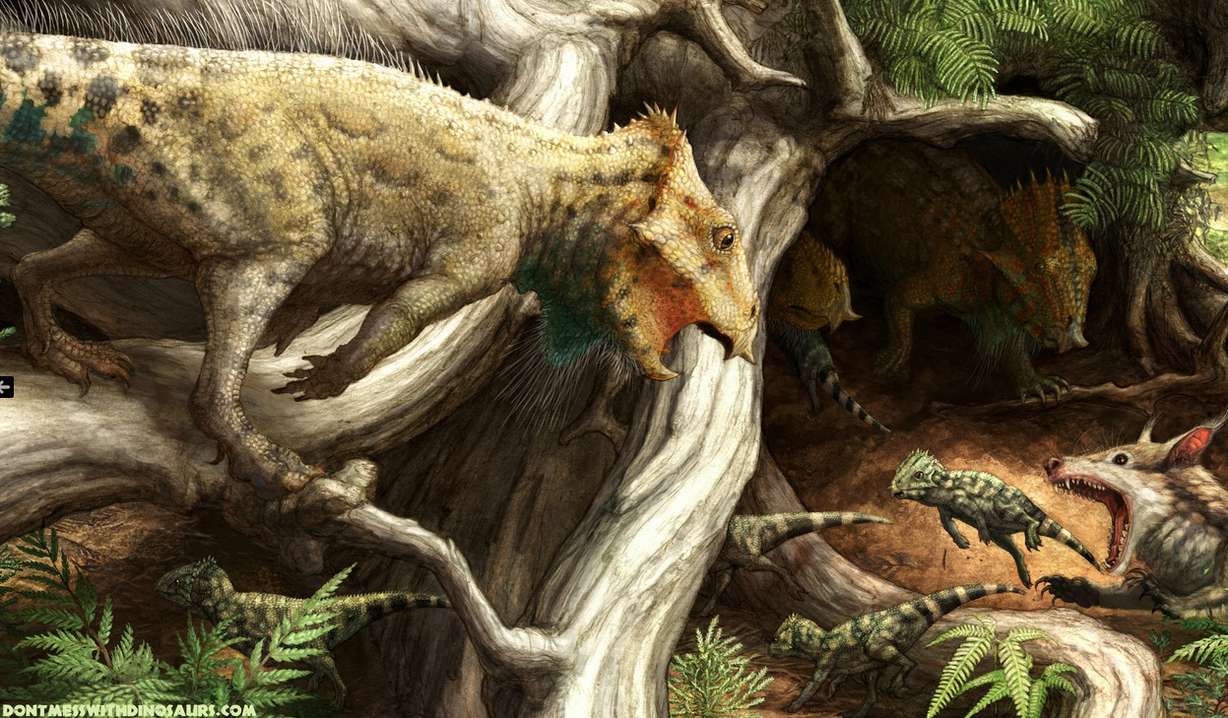 "There was some point (when I was excavating) where I was starting to see more and more of this little skull appear under the microscope and realized that it wasn't this other animal, because I had pictures of this other animal in front of me and it was very different," he said. "When I got towards the front of the skull and it just kept going and going and going and probing down, I suddenly realized I was looking at a beak and that was really cool. I knew immediately that it was a little ceratopsian dinosaur."
After finishing his preparation work, Madsen turned the skull over to the researchers he was working with from the Oklahoma Museum of Natural History. They determined the dinosaur was 108 million years old. It's a particularly appealing specimen, according to Madsen.
"It's kind of a cute, little dinosaur skull," he said. "The skull easily fits in the palm of your hand, so this animal is probably no bigger than a house cat or a rabbit or something like that."
Madsen currently works as a paleontologist for the Utah Geological Survey. He previously spent about 20 years at Dinosaur National Monument.
"It's pretty exciting," he said. "I actually find these kinds of things fairly often and it never loses its kick. It's always fun to find something new and different. That's kind of what science is all about."
×
Photos
Related links
Most recent Utah stories