Estimated read time: 4-5 minutes
This archived news story is available only for your personal, non-commercial use. Information in the story may be outdated or superseded by additional information. Reading or replaying the story in its archived form does not constitute a republication of the story.
SALT LAKE CITY — A Utah family has given an Ethiopian girl more than a chance to live the American dream. Medical care available at only a few hospitals in the country, including one right here in Salt Lake City, also is giving Selamawit Abbott a longer life.
"We will love her forever," said Selam's adoptive mother, Tiffany Abbott, of West Jordan. "We have made a commitment to her and to her life. We'll do anything for our children."
She and her husband, Brad Abbott, were able to bring Selam home from Ethiopia in August, and within two months, the 10-year-old girl is already sitting straighter and standing at least 4 inches taller.
Selam was born with a severe form of progressive scoliosis, and because it wasn't treated at an early age, her spine continued to curve in ways that would eventually compromise her breathing and lung function, ending in an early death, said Dr. Jacques D'Astous, an orthopedic surgeon at Shriners Hospitals for Children in Salt Lake City. He is overseeing Shriners' care of Selam, while she is seen by doctors at Primary Children's Hospital.
Shriners is using halo traction to help stretch and straighten Selam's spine as much as possible prior to her Oct. 24 spine surgery.
The treatment, which gradually adds weights up to 40 percent of a person's body weight on a pulley system that is connected to the skull, is not offered at many medical facilities as it is expensive and requires a lengthy hospital stay, D'Astous said. The primary objective, he said, is to "improve and maintain lung volume."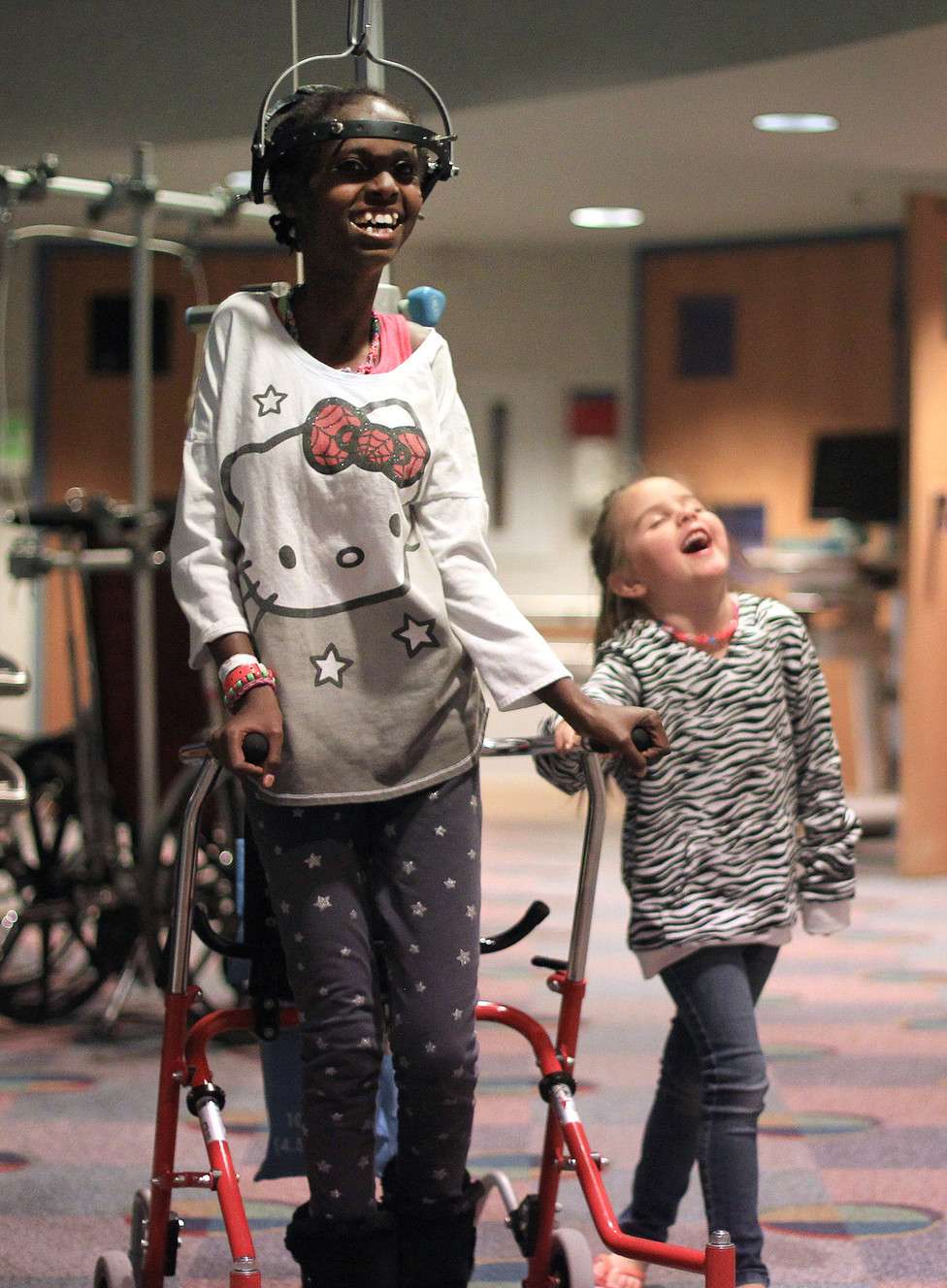 He said Selam was "very close" to experiencing major health problems due to the curvature of her spine, calling hers "one of the worst" cases he's seen.
She is attached to the weights 24 hours a day for 30 days before the surgery. She uses a wheeled walker that holds the weights during the day, and a bed rigged with a similar suspension system also puts weighted pressure on her spine while she sleeps.
Nurses closely monitor patients on halo traction to watch for neurologic damages, including paralysis, that can be caused by overstretching.
D'Astous likened Selam's condition to a ripening tomato plant that continues to sag and hunch over with time.
"It would have been fatal had she not come to the United States," he said.
Doctors plan to place magnetic growing rods in Selam's spine, also helping to straighten it further, giving her increased strength and stability.
Shriners sees an average of six patients requiring halo traction each year, most of them from outside of Utah, D'Astous said. The local hospital is one of Shriners' 22 in the country serving patients up to age 18 with orthopedic conditions, burns, spinal cord injuries and cleft lip and palate. It offers the services regardless of a patients' ability to pay.
Tiffany Abbott said she knew little about the local Shriners facility until she was referred there with Selam, but believes the treatment the entire family has received is invaluable.
"It has helped to be able to be with her and have the family here because we are in this critical adjustment phase where bonding is so important," she said.
She said Selam has been cooperative with the treatment and is "quickly adapting" to life in the family. An Amharic language translator told the family that Selam is happy and doesn't wish to return to her native country, where she had been living in a transition home leading up to her adoption.
---
It was the first time in my life that I believe God was pushing us to do something.
–Tiffany Abbott
---
The Abbott family selected Selam from a photograph and an accompanying file containing limited information on the girl's history. She was part of a waiting list of children typically not requested for international adoption because of various reasons, but who are cleared and ready for adoption more quickly than some of the other kids.
"It was the first time in my life that I believe God was pushing us to do something," Tiffany Abbott said.
It took a little urging to convince her husband to adopt, and though the process was at times stressful, he said he has never looked back.
"She is a great girl," Brad Abbott said. "I do my best to treat her the same as my other kids. I just want them all to grow up to be good adults — decent and great adults."
And while the family has had to confront a few cultural differences in the past two months — such as Selam spitting on the ground in their home, belching uninhibitedly or her refusal to flush toilet paper down the toilet — the transition is coming along.
Lucas Abbott, who is 9, will be in the same grade when Selam starts school in January. He enjoys playing around with his newest sister even if he said she is "always talking"
"She is funny sometimes," he consented.
The family hasn't closed the door to additional adoptions in the future, but they're living in the moment to give Selam the best chance she has at feeling accepted into their home, community and local church group.
"Looking back, I know it is going to be so worth it," Brad Abbott said. "When I envision the difference this is making in her life, it is such a difference from where she came."
×
Photos