Estimated read time: 4-5 minutes
This archived news story is available only for your personal, non-commercial use. Information in the story may be outdated or superseded by additional information. Reading or replaying the story in its archived form does not constitute a republication of the story.
PROVO — America needs heroes, former Republican presidential candidate Mitt Romney told BYU students and faculty gathered for a Tuesday forum, urging them to fill that role by following their faith.
"You don't have to be larger than life to be a hero, just larger than yourself," Romney said. "We see heroes every day — Scoutmasters, (LDS) primary teachers, missionaries, campaign volunteers, parents."
Romney, who spoke to the Marriott Center audience about his belief in The Church of Jesus Christ of Latter-day Saints, said he hoped they would choose to be heroes "because this world needs a lot more of them."
Political Questions Answered
The former leader of the 2002 Winter Olympics in Salt Lake City, one of the most popular politicians in Utah, talked for more than a half-hour before answering questions submitted in advance.
Only a couple were political, including one shouted from the rafters, "Running for president?" Romney, who has been repeatedly mentioned as a possible contender in 2016, said simply, "I did that, actually."
A question that was submitted by a number of students was what Romney's response was to the belief some hold that Democrats can't also be good members of the LDS Church.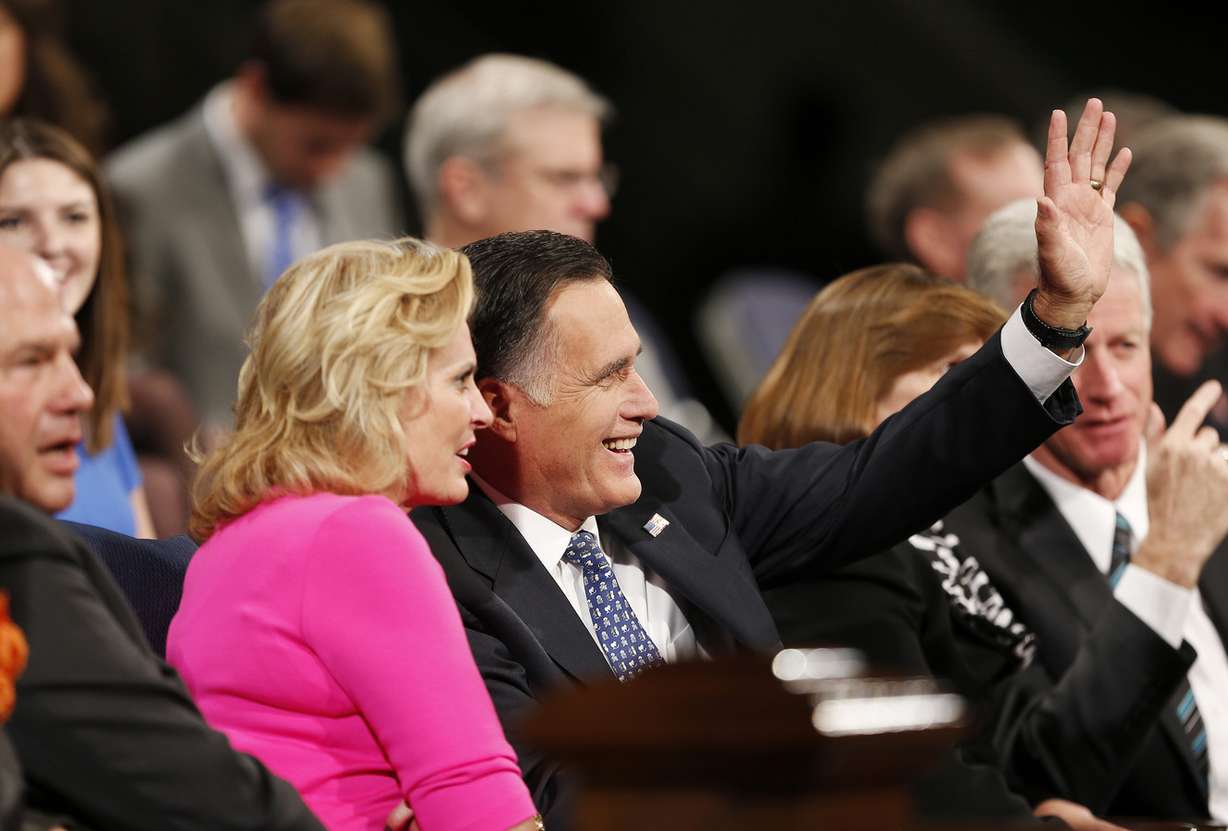 "Baloney and ridiculous is my response to that. Obviously, Democrats can be good members of the church, and there are many great members of the church that are Democrats," he said, joking that he may "question their judgement, but not their religion."
Allan O'Bryant, a member of the BYU Marriott School of Management national advisory board from Nashville, Tennessee, and a Democrat, told Romney after the forum that he appreciated what he heard.
O'Bryant told a reporter that Romney's comments may have some sway with those who still question his political beliefs.
"I think it's OK to be liberal on social issues," O'Bryant said. "We have different views."
Reflection on the Run for President
Romney called his last run for the White House against President Barack Obama the "most remarkable of my life's journeys," and said despite his loss, "the experience was extraordinary and revealing."
He said he came "away more optimistic about the country" after meeting people across the nation.
"While it is fashionable in some circles to deny it, I firmly believe that America is the greatest nation on earth," he said.
Romney said he had difficulty attracting audiences at political rallies in his early days as a candidate, but at one event, he recognized nearly the entire Wolfeboro, New Hampshire, branch of the LDS Church, where he has a summer home.
"There may be times in your life when you feel that it is a bit of a burden being a member of the church," Romney said. "Some folks will think you're not Christian. Some may be insulted that you don't drink with them, or others will think you're trying to be better than them by not swearing."
---
We are not perfect ... (but Mormons) are remarkably good as a people at reaching out our hands to one another in need. ... Decide to be one of those that does just that.
–Mitt Romney
---
But he said he could affirm that fellow members of the church "will be a blessing to you that far more than compensates" for those feelings.
"We are not perfect," Romney said, but Mormons "are remarkably good as a people at reaching out our hands to one another in need.
"Decide," he said, "to be one of those that does just that."
Romney said he and his wife, Ann, never got caught up in the flurry of the campaign. He said what they treasured from the campaign "was not the pomp and popularity" but the friends they made.
Those included the U.S. Secret Service agents assigned to protect the candidate.
"In fact, as we prepared to go on the stage to concede victory to President Obama, more than one of those agents fought back tears," Romney said. "We miss them as friends, not as power candy."
He assured the audience they are not defined by secular measures. His election loss and Mormon faith, Romney said, led him to the conclusion that "God does not always intervene in the affairs of men to make things work out the way we would like them to."
More often than not, secular affairs, Romney said, "are up to us. Don't count on God to save you from the consequences of your decisions or to arrange earthy affairs to work in your favor."
Student Reaction
Some students seemed star-struck at the opportunity to hear from the 2008 presidential candidate and the Republican Party's 2012 presidential nominee, jostling to shake Romney's hands as he left the arena.
BYU freshman Jared McArthur, who tossed Romney a book to sign from the rafters, said he was still uncertain about a major, "but right now, I'm pretty hyped about political science."
McArthur, 18, of South Jordan, said he took Romney's talk to heart.
"Even if people agree or disagree, he's going to say what he believes in and let people know what he believes in, and I love that," he said.
Alisa Johansson, an administrative assistant on campus, said she respected Romney.
"Outside of the political world, he's still an example to the LDS Church, and I think he's a great guy," Johansson said. "Mitt Romney put a stamp on the map for the LDS Church when he was running."
Contributing: Richard Piatt
×
Photos
Most recent Utah stories