Estimated read time: 3-4 minutes
This archived news story is available only for your personal, non-commercial use. Information in the story may be outdated or superseded by additional information. Reading or replaying the story in its archived form does not constitute a republication of the story.
This story is sponsored by Blendtec, the last blender you'll ever own.
With the holiday season just around the corner, you're bound to be spending some time — and a good amount of cash — at various retailers. These days, you won't be hurting for options when it comes to selecting your establishments.
From online super brands to national retail chains to local businesses, your dime certainly has options. This year, consider the local guys when it's time to shop, eat and entertain; you'll be doing yourself (and your community) a favor.
Support the local flare
Part of what makes your city and neighborhood unique are those one-of-a-kind establishments you can't find anywhere else. Think about it: When was the last time you heard someone say, "You're going to Sandy? You have to eat at Subway!"? Keep your community unique by supporting its unique and original businesses.
Encourage innovation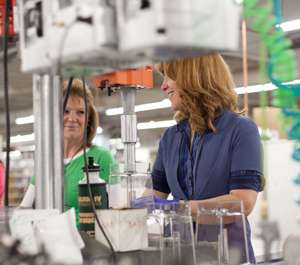 Creative minds tend to stimulate the economy. After all, when a fresh idea hits the marketplace, investors and job creation are swift to follow. Encourage innovation by purchasing from those who have contributed new ideas, products and services to the local market. You may be supporting Utah's next Blendtec or encouraging the nation's next big entrepreneur.
Help create more jobs
Increased business requires an increased payroll. And that's great news for your local economy. Help create more jobs by shopping locally. Not only will the businesses you frequent require employees to serve you, but that business is likely a customer of other local businesses, like printers, farmers, bookkeepers and countless others, who will also require employees. According to Forbes, 65 percent of net new jobs created since 1995 were generated by small businesses.
Strengthen the economy
Sure, you may have a few shares of Target stock, but you likely have more — emotionally and financially — invested in your community. According to the American Independent Business Alliance, each dollar spent at independent businesses returns three times more money to the local economy than the same amount spent at a national chain.
Get better service
Sure, you can find good customer service from national chains, but local businesses tend to have a passion for their products and services; after all, it's what inspired them into the business. Take advantage of this passion and expertise by shopping locally. And since the business owner is local (and possibly the person helping you out), you're not likely to get caught in corporate policies and red tape when you need to resolve an issue.
Reduce environmental impact
Did you know that buying from local companies is greener, too? Locally owned businesses make far more local purchases, while large chains require national manufacturing and distribution hubs, the logistics of which can increase transportation needs, pollution and congestion.
Buy products tailored to you
The chances of a large corporation knowing what folks in your neighborhood need and want are pretty slim. When you choose local businesses, you're choosing to buy from companies whose people live and work beside you. Instead of choosing products that are based on national research and trends, you can choose those that suit your own unique lifestyle and needs — from those that understand them best.
×
Most recent Utah stories