Estimated read time: 2-3 minutes
This archived news story is available only for your personal, non-commercial use. Information in the story may be outdated or superseded by additional information. Reading or replaying the story in its archived form does not constitute a republication of the story.
This story is sponsored by Utah.com. Everything from hiking to camping to touring the national parks, Utah.com has everything on where to go and what do to in Utah.
It's fall. The sun is now setting before you finish dinner. There's nothing to do but succumb to the cold and say goodbye to Utah's beautiful sunshine and warm weather.
No, wait, yeah. Yeah there is. There's something you can do. Drive south.
Southern Utah welcomes all climate-change deniers for two extra months of premier golfing in moderate temperatures. Late fall is gorgeous in the bottom third with green fairways set off by red rock and blue skies.
Call a couple friends and book a golf trip.
Cedar Ridge Golf Course (Cedar City)
A fun 18-hole regulation course against the red hills on the east bench of Cedar City. Three sets of tees for golfers of all levels, and it features a full practice facility (driving range, putting green and chipping green). Rental clubs are also available. Get details.
Moab Golf Club (Moab)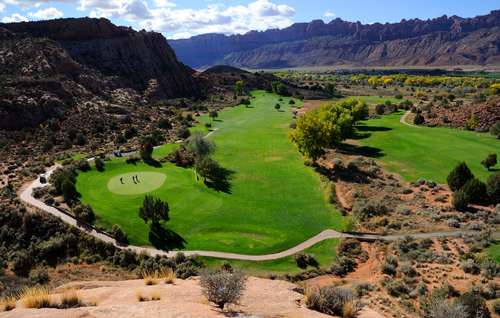 One of the most visually appealing in the state with its smooth, bright greens amid red dirt and pink sandstone. Just a quick bike ride from town if you want to schlep your clubs. Get details.
Coral Canyon (Washington City)
In the sweet spot where Zion National Park's grandeur spills over into Pine Valley Mountain, the Coral Canyon course includes two lakes and a labyrinth of dry washes, creating a variety of risk/reward opportunities critical to a memorable round of golf. Get details.
Sunbrook (St. George)
This is the only course in southwestern Utah with 27 championship holes. Three sets of 9 (The Point, Blackrock, and Woodbridge), named for their unique features, can be played in combinations for different challenges. Always on Golf Digest's list of the best courses in Utah list. Get details.
The Hideout Golf Club (Monticello)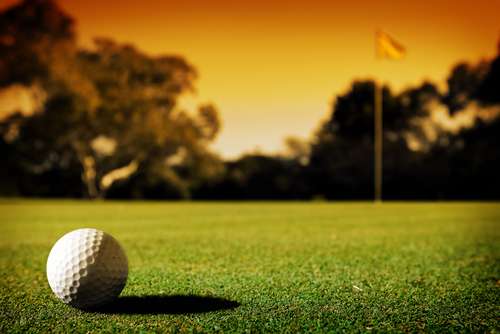 Your last chance to golf before Colorado, Hideout has been called "one of the most beautiful in Utah" with a wide range of scenery year-round. It's warm in the fall and natural elevation changes give different holes different challenges. Way better than the only course in San Juan County needs to be, and worth the trip if you're traveling for a late-season round. Get details.
×
Most recent Utah stories