Estimated read time: 3-4 minutes
This archived news story is available only for your personal, non-commercial use. Information in the story may be outdated or superseded by additional information. Reading or replaying the story in its archived form does not constitute a republication of the story.
SALT LAKE CITY — It's a catchy phrase that a lot of medical professionals are using these days when they say "sitting is the new smoking."
Doctors who hear a litany of complaints from their patients about health problems associated with long periods of sitting like the wake-up call but are not ready to draw a direct connection between the two bad habits.
Dr. Rick Henriksen, with the University of Utah Department of Family and Preventive Medicine, tells his patients it is unhealthy to sit for more than six hours at a time. In fact, he knows long before that their bodies will start to show the strain.
"There are definitely some large-scale effects of a sedentary lifestyle and sitting," Henriksen said.
Research out of the National Institutes of Health should concern desk jockeys and couch potatoes. It shows that when we sit, electrical activity in the muscles drops, causing the insulin in our bodies to be less effective. That increases the risk of diabetes and obesity. A sedentary lifestyle also causes the enzymes responsible for cleaning fat out of our bloodstream to slowly disappear and that raises the threat of heart diseases and some cancers. Doctors say those diseases sound a lot like the ones linked to long-term smoking.
Some Utah workers are heeding the warnings, ditching their chairs and standing up for the chance to improve their health and attitude on the job. Paul Roest, a software development engineer at Overstock.com, uses a standing desk.
"From standing all the time and taking regular walks and things like that, I've slimmed down considerably without much other change in my life; especially in my diet," Roest said.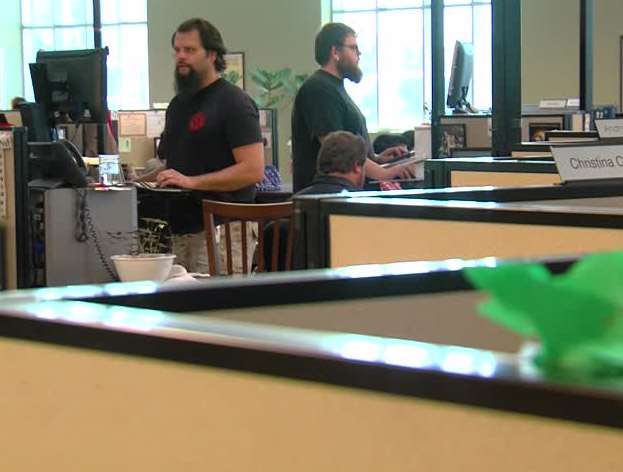 He believes the standing desks have also fostered more cooperation and dialogue among software developers who now hold standing meetings gathered around one computer screen.
In another department, Partner Care Associates, Marc Haldin and Trevor Williams have also made the switch to standing desks with positive results. Haldin said he "feels better, more active, more awake, not so tired, and I don't fidget around a lot."
Meanwhile, Williams is surprised but said, "I feel more active even though I'm just standing."
Overstock.com President Stormy Simon is pleased with employees' response to the standing desks.
"They love the flexibility. They love the ability to decide what level they're going to sit at. Whether they want to sit on a bar stool and adjust it to mid, or all the way down to their chair, or standing," Simon said.
The company plans to equip its new campus in Midvale with the standing desk options when it opens in 2016.
Doctors diagnose better physical health for employees at companies like Overstock.com and improving financial health for any business that empowers workers who want to stand.
"If you're able to work and not call in sick and not have all these other issues then you are certainly going to improve the productivity of that business," Henriksen said.
At the University of Utah, standing desks are starting to pop up in departments where employees have asked for the option. Cole Paterson was a tennis instructor before he took a sedentary marketing job at the U. of U. That is when he started experiencing back pain. He asked and received a standing desk.
Related:
"I figured I would try some things out, try to change up what I was doing before I went and saw a medical professional, and it's worked exceptionally well," Paterson said.
It has worked because our bodies were designed for standing, not sitting. Of course, that doesn't mean switching from one to the other is easy.
"It's uncomfortable in the beginning as any change is, but it's worth it in the end," Roest said. In his department, Roest is also seeing the movement to overthrow chairs growing.
Simon hopes it continues to catch on at Overstock.com. She said, "Just the up and down, the flexibility, keep your body moving, it's good for you."

×
Photos
Related stories
Most recent Utah stories