Estimated read time: 4-5 minutes
This archived news story is available only for your personal, non-commercial use. Information in the story may be outdated or superseded by additional information. Reading or replaying the story in its archived form does not constitute a republication of the story.
VIRGIN — These riders redefine what's possible on a bicycle. They race down near-vertical terrain, throwing backflips off ramps and soaring across 50-foot canyon gaps on heavy downhill mountain bikes.
Spectators gathered Friday through Monday in Virgin to watch 33 athletes from 11 different countries compete for the winning title during the Red Bull Rampage. Spanish athlete Andreu Lacondeguy took first place after three straight years of coming in fourth.
"Red Bull Rampage has some of the best riders in the world," said spectator Shaun Moyes. "Rampage truly is the elite. The riders who compete are the best of the best."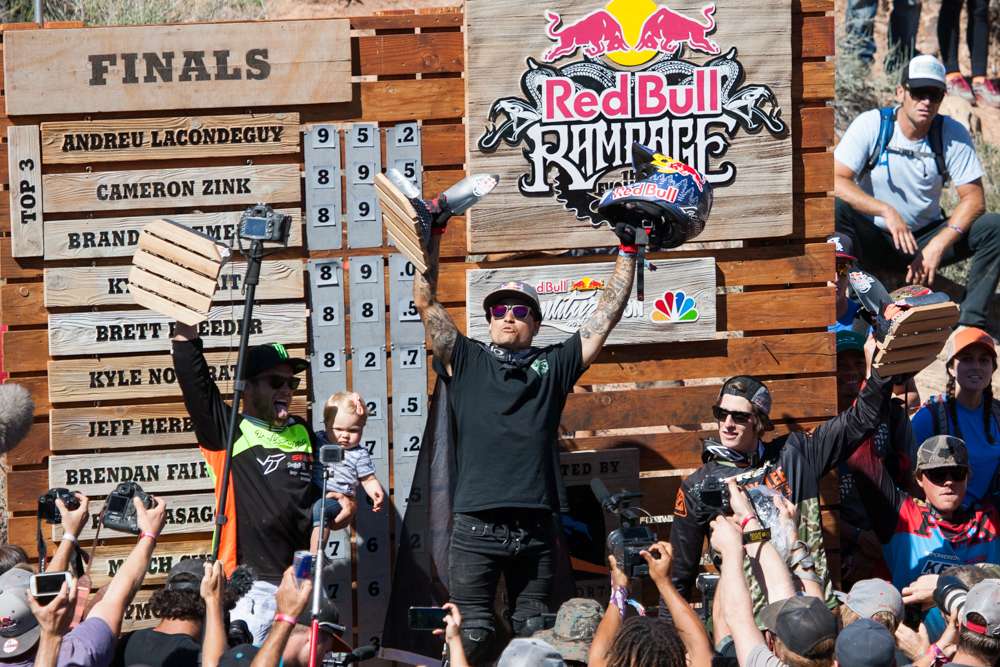 These riders have to be able to get down the mountain in one piece — southern Utah offers some of the most intense terrain in the world. Rampage organizers searched for the perfect venue in areas such as China and South America, but returned to southern Utah because of its unique landscape.
"This event is very unique mainly due to the fact that it's big-mountain riding," said British Colombian rider, Darren Berrecloth. Berrecloth has participated in Rampage five times, but couldn't compete this year because of injuries. "It requires a big-mountain bike mainly designed for downhill free riding and racing. There are a lot of variables in this terrain that make it daunting, but at the same time fascinating."
At Rampage, athletes build their own lines to ride by carving trails, jumps and drops into the ridged sandstone terrain. Prior to the competition, many athletes spend days on the mountain creating their unique lines and practicing tricks.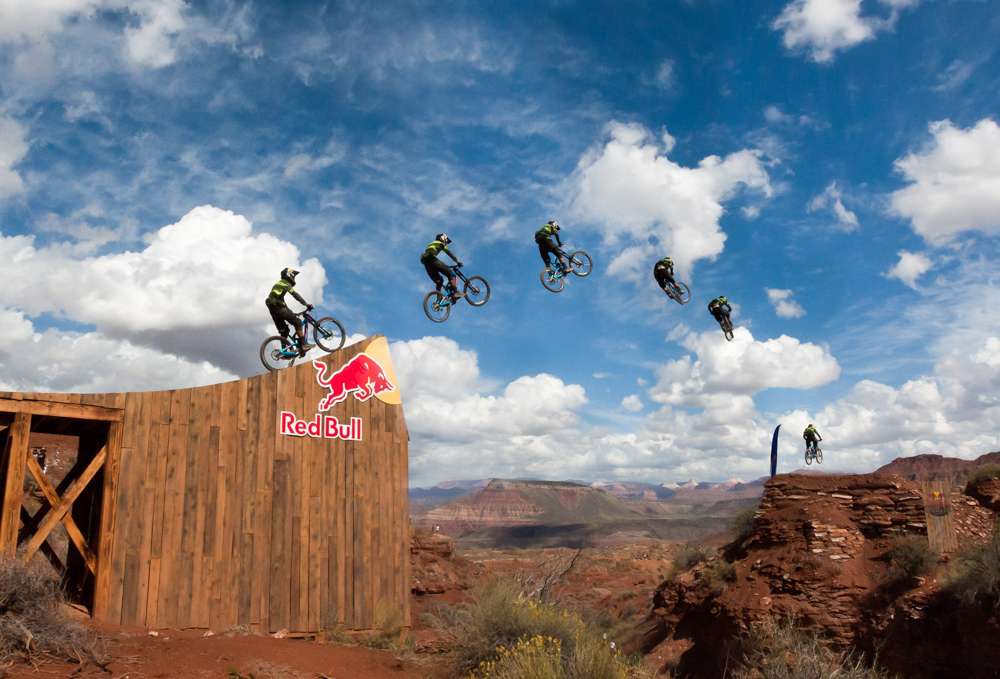 "We do slope-style competitions all year long where we show up and there's one line we've got to ride," Berrecloth said. "Some athletes will have a totally different take on how they interpret the landscape. It's kind of like freedom of expression. Being able to go out there and create your own line from the start to the finish is a pretty cool process."
Berrecloth prefers to use only the natural terrain of the mountain for his line, rather than incorporate wooden structures such as the 50-foot step down ramp that was set up for the 2014 Rampage.
"I'm a big fan of keeping it as natural as possible," he said. "The cool thing about this place is Mother Nature has already created some pretty mountain bike-friendly terrain."
Other riders choose to use the wooden ramps to boost their score and give the audience a show. In the 2013 Red Bull Rampage, New Zealander Kelly McGarry launched off a ramp and did a backflip over a 72-foot-long canyon gap, winning him the People's Choice Award and placing him 2nd overall. But his successful performance last year meant people expected even bigger this year.
"There's a lot of expectation," McGarry said. "Last year went really well and in this competition it's natural for people to want to see you go even bigger and see you keep pushing what's possible on a bike. I'm going to have to step it up and do something else if I want to stand on the podium this year and that's how it is."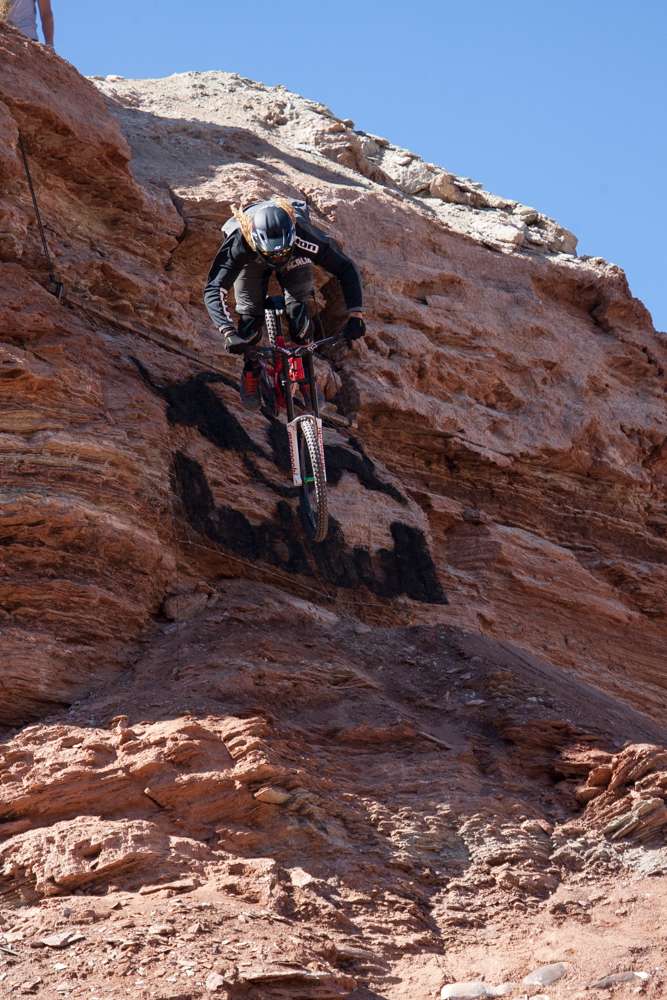 Since its beginning in 2001, Red Bull Rampage has evolved into the ultimate test for downhill racers and free riders. Berrecloth said it started as a competition to see who could just make it all the way down the steep mountain.
"Whoever survived was the guy who came out on top," Berrecloth said. "All of a sudden it turned into, 'Wow, what kind of crazy lines can we build? Now we're at this point where everyone's going really freaking fast and the line choices are getting even gnarlier. Plus, we're all throwing tricks into it. It's really stepped up in the last couple years, it's pretty crazy. It's cool to see, but some days it's a little frightening."
McGarry said Red Bull Rampage is probably the most nerve-racking of all his international competitions. To prepare for the competition, McGarry said he tries to spend as much time on his downhill bike as possible.
"There are big jumps here and you have to feel comfortable on them to do well in the competition," he said. "You also need to stay healthy as well. You don't want to hurt yourself training. You want to come here feeling 100 percent."
McGarry took a gnarly spill during his practice round on Thursday, but despite his accident, he was excited to compete in the 2014 Rampage.
"Rampage is my favorite competition of the year," McGarry said. "I mean, it's the craziest competition of the year and it's in the most amazing place to ride a bike. It's awesome to be a part of it. It's awesome to be up on the ridge with 360-degree views. When you get to the bottom and you've had a good run, there's no other feeling like it. It's wicked."
---
Sarah Romero is a journalism and photography student at Utah State University. Contact her at sarahromero524@gmail.com.
×
Photos
Related links
Related stories
Most recent Utah stories