Estimated read time: 4-5 minutes
This archived news story is available only for your personal, non-commercial use. Information in the story may be outdated or superseded by additional information. Reading or replaying the story in its archived form does not constitute a republication of the story.
DELICIOUSVILLE — Sometimes all you need on a hot day is a refreshing, creamy shake. While many people classify a shake as a milky refreshment that you can sip through a straw, Utah is famous for its thick, more-ice-cream-than-milk shakes that you eat with a spoon.
If you are wondering where to find said shake, here are a few delicious options for you provided by some local eateries that originated in Utah.
Sammy's was founded by and named after Sam Shultz and is best known for its "famous pie shakes." These shakes are not just pie flavored — they are literally made from pieces of pie blended with ice cream. These shakes are very rich and full of flavor, which makes sense because they are basically pie a la mode in a cup.
The most popular is the pumpkin pie cheesecake and the chocolate oreo creme pie. The Provo location is open until 12 a.m. on weeknights and 2 a.m. on Friday and Saturdays so you can satisfy that late-night sweet tooth.
Locations:
27 N. 100 West, Provo
10640 N. Clubhouse Drive, Cedar Hills
50 College Ave., Rexburg, Idaho
Nielsen's Frozen Custard ========================Steve Nielsen started his frozen custard joint in Salt Lake City in 1981. While it mostly specializes in custard, Nielsen's also serves delicious concrete shakes. The most popular flavors are the chocolate malted almond and the caramel cashew classic and both have delicious bits of nuts folded into the cream that offer the perfect mixture of crunchy and smoothness.
Nielsen's Frozen Custard has shown its flair for blending delicious shakes and was awarded the Best of State this year.
Locations:
3918 Highland Dr., Holladay
570 W. 2600 South, Bountiful
378 N. Main Street., Layton
445 E. St. George Blvd. Ste 102, St. George
LaBeau's was started by Renee LaBeau in 1981 after she and her husband saw that the drive-in eatery was for sale. When she bought the business, it was the only food joint in Garden City and only offered about 10 shake flavors. They now offer 45 flavors but are best known for their above-the-rim raspberry shakes.
The raspberry shake is made with a blend of soft-serve vanilla ice cream and fresh raspberries from the local Calder raspberry farm. It's the perfect treat at the end of a day spent at Bear Lake.
La Beau's is open seasonally from Memorial Day weekend until the open weekend of the general rifle deer hunt. This year its last day will be Oct. 18.
Location:69 N. Bear Lake Blvd., Garden City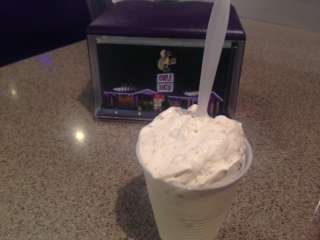 The Purple Turtle has been a Pleasant Grove tradition since 1968. The bright purple building is hard to miss and its flavorful, "thick, tornado shakes" are a must-try. The Purple Turtle offers dozens of mix-in candies and topping with its shakes, and its blended desserts have a very fresh taste.
The most popular is the grasshopper (a blend of mint and oreo) and its traditional oreo shake. The blended bits of cookie and candy give you a nice combination of creamy and crunchy.
Location:85 E. State Street, Pleasant Grove
Iceberg Drive Inn =================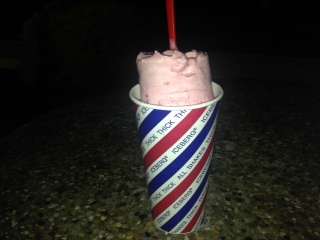 Iceberg Drive Inn originated in Salt Lake City and has now expanded throughout Utah and has locations in Arizona and California. Iceberg is definitely best known for the thickness and size of its shakes. Even if you order a mini, the shake comes in a medium-sized soda cup, with several scoops piled over the rim.
The most popular flavors at Iceberg are the strawberry shake and the grasshopper. The strawberry shake blends chunks of strawberry with strawberry flavored ice cream creating a fruit-flavored party in your mouth.
Locations:
The Original Iceberg: 3900 S. 900 East, Salt Lake City
1530 S. 500 West, Salt Lake City
1792 S. 2000 West, Syracuse
1516 W. 5400 South, Taylorsville
222 E. St. George Blvd., St. George
180 N. State Street, Orem
13400 S. 5049 West, Riverton
9645 S. State Street, Sandy
13893 Bangerter Parkway, Draper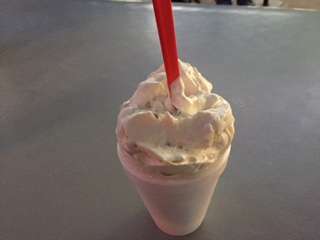 Granny's ========Granny's is a well-known local favorite in Heber City and attracts many tourists each summer heading through to camp in the Uinta Mountains. The mom-and-pop restaurant has delicious, fresh blended shakes that are perfect for a warm summer afternoon. The location is seasonal, open from Memorial Day weekend to Nov. 1.
The most popular flavors at Granny's are the raspberry shake and the grasshopper. The raspberry shake has little chunks of fruit added into the sweet, creamy mixture.
Location:511 S. Main Street, Heber City
×
Photos
Related links
Related stories