Estimated read time: 8-9 minutes
This archived news story is available only for your personal, non-commercial use. Information in the story may be outdated or superseded by additional information. Reading or replaying the story in its archived form does not constitute a republication of the story.
SALT LAKE CITY — In 2011, Warren Workman and his wife, Dora, produced what is known as the Filmed in Utah Awards. The awards show had humble beginnings, with only 30 guests the first year. But by 2014, the event had grown significantly, with over 800 people in attendance.
With the success of of their awards show, as well as the vast amounts of Utah's musical talent, the Workmans decided to embark on a new endeavor: The Utah Music Awards.
"Utah's music industry has had a huge impact on the world," the Warrens wrote on their website. "Musical groups such as Neon Trees, Imagine Dragons, The Used, The Killers, Royal Bliss, Panic! at the Disco and, of course, the Osmonds all came from the beehive state. Yet there are still hundreds of incredibly talented musicians that are just waiting to be discovered …"
The first annual Utah Music Awards will be held Thursday, Sept. 18, at the Covey Arts Center in Provo and will be hosted by Nathan Osmond and Amy Whitcomb. The event will be made up of seven performances, with 15 awards given to nominees in each of the different categories.
As the awards show draws near, we contacted five Music Award nominees to see what they had to say about their music and what it means to be nominated. Their stories are shared below.
Stormsign — best rock album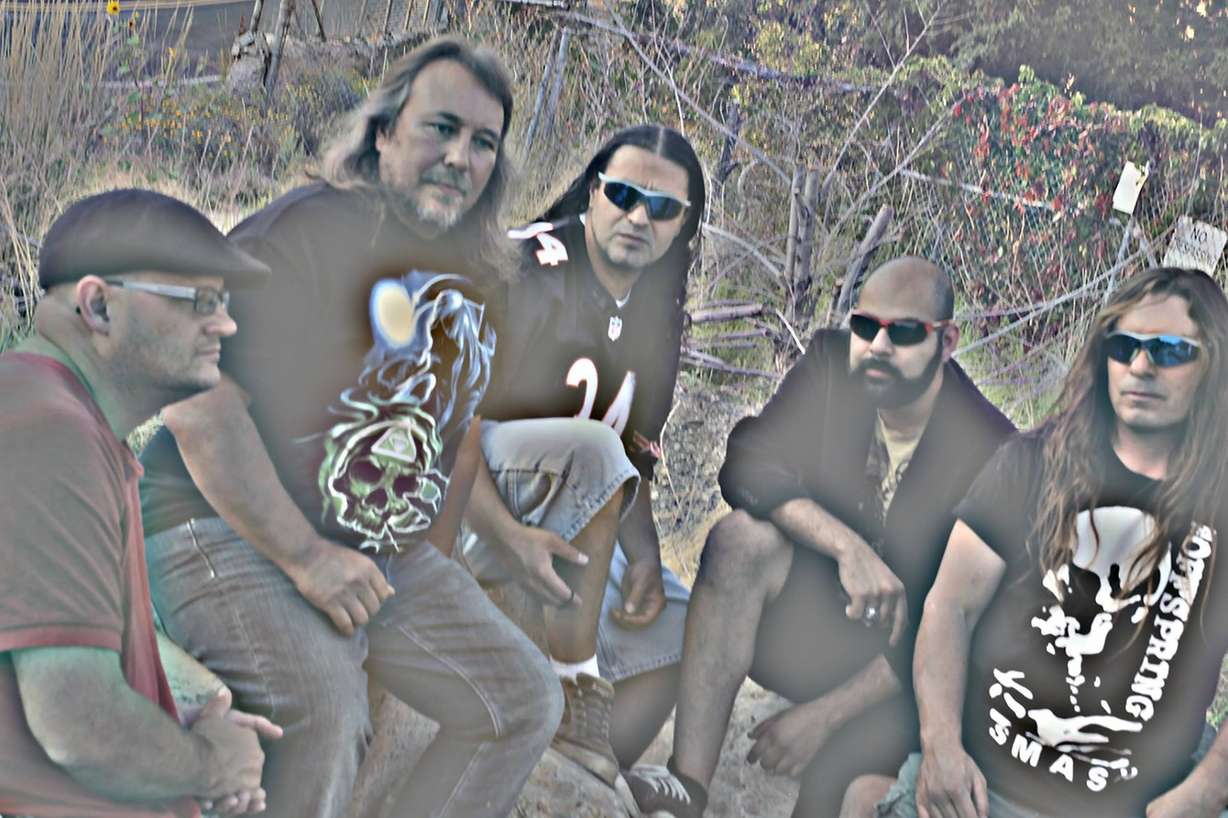 Ten years ago, haunted by many disappointing music projects and their subsequent failed albums, Rico Cordova (guitarist/songwriter) and Gregg Erhard (percussionist) embarked on a new project. In an attempt to create something unique that also played to their strengths as musicians, the duo created the band Stormsign.
Wanting to have a unique sound by creating music that "deviated from the norm," Cordova and Erhard set out in search of like-minded musicians. The task was easier said than done, and the band struggled to find bandmates who were the right fit.
"We had the privilege of playing with some remarkably talented bassists and singers, but turnover became the norm," Cordova said.
Finally, after several singers/bassists/guitarists, their persistence was rewarded with the additions of Oscar Sanchez Ponce (vocals/songwriter), Bobby Gallegos (bass/back-up vocals) and Alan Padgette (guitar/strings).
The five artists complement one another's styles in a way that Cardova and Erhard had envisioned from the beginning.
"Our style of rock is melodic while also progressive," Cardova said. "We believe that our initial dream of a unique sound is no longer outside the realm of possibility."
The group is honored to have its debut album be nominated for a Utah Music Award, and band members look forward to releasing their first full-scale album later this year.
To hear some of Stormsign's music, go to their YouTube channel.
Unraveled — best alternative album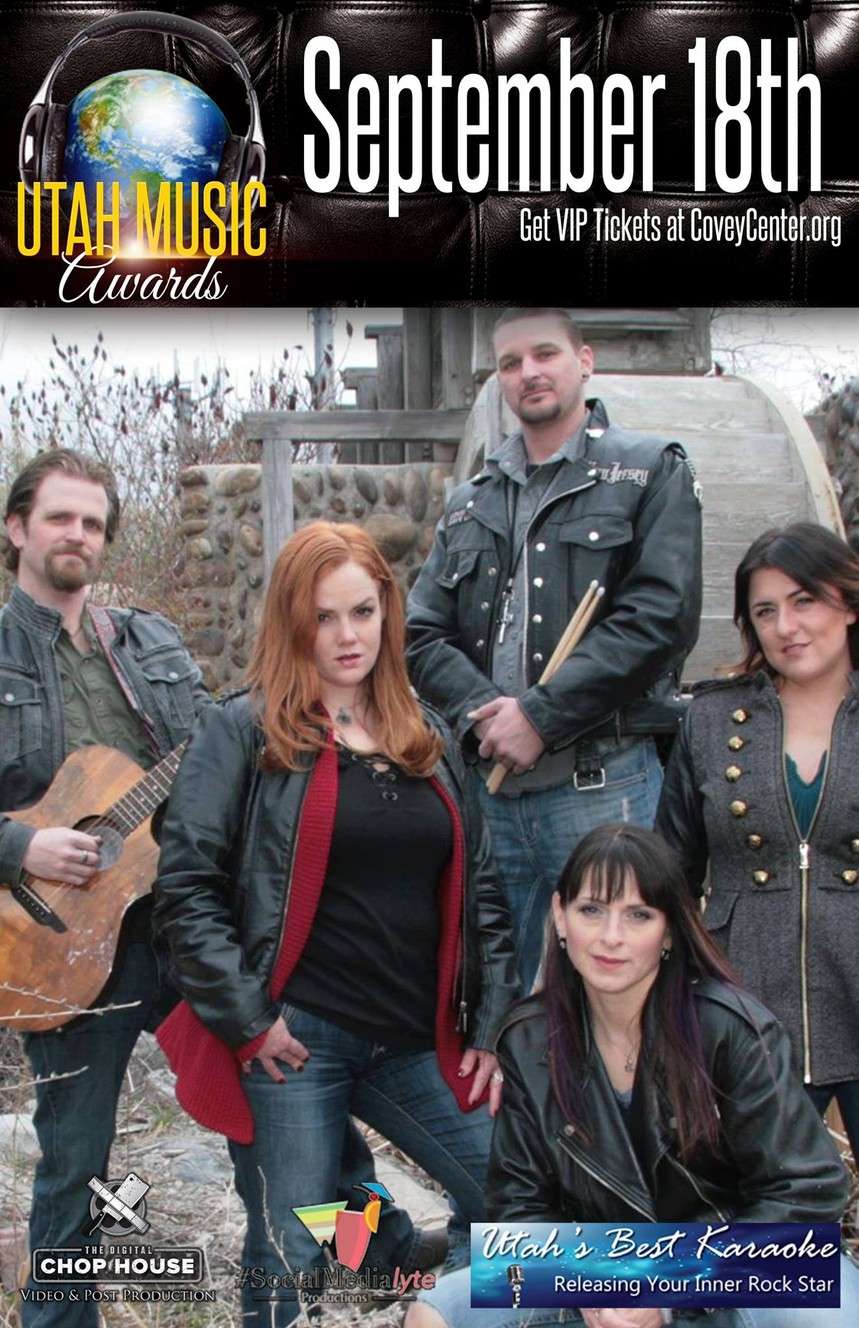 While living in Texas in 2010, singer/songwriter Daryl Shaun Prince performed under the name Unraveled. While working solo, Prince drew inspiration from traditional Celtic music and popular early alternative bands, such as Blues Traveler, Hootie and the Blowfish and Crash Test Dummies. He aspired to merge the two genres of music and began searching for bandmates.
A couple of years later, Prince has added Jelene Wilkinson and Rachel Thomas (vocals/percussion), Nicole Atkinson (singer/violinist) and Walen Swanson (percussion).
Three weeks after adding Swanson, Unraveled recorded its first album, "Beyond the Barriers," and was recently signed by Power Media Entertainment record label.
The group is excited for the opportunity to be nominated for a Utah Music Award, and are hoping to soon garner a long-term recording contract.
Unraveled is an alternative/Celtic fusion band, built on a foundation of tight vocal harmonies and follow the Celtic folk tradition of unique instruments and musical progressions. The band hopes through their music they can inspire, uplift and touch hearts
To hear more of the band's music, go to unraveledmusic.com.
Arthur Minsayan — best instrumental song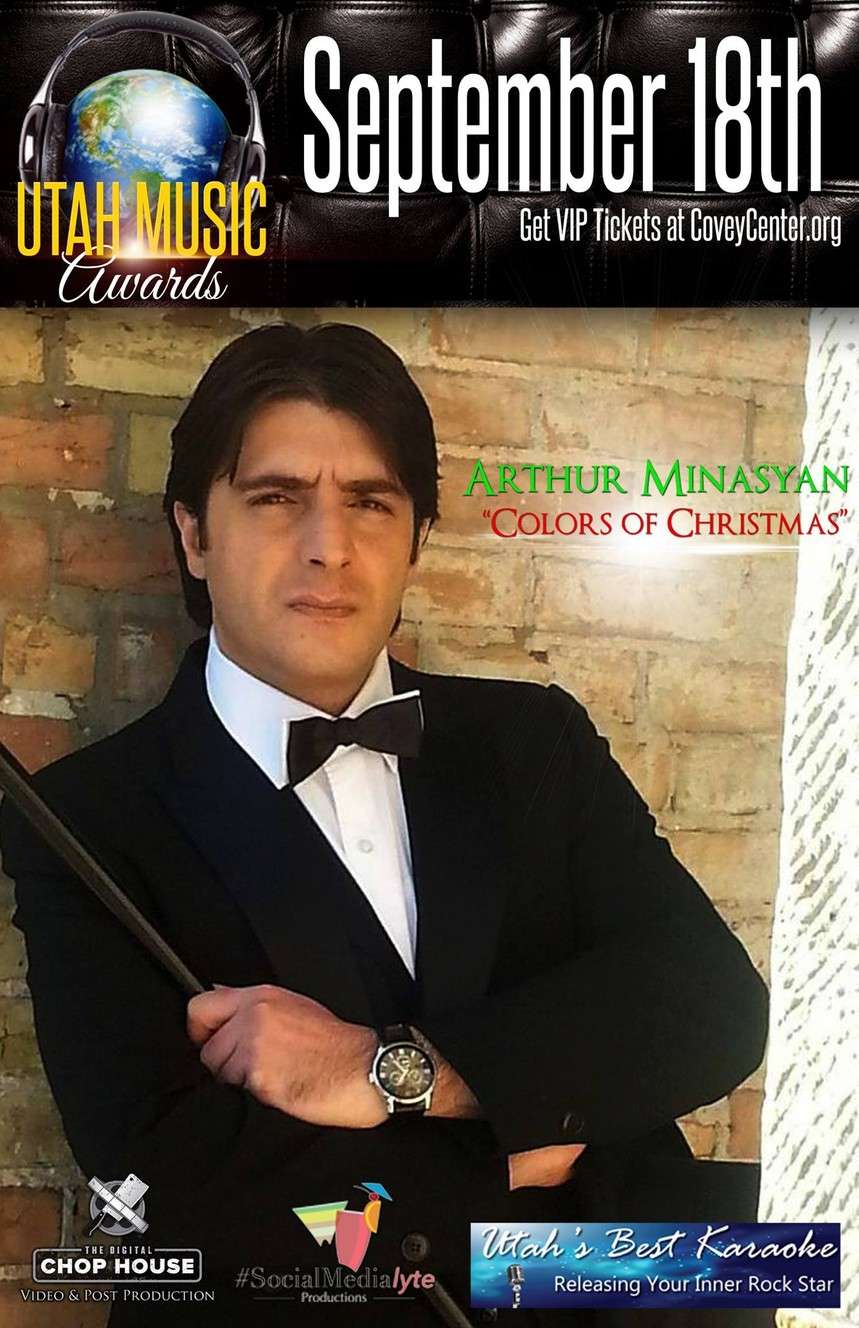 Born in Armenia in the late 1970s, young Arthur knew early on that composing music was in his future. At the age of 8, he began attending music school where his mother was a teacher. While there, he spent hours listening to classical masterpieces, enjoying every minute of it.
Life for Minsayan was not without its challenges.
"One day during the country's years of difficulties —war and cold, from lack of power — I sat by the piano and started to play something by candlelight," Minsayan said. "My mother was busy grading homework while listening to what I was doing. She took notice and asked what I was playing. I enthusiastically replied, 'I don't know, Mom, but I've made up something new.'
It was that day, when Minsayan realized he had the potential for composing music.
"My inspiration comes from many different things such as nature … people, traveling to new places … . But mostly I get inspiration from God and those tender but vivid whisperings that I have in my head and soul. When I create a new piece, I can feel the power of heaven and the Lord's mighty hand in that composition. I can even go without sleep or food if necessary in order to finish a particular piece. Sometimes in the middle of the night, I have words in my heart saying, 'Sleep well people, because in the morning I have something new to tell you.'
"My goal is to touch the hearts of people and invite the spirit of unity, understanding,and love.
"I was nominated for the composition called 'The Colors of Christmas,' which I created and devoted to Christmas day. I had a goal to finish it by Christmas of 2013. On Dec. 25, 2013, I released it. I could feel the spirit of celebration and something special while I was creating that piece.
"I'm glad that I was nominated for this composition and feel honored to be a nominee for the Utah Music Awards ceremony."
To find more about Minsayan and his music, go to his Facebook page.
Alicia W. Blickfeldt — best cover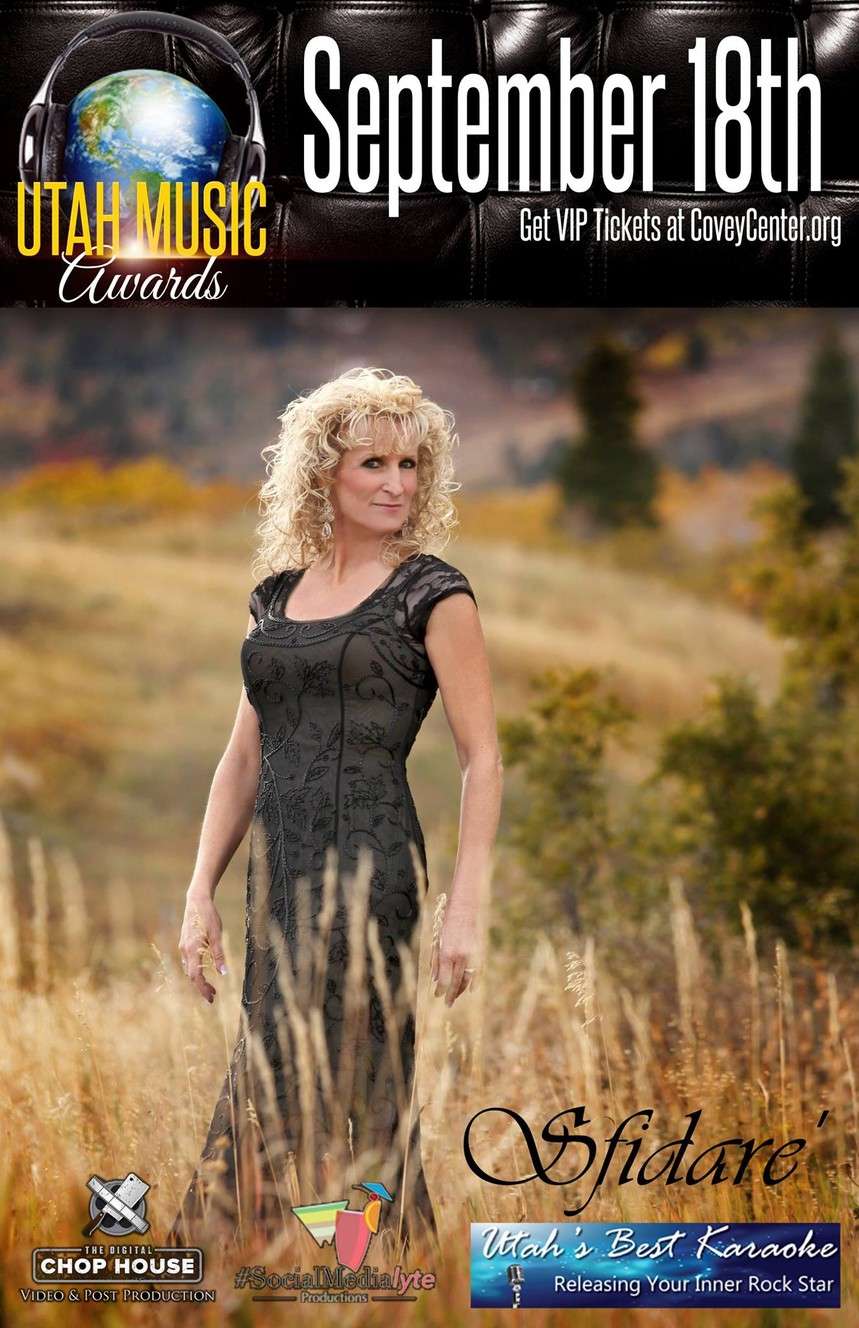 Alicia Blickfeldt's journey to the Utah Music Awards has not been without hardship and trial.
In 2012, Blickfeldt found a lump in her breast, which later turned out to be cancer.
"Being the headstrong woman that I am, I refused traditional treatments and sought holistic healing," she said. "After a harrowing year-long experience, I managed to kill the tumor, but I required surgery earlier this year to remove it. I recovered and began living life again."
Through her ordeal, Blickfeldt continued making music and was able to get in contact with people in the entertainment industry who encouraged her to enter the Utah Music Awards.
"At 11 p.m. on the night of the deadline, I was able to enter several tracks from my upcoming classical crossover album, Sfidaré" (Italian for defy).
On Aug. 11, 2014, however, the aspiring musician was involved in a traffic accident with a truck. Her injuries were so severe that she was hospitalized and is currently a resident of the rehab facility.
"The very week I was in the hospital, I received the email announcing my nomination to the Utah Music Awards," Blickfeldt said. "I might as well have been hit by another truck! ... My emotions swung from surprise, to honor and then to gratitude. The physical and emotional distress I was in, evaporated into joy. In great adversity still come great blessings.
"On the night of Sept. 18, you will find me rolling into the awards ceremony in my wheelchair with a smile on my face still grateful to defy the odds."
To find more about Alicia, go to her Facebook page.
Cathy Ford — best album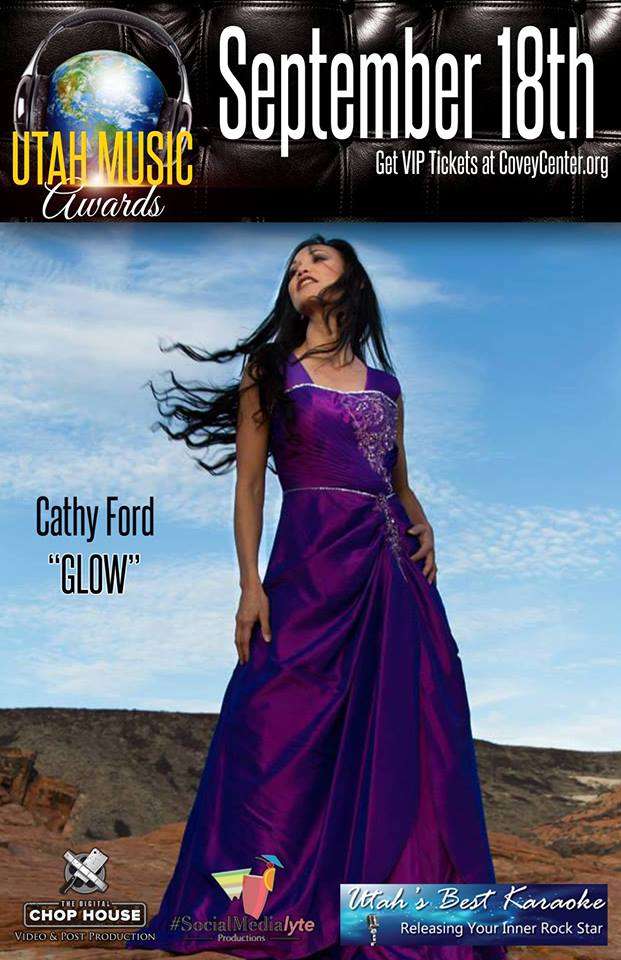 Southern Utah resident Cathy Ford began playing the piano and singing as a young child and studied voice in college. Over the years, however, the musician reserved her musical talents for church choirs, the occasional local production and her favorite: singing bedtime songs to her eight children.
Ford, who also acts and models, has recently emerged as one of the most sought-after talents in the state, modeling for Jamberry Nails and UltrAspire Hydration Packs, and acting in a commercial for Verizon Wireless.
In her debut album, "Glow" for which she is nominated, Ford sings about her own challenges growing up as one of the only ethnic children in her community. Using her own daughter in her music video, Ford is able to convey a message of hope and the ability to overcome adversity.
Ford said she was surprised when she learned that "Glow" had been nominated for Best Album at the Utah Music Awards.
"I was floored when I received the word," she said. "I'm up against some really popular artists, and I truly am thrilled to be part of this experience."
To learn more about Cathy, go to cathyfordmusic.com.
To find out more about the event or to see other nominees, go to workmanproductions.com.
---
![](http://media.bonnint.net/slc/2505/250517/25051768\.jpg)

About the Author: Arianne Brown -------------------------------

Arianne is a mother of 6, and lover of all things, even the common house fly. Her down time is spent running the mountain trails of the Wasatch Mountains and beyond. Contact her at ariannebrown1@gmail.com or search her Facebook page, "A Mother's Write."

×
Photos
Related links
Related stories
Most recent Utah stories