Estimated read time: 3-4 minutes
This archived news story is available only for your personal, non-commercial use. Information in the story may be outdated or superseded by additional information. Reading or replaying the story in its archived form does not constitute a republication of the story.
LOGAN — When the Utah State defense woke up the morning after a dominating 36-24 home win over Wake Forest, the Aggies must have had a little extra bounce.
That's because Utah State (2-1) woke up as the No. 39 total defense and fourth-rated rush defense in the nation, allowing 62.3 yards per game that included a minus-25 outing against the Demon Deacons (1-2).
The secret, according to defensive captain Zach Vigil, is simple: just have fun.
"The defense was flying around and having fun," said Vigil, who had his first career pick-six in the first quarter Saturday night. "That was what we talked about all week that we wanted to do: have fun, more than anything, and not worry about how the offense was doing.
"We needed to worry about taking care of our business and put some points on the board."
The Aggies did a bit of that, too, scoring 14 of the Aggies' 36 points via Vigil's interception and safety Devin Centers' 47-yard fumble recovery touchdown shortly before halftime.
"That's a real confidence builder," said defensive end B.J. Larsen, who had a career-high three sacks along with two tackles for loss and a quarterback hurry. "It feels great to know that we can contribute in that way, as well, and help our offense out. That's just guys making plays. We had a good week in practice, and it carried over into our game."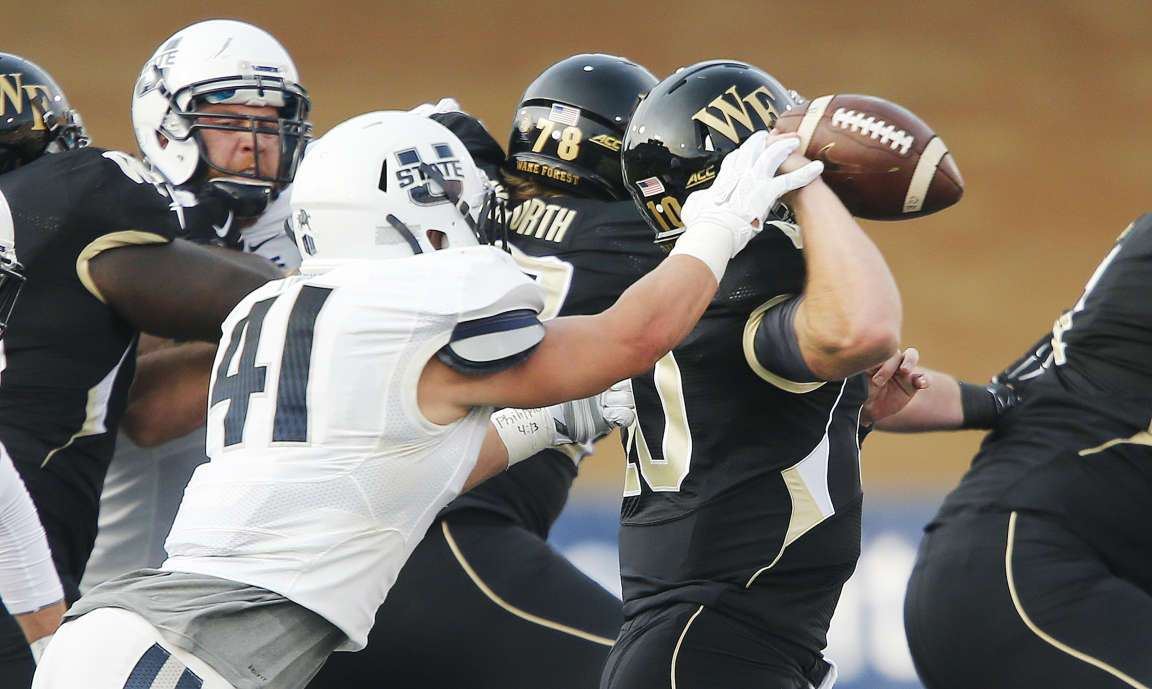 The Aggies rank 79th nationally in scoring defense with 27.3 points per game, and 39th in total defense while allowing 341 yards per game.
At the heart of that defense are brothers Zach and Nick Vigil. The dynamic duo in the linebacker corps is enjoying the brothers' final year of playing on the same college football team, and their enthusiasm is even spreading through the family.
"They love everything about (this season)," Zach Vigil said. "They've got a big tailgate out there, and all our family is having fun and waiting for us every week."
Head coach Matt Wells called Saturday's win over Wake Forest — the first win over an Atlantic Coast Conference team in program history — "a really good win."
"We had a lot of guys step up, and it was led by the defense and Zach Vigil and the senior leaders," Wells said. "My hat's off to those seniors on defense for the way they played.
"It's a tough, hard-fought win, and it may be very unorthodox to do it. But we're going to stick together as a team, and we're going to win together as a team."
The Aggies came together after a tough blow when All-America linebacker Kyler Fackrell was ruled out for the season with a knee injury. But Torrey Green has stepped into Fackrell's role well, including putting up six tackles, 2.5 tackles for loss and a sack against the Demon Deacons. Utah State could also see less of star quarterback Chuckie Keeton, who sat out the second half Saturday after re-injuring his knee.
"I think a lot of those guys have dealt with adversity in a positive manner," Vigil said. "Losing Kyler is tough; he's a tremendous player for us, and maybe losing Chuckie again. But whomever it is, we'll wrap our arms around whoever is up next."
The defense has been building off momentum for three years, when it has been ranked among the top 15 defenses in the nation. This year's Aggie defense is different, according to Larsen — but it has the same characteristics to build on.
"It's always a new edition of the Aggies," he said. "You can't build off of last year too much. We had a lot of guys step into new positions, and we've gotten better. That's huge for us. Kids are starting to catch on now and really know what it means to be a part of the Aggie defense."
×
Photos
Related links
Related stories
Most recent Sports stories