This archived news story is available only for your personal, non-commercial use. Information in the story may be outdated or superseded by additional information. Reading or replaying the story in its archived form does not constitute a republication of the story.
SALT LAKE CITY — The Utah Honor Flight, filled with World War II veterans, takes off for Washington, D.C., in just two weeks. More than 60 veterans will get a chance to visit the World War II Memorial dedicated to their sacrifices. This is an urgent mission, because age is doing what the war could not seven decades ago.
"It's really important for these veterans to know that they are being honored," said Connie Wright, whose father was a POW for more than three years. "For so many years, they never talked about it."
The honors are overdue for some of Utah's World War II veterans. For others, it's too late. That's one reason the Utah Honor Flight is a race against time. The World War II Memorial was dedicated a decade ago. But the veterans who deserve to see it are dying at a rate of more than 500 a day. As they pass away, their unique stories are in danger of fading, too.
That's why it was important for Connie Wright to get her father, Courtney Kruger, on the Utah Honor Flight.
"He was certainly a hero, at least in my eyes," she said.
When the Japanese bombed Pearl Harbor in 1941, Courtney Kruger was a radio operator assigned to a B-17 stationed at Clark Field in the Philippines. But Japanese bombers destroyed that B-17 the next day, and Kruger was reassigned to the infantry. Before long, Japanese troops captured Kruger and held him as a POW for more than three years.
"It's hard to even imagine what he went through," Wright said.
---
(The) time is now. We don't have 10-plus years. We've only got the next couple years to get these guys out there.
–Candice Backus
---
She said her father did not talk about the war when she was growing up. But in recent years, he opened up about the brutal conditions while he was held captive.
"There were random killings. There were beatings," she said. "He lived off of rice, basically. They would gather weeds and boil it in water to make some soup."
In 1944, he survived two months on a notorious Japanese "hell ship." Kruger told his daughter their captors packed them into the boat like sardines with other prisoners.
"Head to toe in the hull of the ship. They'd have to stay like that."
He had to endure that during a trip from the Philippines to slave labor at a sulfuric acid plant in Japan. Kruger told his daughter he weighed 65 pounds when he was liberated. He wound up in Utah at a military hospital in Brigham City. He received a Bronze Star 40 years later for his sacrifices.
"This was still really before I realized what he had gone through," Wright said.
This summer, Wright said her father was looking forward to the Utah Honor Flight this month. But he became ill and died in July from complications related to pulmonary fibrosis, brought on from lung tissue damage from the slave labor during the war.
"That's really what he was looking forward to: really being honored, because they were the unsung heroes."
Wright said that her father truly would have enjoyed visiting the World War II Memorial.
"He had been following the building of the memorial many years," Wright said.
At least four veterans slated for the trip will not be able to go because they have either passed away or their health has declined too much for them to travel.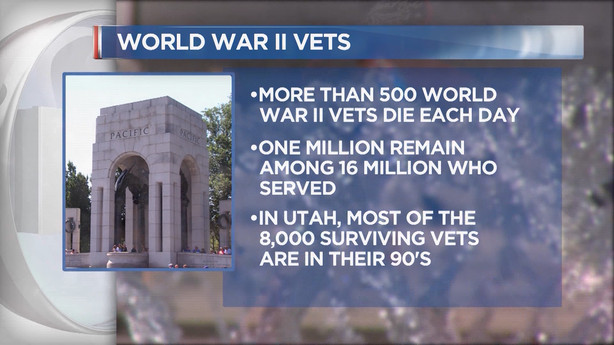 Candice Backus, with Utah Honor Flight, met Kruger a year ago while volunteering at the VA nursing home in Salt Lake City.
"Really, Court was the reason I am involved in Honor Flight," she said.
They became "bingo buddies" at the home, enjoying game time together.
"He was so welcoming and so loving," Backus said. "His memory would fade occasionally, but he would always greet me with, 'Hello ma'am, how's your day been?' He was one of those people you just felt like they were instantly one of your best friends."
World War II vets are dying at a rate of 555 a day, according to recent Veterans Administration numbers. That's about one every two minutes. Today, there are only 1 million left among the 16 million who served.
Here in Utah, there are around 8,000 surviving vets. Most of them are in their 90s. Many face health problems.
"So, the time is now," Backus said. "We don't have 10-plus years. We've only got the next couple years to get these guys out there."
Backus will bring Kruger's burial flag to Washington, D.C. His burial flag and his picture will be placed on a wheelchair and taken through the memorials.
"Even though Court can't be there with us physically, he'll be there with us in spirit," Backus said.
It's a way to honor the veteran, even though the opportunity arrived too late.
"We are very very proud of him," Wright said.
×
Photos
Related Links