KNOXVILLE, Tenn. — When Utah State's football team takes to the field Sunday at 5 p.m. MDT against Tennessee, it will mark the program's first-ever game at historic Neyland Stadium.
But it won't be the first time on that grass for one player.
Cornerback Daniel Gray played in eight games for the Vols as a true freshman in 2012, when he recorded six tackles in the final year of former coach Derek Dooley. After the season, Gray transferred to Utah State to join former Boyd Andersen High School (Fort Lauderdale, Florida) teammate JoJo Natson.
After using his redshirt year to sit out per NCAA transfer policies, his first game in Aggie blue will be against his former college football team in orange.
"It's a lot of emotions. I'm going back to my old stomping grounds, but my teammates are doing a good job in helping me keep my confidence," Gray said. "They let me know they're behind my back. It's not like I'm going to Tennessee by myself; I'm going to Tennessee with 73 other players with me, ready to fight."
---
It's a lot of emotions. I'm going back to my old stomping grounds, but my teammates are doing a good job in helping me keep my confidence.
–Utah State cornerback Daniel Gray
---
The 5-foot-11, 170-pound Gray recorded a 4.32 40-yard dash as a senior in high school and was ranked the 105th best corner by ESPN before committing to the Vols. Even when he announced he'd be joining the Aggies, fellow Florida resident and longtime friend Rashard Stewart didn't believe him.
"Everybody who knows Danny Gray knows he's a character," said Stewart, who went with Natson to pick up Gray at Salt Lake International. "But I saw it, and I knew this was a dream come true — when you have friends back at home come play with you 2,000 miles away. It's kind of crazy to see him here right now."
Gray, who had never traveled west before finding a home in Logan, felt right at home as soon as he stepped foot in "beautiful" Utah.
"It was a relief; I was finally back in school," said Gray, a sociology major. "I didn't know if I was going to be in school, and that was just a big relief off my shoulders."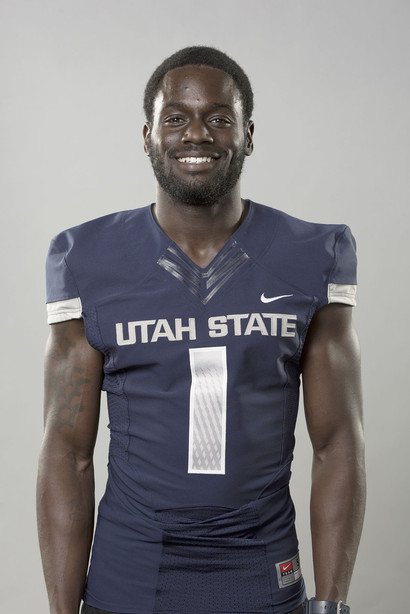 The arrival of the former Vol has Gray's teammates in the Aggie secondary confident ahead of Sunday's game. Senior safety Brian Suite said the addition of the explosive, fast cover corner who is listed at the top of Utah State's two-man depth chart makes them dangerous.
"Any time you look at an SEC team, the first thing I see is great athletes," Suite said. "The recruiting over there is top notch; they've got phenomenal athletes, big guys at wide receiver and some great speed guys at the skill positions."
After his freshman season, Gray thought he would have to attend a junior college before finding a way back into Division I football. No schools expressed interest in his services — until he talked to Stewart, Natson and former Aggie wide-out and high school teammate Travis Reynolds. The Florida natives found a way to get Gray to come to Logan, in part based on the success of several Aggie cornerbacks now in the NFL like Will Davis and Nevin Lawson.
"It was a blessing," Gray said. "They were the only other team that wanted me; it was them or go JuCo. I had teammates up here, and they were like, 'If you want to go to the league, this is where you want to come.' It's the corner school now."
Those corners will be tasked with shutting down Gray's former teammate and Tennessee starting quarterback Justin Worley, who threw for 1,239 yards and 10 touchdowns in an injury-shortened 2013 season.
Gray's weightlifting partner, Suite, admitted the defense occasionally turned to the ex-Vol for advice on his former teammates and motivation — as if the Aggies needed more going into an opening week matchup on the brand-new SEC Network.
"It's something that means a lot to him, and with it meaning a lot to him, it means a lot to us, too," Suite said. "He left there to come here, and we're really glad he made that choice. We're glad that he's here. We're going to play to win."
×
Photos
Related Stories