VERNAL — One by one, witnesses took the stand Tuesday and described Elvis Olsen as a person who was always willing to help family and friends.
Olsen, 22, was also frequently in contact through text messages and phone calls with the people in his life, according to testimony from the Roosevelt man's father and friends.
"About every hour or hour-and-a-half he'd check in with us," Johnny Olsen testified, noting that his son's calls and text messages ended suddenly on the afternoon of April 21, 2013.
"That was unusual for him," he said.
The younger Olsen was doing a favor for Jesse Anthony Saenz that day when Saenz shot him three times with a .44 magnum revolver outside his grandfather's home in Fort Duchesne, according to Uintah County Attorney Mark Thomas.
Saenz, 24, is charged in 8th District Court with murder, a first-degree felony; theft, a second-degree felony; and possession of a firearm by a restricted person, a second-degree felony. A five-day jury trial in the case began Monday.
"(Jesse) asked (Elvis), 'If I give you 20 bucks, will you take me to my grandfather's place in Fort Duchesne?'" Thomas told jurors during his opening statement Monday, noting that Elvis Olsen agreed to give Saenz a ride on the day of the shooting.
But defense attorney Ryan Holtan asked jurors to keep an open mind and listen to all the evidence before making up their minds.
"So now you've heard the (prosecution's) narrative; the story," Holtan said during his opening remarks. "Where are the gaps in that story? Where are the shortcuts the state took to bring you that story? What assumptions have they called upon you to make for that story to hold out?"
On cross-examination, Holtan asked Johnny Olsen whether he'd ever given investigators the names of people who might want to hurt his son after Elvis Olsen was found dead. The father acknowledged that his son had been assaulted by three men while serving time in the Uintah County Jail, and was also afraid of an individual named John Brown.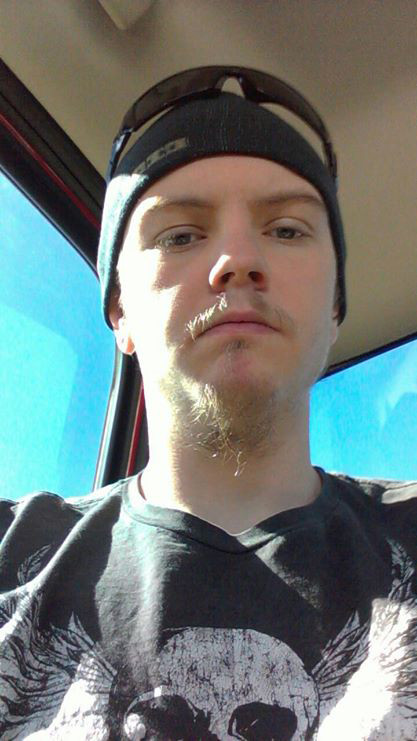 Elvis Olsen's family and friends were followed on the witness stand Tuesday by Saenz's mother and sister. Delphine James and Elaina James testified that they discovered Olsen's body when they went to the home of Delphine James' father to care for his dog.
The mother and daughter were also hoping to find Saenz at the home, they said, because police were actively trying to find him. Officers were looking for Saenz because he'd cut off the GPS-equipped ankle monitor he'd been ordered to wear as a condition of pretrial release in a pending rape case.
Delphine James was quiet and calm as she answered Thomas' questions about finding Elvis Olsen's body. Her daughter, however, became emotional as the prosecutor asked her to look at a photo of a man's body lying face down in tall yellow grass.
"That's Elvis Olsen," Elaina James said, her voice choking up and tears coming to her eyes.
Elvis Olsen's mother and sister sobbed quietly in the courtroom gallery as the photos of the man's bloody body were displayed for the jury on a large TV. At the defense table, Saenz kept his gaze on the legal pad in front of him and appeared to show no emotion.
A number of law enforcement witnesses were also called Tuesday. Holtan questioned each officer about the collection of evidence, specifically focusing on a lone .44-magnum bullet that Delphine James found before police arrived.
James testified that she put the bullet in her pocket and later gave it to her brother-in-law, Jack Sixkiller. Sixkiller testified that he turned the live round over to an officer at the crime scene, but couldn't remember which specific officer took the bullet from him.
Several officers testified that they saw the bullet that day and there appeared to be some confusion over who accepted it from Sixkiller. Uintah County sheriff's detective Brandon Cottam, however, testified that he put the bullet into the department's evidence locker after Sixkiller handed it over.
Sixkiller also testified that he had owned the .44 magnum revolver that prosecutors say Saenz used to kill Elvis Olsen, but gave it to Saenz's grandfather as a gift several years before the shooting.
Rape case
In August 2013, Saenz admitted that he followed a Vernal woman off a shuttle bus in the summer of 2012 and attacked her, dragging her into a field where he beat and raped her.

Judge Clark McClellan, who presided over the sex assault case, imposed a mandatory sentence of 15 years to life in prison for Saenz's guilty plea to one count of aggravated sexual assault, a first-degree felony.
The gun was missing from the grandfather's house after the shooting, according to an FBI agent who assisted with the investigation. It was found in Elvis Olsen's car, which Saenz was driving when he was arrested in Arizona the day after the shooting, according to witness testimony.
Prosecutors also presented data from the electronic ankle monitor Saenz was wearing that put him at his grandfather's house on the day of Elvis Olsen's death. The device was later found in the living room of the apartment Saenz shared with his mother, according to Kevin Pummell, a private probation provider who monitored Saenz's pretrial release in the rape case.
A jury of six men and four women has been chosen to hear the murder case. Eight of the jurors will ultimately decide the case, with two serving as alternates. The trial is scheduled to run through Friday.


×
Photos
Related Stories