SALT LAKE CITY — A recent poll shows most Utahns would likely favor a statewide law banning discrimination in housing or employment on the basis of sexual preference.
The poll, sponsored by Zions Bank and commissioned by UtahPolicy.com, found that 59 percent of Utahns would either strongly favor or somewhat favor "a statewide law banning employment and housing discrimination based on sexual preference."
The results come on the heels of a poll released Monday showing 61 percent of Utahns in opposition to the legalization of same-sex marriage. Dan Jones & Associates conducted the poll of attitudes of likely voters Aug. 12-14. It has a margin of error of plus or minus 4.9 percent.
"I don't think that you're going to find a public policy move that's going to please either side because clearly Utahns do not support same-sex marriage," said Bryan Schott, managing editor of UtahPolicy.com. "I mean, it's a 2-to-1 margin. That's pretty overwhelming in our survey. "But by the same account, they … are warming to more gay rights … in supporting a nondiscrimination bill across the state."
While several cities throughout Utah have adopted nondiscrimination legislation, a statewide bill has been filed but not passed in the Utah Legislature for six consecutive years.
The passage of a non-discrimination bill is contingent on the ability of lawmakers and voters to separate same-sex marriage from "simple workplace and housing discrimination," Sen. Steve Urquhart said Tuesday on "The Doug Wright Show." "If I can succeed in doing that, we will pass this."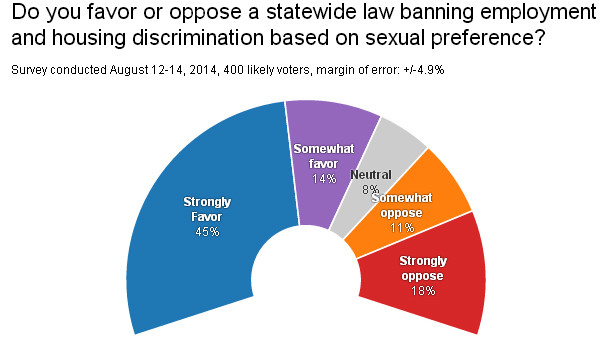 Urquhart sponsored SB100, a nondiscrimination bill proposed to the Legislature for the past two sessions. It was not heard in the most recent legislative session in the wake of the Amendment 3 ruling.
According to Schott, the results show two things about Utah voters.
"What these numbers tell me is the statewide nondiscrimination is probably a political issue whose time has come in Utah; (and) same-sex marriage is not an issue whose time has come," he said.
Others see matters in a different way.
"Utah, I think, has an opportunity — and maybe unique opportunity — to try and reconcile all those kinds of concerns with fairness on one hand and with protecting family and a family friendly state on the other hand and show that those can be reconciled in a way that's positive," said Bill Duncan, director of the Center for Family and Society at the Sutherland Institute, a conservative public policy think tank. "I think that the poll results suggest that's the way many Utahns think about this issue, and I think that's good."
Support for nondiscrimination bills may abate "as people become aware of some of the potential legal conflicts that could develop between discrimination laws that single out statuses like gender identity or sexual orientation, and employers' and individuals' rights to act on their faith in the public square," Duncan said.
An ideal bill would have a "strong religious exemption" — protecting businesses and individuals from being forced to violate their beliefs — and avoid creating "new categories (of nondiscrimination) that are potentially more troubling, like sexual orientation and gender identity," he said.
The polls are part of an ongoing effort by UtahPolicy.com to measure attitudes regarding politics and public policy in the state, according to Schott, and do not reflect a political motive.
"Our agenda is to get information and disseminate it. That's our agenda. We have no other agenda other than that. We don't have a political bent. We just wanted to find out what the numbers were," he said.


×
Photos