This archived news story is available only for your personal, non-commercial use. Information in the story may be outdated or superseded by additional information. Reading or replaying the story in its archived form does not constitute a republication of the story.
SALT LAKE CITY — The man accused of shooting and killing a Draper police officer was charged Wednesday with aggravated murder.
The charge leaves open the possibility for the Salt Lake County District Attorney's Office to seek the death penalty if Timothy Troy Walker, 35, is convicted.
"Death is definitely on the table. It is not off the table. This is an aggravated murder. The allegation is a police officer was murdered," District Attorney Sim Gill said Wednesday.
Prosecutors say Walker had methamphetamine in his system when he fired several shots through the open window of Draper Police Sgt. Derek Johnson's patrol car.
Walker was also charged in 3rd District Court with attempted murder, or an alternative charge of discharging a firearm causing serious bodily injury, both first-degree felonies, for allegedly shooting his girlfriend. He was also charged with three counts of illegally discharging a firearm and possession of a firearm by a restricted person, third-degree felonies.
Gill's office won't have to officially declare for some time whether it will seek a death penalty. Such a declaration has to be made 60 days after an official arraignment, which follows a preliminary hearing. That hearing could be months, if not longer, away. Gill could not say Wednesday whether he was already leaning one way or the other. But he said the aggravating factors needed for a capital case are present.
Related Story
"The aggravator is a police officer shot in the line of duty. And that's something our community, rightfully so, takes very seriously. It's something this office takes very seriously. And we are not going to spare any resources in the prosecution of this case and treat it with the seriousness it deserves," he said.
On Sept. 1, just before 6 a.m., Johnson was finishing his shift and driving back to the police station. On the way, he came across a car in the road that was broken down near 13200 S. Fort Street (850 East), according to charging documents.
The Volvo that Walker and Traci Lee Vaillancourt, 34, were driving was involved in a prior accident a few blocks away where Walker drove over a curb, a stop sign, a large rock, and then drove through a fence at 933 E. 13800 South, the charges state. When Johnson came across their vehicle, the front passenger tire was flat and the vehicle had run out of gas.
"He rolled up and stopped to assist and had his passenger window down, and that first bullet, which was the fatal bullet, came through the passenger side window," Gill said. "From our perspective, we can't see the motive component from it. What we are absolutely certain about is where that bullet came from and the multiple shots that were fired at that marked police car as that vehicle then tried to drive away."
After the first shot was fired into the open passenger window of Johnson's car, which struck him in the chest, Johnson hit his gas pedal and tried to speed away, according to prosecutors. Walker fired at least three more shots, the charges state. Johnson attempted to notify dispatchers of "shots fired" before losing control of his vehicle and crashing into a wooded area about two blocks away.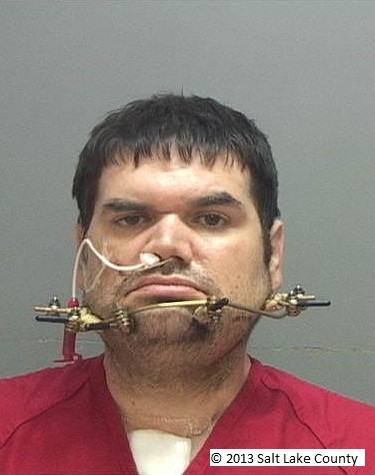 A toxicology report showed that Walker had methamphetamine in his system at the time, according to court documents.
At some point during the incident, Vaillancourt was shot in the back. Because the sequence of events was still being investigated Wednesday, Gill said he left open the option of attempted murder for allegedly shooting Vaillancourt, or felony discharge of a firearm as an alternative.
Vaillancourt, who was released from the hospital over the weekend and booked into the Salt Lake County Jail, was also charged Wednesday with two counts of obstruction of justice.
Vaillancourt was interviewed three times at the hospital by Unified police investigators. Her stories changed with each interview and her statements did not match the physical evidence, according to police.
During an interview with officers on Sept. 4, she "stated that she never saw a police officer, did not see who was shooting, and did not know who shot her," according to the charges. On Sept. 7, she "then admitted that she did see a marked police vehicle pull up next to the Volvo and then heard several shots fired in a quick succession, one of the shots hitting her."
Vaillancourt is currently confined to a wheel chair and her arm is in a sling, according to her attorney Matthew Kober.
"This is certainly a point in her life that's going to change the direction she's been in for the last several years," Kober said.
Her bail is set at $500,000.
Gill said Walker was expected to be released from Intermountain Medical Center by the end of the day Wednesday and booked into the infirmary at the Salt Lake County Jail. He vowed sparing no resources in prosecuting the man who is accused of shooting Johnson.
"This is a young man who was doing his job honorably and professionally and doing what he loved, and it's just a tragic loss to his family and friends and Draper City."
Contributing: Andrew Wittenberg
×
Photos
Related Stories