This archived news story is available only for your personal, non-commercial use. Information in the story may be outdated or superseded by additional information. Reading or replaying the story in its archived form does not constitute a republication of the story.
UINTA NATIONAL FOREST, Wasatch County — The federal agents, prosecutors, public defenders and probation agents milled around the small camp trailer Thursday morning, checking paperwork and chatting idly until the black pickup truck drove into the dandelion-dotted meadow.
Flanked by deputy U.S. marshals and carrying his black robe draped over his left forearm, U.S. Magistrate Judge Dustin Pead emerged from the truck, walked directly to the trailer and stepped inside.
Just like that, federal court was in session for the 17 members of the Rainbow Family of Living Light who have received a combined 21 citations over the past two weeks from Forest Service rangers for a number of minor offenses.
The decision to have a magistrate take the bench near the site of the 2014 Rainbow Family Gathering — more than 60 miles from the federal courthouse in Salt Lake City — is one of convenience, according to Brian Michaels, an Oregon attorney and member of the Rainbow Family for more than 30 years.
"I think their motivation most likely is for the convenience of the police officers," Michaels said. "(Prosecutors) don't have to take them out of the gathering in order to be witnesses.
"That same convenience trickles down to us as well," he added. "Getting out of the gathering and getting a ride two hours away (for court) is much more difficult than getting a ride five miles."
Melodie Rydalch, spokeswoman for the U.S. Attorney's Office for Utah, said holding court near a major event is something that has been done in the state and elsewhere around the nation in the past. Federal magistrates held court near the site of the 2003 Rainbow Family gathering in Summit County. They also heard cases at remote sites near Olympic venues during the 2002 Winter Games in Salt Lake City.
"It just makes sense. It's more efficient for everyone involved," said Rydalch, who added that three more court dates are already slated to take place near the Rainbow site in the next two weeks.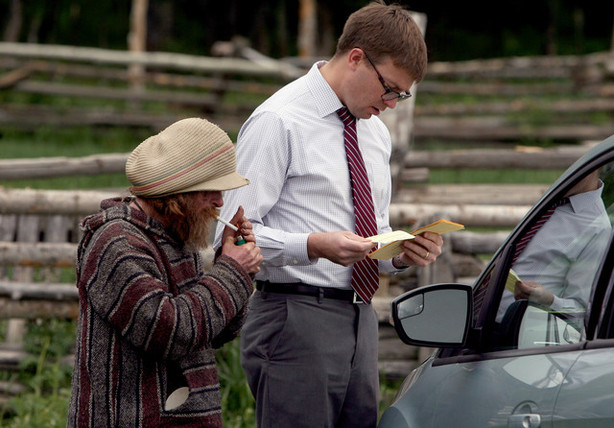 Efficient, yes, but Rainbow Family member Thomas "Wind Wolf" Greenwood believes there's something wrong with the arrangement that he referred to as a "kangaroo court."
"Something about it has a greasy feeling," said Greenwood, who traveled from Indiana to Utah for the annual counterculture gathering.
"There's no other way I can describe it," he said. "It doesn't feel right."
Greenwood said he was in court Thursday to deal with a federal citation for having his dog off a leash. The Forest Service is requiring dogs to be leashed at the gathering's multiple campsites to prevent problems.
Others members of the Rainbow Family appeared before Pead on misdemeanor drug possession citations issued by Forest Service rangers. Several argued that the searches of their tents and vehicles were illegal. Others complained of outright harassment by law enforcement officers.
"Law enforcement within the federal service uses what I call 'the shotgun approach' — throw everything at the wall and see what sticks," Greenwood said. "If you have a tail light out, anything with your vehicle, they will stop you, harass you."
Michaels, however, struck a more diplomatic tone.
"We're being harassed much less than we have been in the past," he said. "The law enforcement people themselves that I've spoken with, they've all been very friendly, but they're still going around looking to bust people."
On Thursday, the Forest Service estimated that nearly 1,145 people had arrived at the gathering site in the Uinta National Forest. As many as 20,000 people could show up for the gathering's main event on July 4.
×
Photos
Related Stories