Estimated read time: 3-4 minutes
This archived news story is available only for your personal, non-commercial use. Information in the story may be outdated or superseded by additional information. Reading or replaying the story in its archived form does not constitute a republication of the story.
DUCHESNE — The mother of a Duchesne High School student accused of stabbing a classmate three times in May says her son was violently bullied by fellow students due to his mental and physical disabilities.
Leland Patrick King waived his right to a preliminary hearing in a brief appearance Friday in 8th District Court. King, 18, is charged with aggravated assault on school premises, a first-degree felony, and possession of a dangerous weapon on school premises, a class B misdemeanor.
After court, Donna King said she met with high school administrators three times in April to voice her concerns about her son's safety. He had come home from school more than once, she said, with bruises, scrapes and cuts.
"I trusted the principal. I trusted the counselors. I trusted the teachers that they would keep Leland safe," Donna King said, noting that her son has been diagnosed with autism and has the mental capacity of a 14-year- old. He also has a musculoskeletal disorder that makes him physically weaker than others his age.
Those disabilities made her son a target for bullying by as many as seven Duchesne High students, including the teen who was stabbed, Donna King said.
"Leland ran away from home in April, and search and rescue had to be called out to find him," Donna King said. "He ran away to avoid attending school."
---
I trusted the principal. I trusted the counselors. I trusted the teachers that they would keep Leland safe.
–Donna King, mother of alleged assailant
---
Things apparently came to a head on May 14, when Leland King and a 17- year-old student got into a physical altercation on the football field after a name-calling incident during a gym class.
The teacher and other students separated the pair and both were told to report to the office, charging documents state. Leland King went into the locker room to change, followed by the 17-year-old, whose name has not been released.
Donna King said Friday that the younger boy began punching her son inside the locker room, knocking him to the floor. That's when a small folding knife her son uses to cut string off bales of hay on the family farm fell out of his pants pocket, Donna King said.
"I wish he hadn't used the knife, but I don't know what would have happened if he hadn't," she said. "I'm sorry this happened. I'm sorry the boy got hurt. Leland is sorry the boy got hurt."
Responding deputies determined that the 17-year-old had been stabbed twice in the back and once in the right arm. He was taken to Uintah Basin Medical Center in Roosevelt and then flown to a Salt Lake-area hospital where he underwent surgery.
Investigators spoke with one witness who said he saw Leland King walk out of the locker room after the stabbing and drop a knife. The student said Leland King picked up the knife and walked toward the parking lot, the charges state.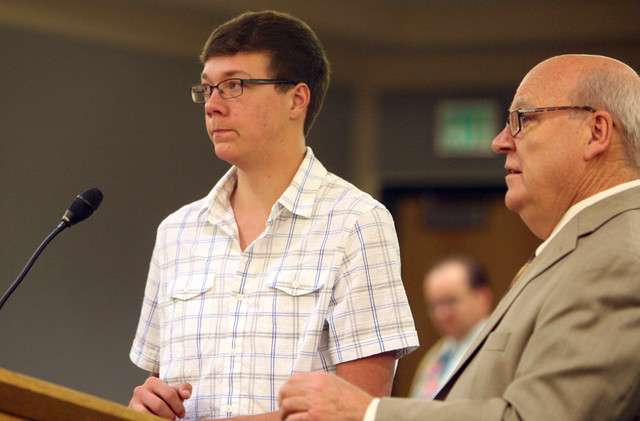 Another student said he saw Leland King get into a car after the stabbing in an apparent attempt to leave the school. Donna King said her son told her afterward that he was trying to "come home to his mother."
"There was no planning in this," she said, adding that her son once broke down and said other students had been "torturing" him.
Duchesne County School District officials could not be reached Friday for comment on Donna King's allegations.
Duchesne County Sheriff's Lt. Travis Tucker confirmed that search and rescue crews had been called out to look for Leland King in April. He declined to comment, however, on Donna King's claims that her son had been bullied.
"We're looking at every aspect of this incident, and this is still an ongoing investigation," Tucker said.
Investigators have executed search warrants on Leland King's car and on his home in Fruitland, Duchesne County. Evidence collected during those searches and at the scene of the stabbing have been sent to the state crime lab for testing.
Leland King is scheduled to be arraigned July 14. If convicted of the aggravated assault charge, he faces a possible sentence of five years to life in prison.
×
Photos
Related Stories