This archived news story is available only for your personal, non-commercial use. Information in the story may be outdated or superseded by additional information. Reading or replaying the story in its archived form does not constitute a republication of the story.
OREM — Greyson Brown is no ordinary little boy.
The 5-year-old suffers from a gene mutation that weakens all muscles in the body, particularly the respiratory system, as well as another gene mutation never reported before.
Greyson's mother, Charlotte Brown, said her pregnancy with him was different from her other pregnancies.
"I didn't feel much movement like I had felt with my other pregnancies," she said, "so I thought there was something weird about it."
She said doctors told her the baby looked fine in the ultrasounds and that she was carrying him differently. But when he was born, doctors immediately knew something wasn't right,.
"He was floppy," Charlotte Brown said. "He was extremely so that the doctors knew right away that there was something wrong."
Exactly what was wrong with Greyson took time to figure out. But at age 1, doctors diagnosed him with a severe case of nemaline rod myopathy. Further genetic testing revealed a new mutation in a specific gene called the Actin 1, which had never been reported before.
What is nemaline myopathy?
"Nemaline myopathy is a disorder that primarily affects skeletal muscles, which are muscles that the body uses for movement. People with nemaline myopathy have muscle weakness (myopathy) throughout the body, but it is typically most severe in the muscles of the face, neck, and limbs. This weakness can worsen over time.
"It's very rare," said Dr. Ai Sakonju, a pediatric neurologist at Primary Children's Hospital. "He's the only one of his kind. That fact that he's alive is a miracle."
People with this condition often die from respiratory complications or failure; even the common cold can be fatal, Charlotte Brown said. Greyson wasn't expected to live past age 2.
"Even at his best, he's still weaker and has a harder time breathing than most people," said Joe Brown, Greyson's father.
Somehow Greyson has made it through RSV, two bouts of pneumonia, even the swine flu.
"It was just one after another the first two years," Charlotte Brown said. "He was in the hospital every couple weeks. He had to go back in for a little cold or something. We were just living day by day, minute by minute sometimes."
"He was in the hospital more than he was at home the first year of his life," Sakonju said.
Not knowing how rare Greyson's condition was and dealing with things one day at a time helped the Browns get through the first years. They also credit the boy's upbeat attitude.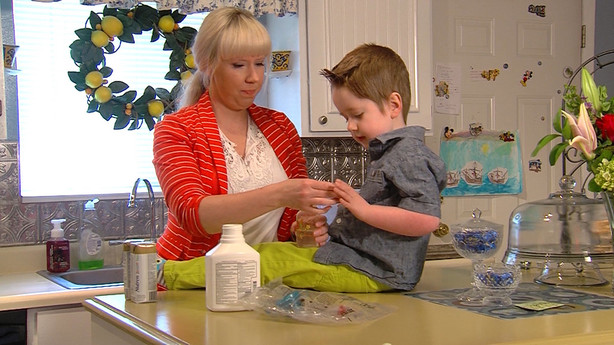 "I feel like his attitude has propelled him forward," Charlotte Brown said. "He's really taught us so much about having a good and positive attitude."
Greyson gets around his Orem home with a scoot and a smile. He does physical therapy at school and at home. He's also on a feeding tube, but is getting used to eating, his mother said.
"He doesn't walk yet," Charlotte Brown said. "We are hoping he will get there eventually."
Because Greyson's parents know each day is one more than they expected to get, they're treasuring these special moments. They say through Greyson they've learned a valuable lesson everyone can appreciate.
"(Be) grateful for what you have, I guess," Joe Brown said, to which Greyson responded, "Yeah!"
A fundraiser is being held to help defray some of the costs of the treatments. The Racin' for Greyson is a 5K walk/run on Saturday, May 31, at Exchange Park, 900 N. 750 West, Provo. The race will begin at 9 a.m. For more information, go to namify.com/content/RacinForGreyson/Default.aspx.
Racin' for Greyson fundraiser
The Racin' for Greyson 5K walk/run is being held to help defray some of the costs of Greyson Brown's medical treatments. For those wishing to participate, here are the details:
As for Greyson's future, doctors can't say for sure. Over time the disease can cause muscles around the heart to weaken.
"As to whether they live a quality of life, that's up to the family," Sakonju said, "and that's where the true miracle is."
But if you ask Greyson, he's got a different plan for his heart.
"We have no idea what his future looks like," Joe Brown said.
"A girl!" Greyson said.
"A girl? Maybe there will be a girl in his future," the boy's father said with a chuckle.
Contributing: Viviane Vo-Duc
×
Photos
Related Stories