NORTH OGDEN — A parent's heart stops when they hear there's been a shooting at their child's school. They rush to the school to see if their child is safe, only to find a very chaotic scene.
Reuniting children with their parents with so many emergency vehicles at the school can be difficult and can take several hours.
Stephanie Speicher, principal at Maria Montessori Academy in North Ogden, wants to make those potential scary hours a little calmer, if possible. She planned a full-scale, community wide emergency and reunification drill Thursday.
"I do believe that schools are sacred, I mean, this is my church," Speicher said. But she knows anything can happen in the school, including a gunman going through the halls, shooting students and teachers.
"We talk about school safety, but we're really not doing much about it, and I wanted to be proactive," she said.
Jill Cottle Garrett knows all about such emergencies. She has children who attend the North Ogden school, but she is also the aunt of Emilie Parker. Parker was one of 20 children and six adults killed at Sandy Hook Elementary School in Connecticut on Dec. 14, 2012.
Garrett remembers her sister, Alissa Parker, driving to Sandy Hook.
"She called me when she was looking for Emilie, and she described the scene, and she described pulling up, and there was nowhere to park, nowhere to go. She was kind of following crowds."
---
We have the opportunity to practice that in a non-stressful situation in a sense that there is no real emergency.
–Jill Cottle Garrett
---
Thursday, the school held an evacuation drill as part of an active shooter situation. The drill included firefighters and police officers. During the drill, teachers focused on students, getting them out and away from the school to a safe location where parents can find them and pick them up without being in the middle of all the chaos.
"We have the opportunity to practice that in a non-stressful situation in a sense that there is no real emergency," Garrett said.
After talking with the Parkers, Speicher said one of the greatest lessons learned was the importance of having a good reunification process.
"The kids didn't necessarily know where to go," Speicher said.
"Every day we saw the video of them practicing and walking in line. We know the reality, that's not really what's going to happen."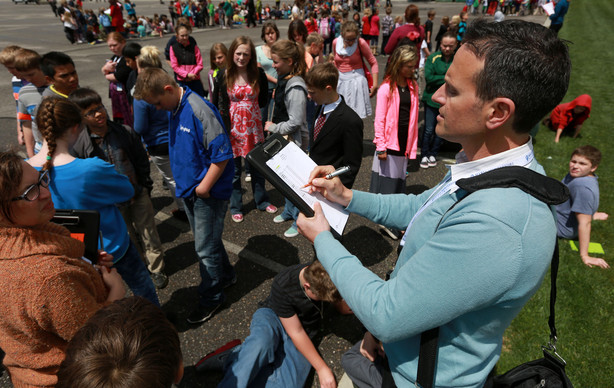 During the drill, parents received a call/text letting them know they needed to pick up their children at a pre-determined spot.
"At Sandy Hook, they evacuated the kids. That wasn't the designed evacuation site," Garrett said. "But it was because the police came in and said, 'This is where you're going to go.'"
By sharing the evacuation/reunification plans with North Ogden police, the fire department and other school leaders, teachers are hoping it will eliminate some confusion.
"We want, in our school, for the kids to know where there's a safe place I can go and somebody is going to be there to help me, and for the parents to know that spot," said Speicher.
"It's not just you who has to have a plan," Garrett said. "Everybody has to have a plan."
Along with the drill, the school made sure every classroom has an emergency bag.
"That's stuffed with water, snacks, even books to be able to read to children if we are in a situation where they are feeling nervous," Speicher said.
Contributing: Viviane Vo-Duc
×
Photos
Related Stories