This archived news story is available only for your personal, non-commercial use. Information in the story may be outdated or superseded by additional information. Reading or replaying the story in its archived form does not constitute a republication of the story.
KANE COUNTY — Wire Pass and Buckskin Gulch are both beautiful slot canyons in southern Utah and hikers can access both of them from a single trailhead.
People wanting to hike Wire Pass and Buckskin Gulch should know that they are true slot canyons. Wire Pass is very narrow. In many places, it's no wider than a bowling lane. You can easily touch both walls at the same time with your outstretched hands.
Wire Pass's walls are made from Navajo Sandstone. Countless flashfloods through several millennia have sculpted the walls into majestic flutes. Walking through Wire Pass is a bit like walking down a narrow hallway that was inspired by a Georgia O'keefe's painting, "flower."
Because Wire Pass and Buckskin Gulch are so narrow, very little direct sunlight can penetrate into them. The light that finally reaches your eye is very soft and diffused. It looks like it has been sifted a half dozen times through filters of citron and saffron. Thus, photographers playing these slots will really hit the jackpot. This soft sunlight really draws out the pinks, reds, oranges, and purples of the Navajo Sandstone's iron oxide, and this choiring light will draw the photographer inside you, ever deeper into the slot.
At the junction where Wire Pass connects with Buckskin Gulch, the canyon suddenly flares open into a box about the size of a football field. There, on a tall cliff wall, hikers will find several Anasazi petroglyphs including petroglyphs of men, bighorn sheep and a mysterious dotted line forming a continuous wave traveling the entire length of the wall.
Buckskin is the deepest slot canyon in the southwest and one of the longest in the world. When arriving at Buckskin Gulch, via Wire Pass, hikers can go right or left. Going left will take you a couple miles to Buckskin Gulch's true trailhead, where it opens into Houserock Valley. For day hikers, I suggest this route. Then simply retrace your path back to the Wire Pass trailhead.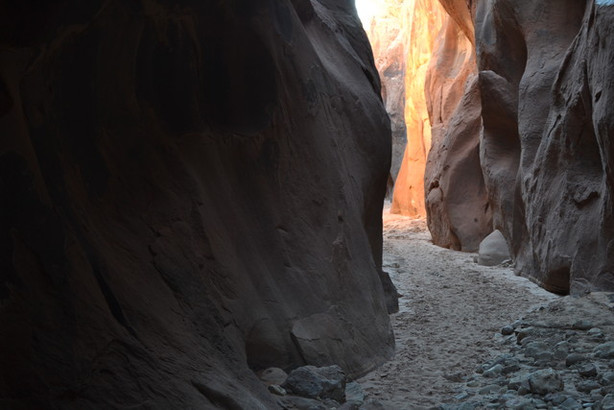 The right hand path will take you deeper into Buckskin Gulch and eventually, 12 miles later, joins Paria Canyon. In the lower end of the canyon, Buckskin's walls are more than 500 feet high and still only a car length wide. If you go this way, be aware that the lower part of Buckskin Gulch has a couple of 15 foot drop offs. There is usually a rope in these spots, but it's a good idea to bring your own 30-foot rope in case the rope isn't there.
Be informed about flash flood danger before hiking into Wire Pass or Buckskin Gulch, especially during the rainy season from mid-July to the end of September. The Buckskin Gulch drainage basin extends all the way back to Bryce Canyon, more than 30 miles away, so even if the skies overhead are blue, a rainstorm 30 miles up the canyon could send a flash flood down the canyon.
Getting There:
Wire Pass and Buckskin Gulch are located in the Paria Canyon-Vermilion Cliffs Wilderness area in southern Utah about halfway between Kanab and Page, Arizona. From U.S. 89 turn south onto Houserock Valley road and travel 8.3 miles to the trailhead.
A permit is required to hike Wire Pass and Buckskin Gulch, but permits are available at the trailhead. A $6 per person fee is required prior to hiking which can also be paid at the trailhead. The fee must be paid in cash or check.
There is a toilet at the trailhead, but no running water. There is a campsite with a pit toilet just two miles further south down the Houserock Valley Road.
The trailhead to Wire Pass and Buckskin Gulch is easy enough to find on your own, and usually the road leading to the trailhead is in good enough condition that passenger cars can safely traverse it. However, parts of the road are susceptible to flashfloods during the rainy season which could make them impassable to passenger vehicles with low clearance and no 4-wheel drive.
Several guide services offer tours to Wire Pass and Buckskin Gulch. All operate year round.
Steven Law is one of KSL.com's Outdoors and Recreation editors. He can be reached at curious_things@hotmail.com.
×
Photos
Related Links
Related Stories