Estimated read time: 8-9 minutes
This archived news story is available only for your personal, non-commercial use. Information in the story may be outdated or superseded by additional information. Reading or replaying the story in its archived form does not constitute a republication of the story.
PROVO — The video is violent and disturbing, both in sight and sound.
Graphic footage from the dashboard camera of Utah County Sheriff's Sgt. Cory Wride's patrol vehicle that recorded his final moments on the day he was shot and killed was publicly shown for the first time Wednesday in 4th District Court.
The quick shots — seven of them — can be heard striking the hood of Wride's patrol car and breaking through the windshield as the suspects are seen driving away.
A sound is heard after the shots are fired, possibly Wride's last gasp, testified Sgt. Scott Finch with the Utah County Attorney's Office Bureau of Investigations.
Six dash cam videos from officers highlighted the first day of a scheduled three-day preliminary hearing for Meagan Grunwald, a 17-year-old Draper girl charged in adult court with 10 felonies and two misdemeanors for her alleged role in Wride's killing.
The collection of videos outlined the 50-mile deadly crime spree Grunwald and her boyfriend, Jose Angel Garcia-Juaregui, 27, allegedly committed on Jan. 30 through two Utah counties. The spree left Wride dead, another deputy critically injured when he was shot in the head, a mother and her 3-old son on the side of the road after being carjacked at gunpoint, multiple wrecked vehicles along the freeway, and more than a half-dozen people traumatized from being fired upon.
Garcia-Juaregui was shot in the head by pursuing police officers at the end of the chase and died the next day.
Grunwald, who police say was the getaway driver for most of the events, is charged with aggravated murder, two counts of felony discharge of a firearm with serious bodily injury, two counts of attempted aggravated murder, and aggravated robbery, all first-degree felonies, among other charges.
During cross-examination Wednesday, defense attorney Dean Zabriskie got several officers to concede that the one thing they couldn't see throughout the ordeal was what was happening inside the suspects' fleeing vehicles. He suggested that his client was victimized by Garcia-Juaregui and was not a willing participant in the shootings.
"That is exactly what we're trying to bring out. We have a 17-year-old girl — admittedly they had a close relationship — who's now locked in a truck with a lunatic shooting everything and everywhere he can," Zabriske said after the hearing. "The fact is we look at her as a victim. I don't want anyone here to think we condone what happened. A brave young man is now dead. Another one was horribly wounded. We feel very bad about that. What we're trying to prove, though, is that she didn't have anything to do with that."
---
You can hear the glass being hit. There's a distinct sound different from when the hood of the car is being hit.
–Sgt. Scott Finch
---
But prosecutors contend Grunwald was a willing participant who had multiple chances to run away from her armed boyfriend, but didn't. What's unique about this case, according to deputy Utah County attorney Sam Pead, is the abundance of dash cam video supporting the state's case.
"Certainly it's one of those circumstances where we would say actions speak louder than words," he said. "It does give us an objective picture of what was going on. It also verifies it beyond any doubt."
Grunwald's hands and feet were shackled as she sat next to her attorneys Wednesday and listened to the proceedings. It appeared that she did not look at the video screen when the dash cam from Wride's vehicle was played in court.
"She did once. Then she asked if it would be all right if she could just look down. We told her, 'Sooner or later you're going to have to look at it,' so she looked back up," Zabriske said.
The courtroom was filled with family members supporting both Wride and Grunwald, with the majority from Wride's family. His parents, Blake and Kathy Wride, and his widow, Nanette Wride, sat in the front row of the courtroom gallery. But when the video from Wride's patrol car was shown, they stepped out of the room until it was over.
The video shows Wride, 44, stopping along the side of state Route 73 near Eagle Mountain on Jan. 30 to check out a white Toyota Tundra pickup that had its emergency lights flashing. For nearly 20 minutes, Wride tried to verify the identity of the passenger, later determined to be Garcia-Juaregui.
Wride is seen getting in and out of his patrol car three times. As Wride sits in his patrol car the third time, the video shows the rear window on the passenger side of the pickup truck opening. The brake lights of the vehicle come on, then briefly the reverse lights, as if the driver were playing with the gears in preparation of moving.
Then, without warning, seven shots are fired.
"You can hear the glass being hit. There's a distinct sound different from when the hood of the car is being hit," Finch testified while describing the video.
Some members of Wride's family who stayed in the courtroom put their faces in the palms of their hands and silently cried when the video was shown.
An autopsy determined Wride's cause of death to be a gunshot wound to the head.
About 90 minutes later, a Salem police officer spotted the pickup truck and alerted Utah County sheriff's deputy Greg Sherwood to be on the lookout.
Dash cam video from Sherwood's vehicle was played that showed Sherwood was at the top of the on-ramp to I-15 at Santaquin's Main Street looking for the suspect vehicle, when it got off the freeway right before passing him. Sherwood drives against traffic with his lights and siren on to catch up. Six minutes later, the brake lights of the fleeing pickup come on and two shots are fired. Sherwood immediately stops.
"Shot through the window … I've been hit," he tells dispatchers.
The deputy was shot in the head and remained hospitalized for several weeks before he was released. Pictures of his vehicle were displayed that revealed how close the situation was from being even worse. The bullet that grazed Sherwood ricocheted first off the hood before going through the windshield.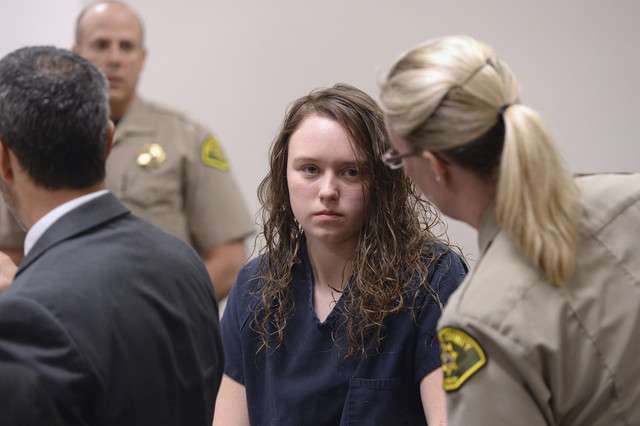 More dash cam video from Utah Highway Patrol trooper Jeff Blankenagel, Juab County sheriff's deputies Al Taylor and Craig Ryan and others were also shown in court. The videos painted a picture of a chaotic chase along I-15 near Santaquin, through Main Street in Nephi and finally on I-15 south of Nephi where it ended in a shootout.
Taylor, who was preparing to go on an undercover operation and didn't have a bullet proof vest with him, opted to immediately help anyway when told of the situation by another officer.
"He told me two Utah County deputies had been killed and he thought the suspect vehicle was coming our direction," Taylor testified. "(I said), 'Let's go, let's go out on the freeway (and look for them).'"
Several dash cam videos showed deputies and troopers chasing the couple through rain and snow and wet roads with speeds reaching 110 mph. At one point, Garcia-Juaregui shot out three tires of a semitrailer.
"Next thing, the guy pulls up next to me and the guy leans out the window. He looks at me and shoots at my tractor again, fires two more shots," driver Alonso Van Tassell said while holding back tears.
With their own pickup tires spiked, Grunwald and Garcia-Juaregui stopped at the bottom of Exit 222 in Nephi, got out and immediately put everyone on the road in danger, Taylor said. Garcia-Juaregui "had a gun pointed at anything and anyone in that intersection." He said the gunman took additional shots at police, but no one was hit.
Prosecutors pointed out in the video that Grunwald continued to follow Garcia-Juaregui, and helped facilitate the carjacking of a woman and her child.
After stealing the car, the fleeing suspects got back onto I-15, but their tires were again spiked by deputies a short time later. Garcia-Juaregui, who is now driving, steered across the median into oncoming traffic and purposely hit another vehicle, possibly in an attempt to carjack it, according to prosecutors.
Several dash cam videos show the chaotic climatic shootout with Garcia-Juaregui firing at police and officers with rifles returning fire. All the while, traffic on I-15 is still moving through the incident. The video did not capture Garcia-Juaregui being hit.
"Get down, get down get down!" one officer yells at Grunwald on the recording.
Grunwald eventually "takes a knee," Taylor testified. The deputy didn't realize he had hit Garcia-Juaregui until he heard the teenager screaming, "You shot him in the head! You shot him in the head!"
When deputies reached Garcia-Juaregui, he was still struggling with them and clutching a handgun. One deputy kneeled on the gunman's back and another stepped on his hand holding the gun to bring him under compliance.
"I'm so (expletive) thirsty," Taylor said Garcia-Juaregui repeated several times before saying in a calm voice: "Why don't you let me kiss my girlfriend with my last dying breath."
"That's not going to happen," Taylor said he replied.
An investigator from the Utah County Attorney's Office also testified that he was able to retrieve some of the information on Grunwald's cellphone and noted it was "obvious" that someone had tried to destroy it.
Gregory Knapp said Grunwald's cellphone had several incoming and outgoing calls to her mother that would have happened about the same time Wride was shot until the time she was arrested.
Prosecutors said pictures on her phone also proved the two had a romantic relationship.
Contributing: Haley Smith and Sam Penrod
×
Photos
Related stories
Most recent Utah stories