This archived news story is available only for your personal, non-commercial use. Information in the story may be outdated or superseded by additional information. Reading or replaying the story in its archived form does not constitute a republication of the story.
SPANISH FORK — For nearly 20 minutes, Utah County Sheriff's Sgt. Cory Wride attempted to determine just who was in the stopped pickup he stopped to help along state Route 73.
What Wride didn't know was that a wanted fugitive who had recently served prison time for attempted murder after running over an acquaintance and stabbing him multiple times with a screwdriver was inside the truck. As Wride sat in his police vehicle trying to verify the identities of a man and a teenage girl, a handgun was pointed out the back window toward him.
Wride was shot twice and killed.
Friday afternoon, the Utah County Sheriff's Office announced that the suspect, Jose Angel Garcia-Juaregui, 27, the man who police believe killed Wride and later shot Utah County sheriff's deputy Greg Sherwood, had also died from injuries he sustained in a later shootout with police.
"He was unconscious and remained that way until his death," said Utah County Sheriff Jim Tracy.
On Friday, as the investigation into a deadly 50-mile crime spree through two Utah counties continued, friends, family members and the state's community of law enforcement officers mourned the tragic loss of a loved one.
"He was just one of those good guys," Johnny Revill said of his slain brother-in-law. "(He was) like any of these guys you see with badges around here, trying to do their job, trying to do the best they can and serve the public. He was a good guy," Revill said.
Wride, 44, died Thursday afternoon near Eagle Mountain while trying to assist what he thought was a stranded vehicle. Sherwood was later shot in the head after the deputy chased after the same suspects near Santaquin. He remained hospitalized Friday in critical condition.
A 17-year-old girl who was with Garcia-Juaregui was being held in the Slate Canyon Juvenile Detention Center in Provo for questioning Friday. Her name was not released, and detectives were still trying to determine Friday what her role was and whether she was a willing participant in the crime spree.
She had retained an attorney and was talking to investigators, Tracy said. Detectives had not yet positively confirmed whether the girl or Garcia-Juaregui fired the fatal shots, although they believe it was Garcia-Juaregui.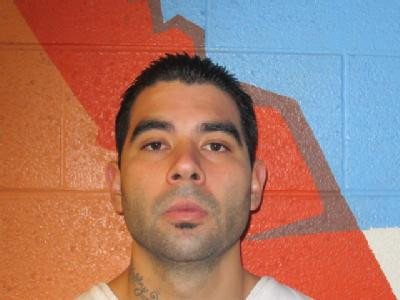 "I can't make that determination through the video," Tracy said.
New information about the two shootings was released Friday, including the revelation that the incidents were recorded on dashboard cameras from the deputies' patrol cars. The video will be enhanced and played at a slower speed to help detectives with their investigation.
The suspect
Garcia-Juaregui was a wanted fugitive. A warrant had just been issued Wednesday for his arrest for violating the conditions of his parole. Whether the shooting was motivated by Garcia-Juaregui's desire not to go back to prison was something that Tracy said may never be known.
Investigators said they no longer believe Wride was ambushed as soon as he pulled up to the stopped vehicle in Eagle Mountain. Wride, a 19-year veteran of the force, actually got out and talked to Garcia-Juaregui and the girl before he returned to his vehicle and was shot, Tracy said.
Wride saw the pickup with its hazard lights blinking on the side of the road off state Route 73 about 1 p.m. He passed the vehicle, performed a U-turn and parked behind it. He then attempted to figure out who was in the vehicle by using the laptop computer in his patrol car.
"He had been running suspect information and vehicle information almost 20 minutes before the shooting event occurred," the sheriff said. "And he was working to identify who was in the vehicle, but he was not able to identify that person."
At that point, someone in the pickup opened a rear port window "and proceeded to shoot through that window out of the suspect's car, hitting Cory Wride two times," Tracy said.
"We're pretty sure he became increasingly nervous, that he was going to be found out. … At some point, he must have made a determination he was going to be caught, he was going to be returned to prison, and initiated the gunfire.
"I'm sure he understood the consequences of not reporting (to Adult Probation and Parole) and not fulfilling those obligations," Tracy said. "This individual was clearly not going to be taken without a fight."
Information
The Utah Highway patrol asks anyone with information in the case to call 801-887-3800.
Detectives now believe a high-caliber handgun was used to shoot Wride rather than an assault rifle.
The chase
After Wride was shot, the suspects drove off and were spotted by Sherwood about 2:50 p.m. near Main and Center streets in Santaquin. Tracy said there was also dashboard camera video of that encounter. Just moments after engaging in a chase with the fleeing suspect, someone again opened the rear portal window of the suspect's pickup and fired at Sherwood, striking the deputy in the head.
Sherwood underwent surgery Thursday. He remained hospitalized Friday in critical condition, but Tracy was optimistic about his prognosis.
His wife, Gina Sherwood, released a statement Friday thanking the public for its support.
"Greg is breathing on his own and talking to us and the doctors. His surgery went very well and we are told he may be able to leave the hospital in less than a week. Our son and I greatly appreciate the support of our family and friends, including everyone from our police family. Greg is very concerned about the Wride family and our thoughts and prayers are with them at this time."
From Santaquin, the gunman continued south. Shots were again fired in Nephi, just off Exit 222, where the suspect crashed his vehicle and then tried to carjack another.
"Numerous shots" were fired at citizens and passing vehicles, said Nephi Police Chief Michael Morgan. But no bystanders were injured.
The suspects made several carjacking attempts before succesfully forcing a woman and her 3- to 4-year-old boy off the road at gunpoint, and forcing them out of their car before taking their vehicle. The mother was treated at a local hospital for stress-related symptoms, Morgan said. She was not identified by law enforcement.
*Donation Fund for the family of Cory Wride:
By Paul Nelson
The family of slain officer Cory Wride said they're trying to stay strong in the wake of his death. But, the costs of his upcoming funeral are overwhelming the family.
As soon as Sgt. Cory Wride's family heard about his death in a shootout in Eagle Mountain, they knew they would need help with his expenses. So, they set up the Sgt. Cory Wride memorial Fund.
"My wife and I set it up on giveforward.com and we've been linking it through our Facebook [page] to get the word out."
Cory Wride's son, Shea Wride, said there has been an overwhelming show of support from the community, but, the family is still taking his father's death very hard.
"My mom is not doing too well," Shea Wride said. "We're trying to stay strong and keep her strong."
Wride said his father was tender to everyone. One woman in his LDS Church ward told him his father was the only teacher she had ever loved.
A fund has been set up to help the family pay for the funeral expenses of Cory Wride. People can donate here.
The Utah Highway Patrol is investigating the carjacking. As of Friday, it was still unclear how many vehicles the couple attempted to steal before being successful.
Back to I-15
The gunman again took to southbound I-15 after the carjacking and another high-speed chase ensued. That ended south of Nephi about 3:20 p.m., when the tires on Garcia-Juaregui's vehicle were spiked, sending the car through the median, off the road and crashing into a fence.
Juab County Sheriff Alden Orme said Garcia-Juaregui again attempted to carjack another vehicle and more shots were fired. Some vehicles were hit, including a semi-truck, but no drivers were injured, he said. Four Juab County sheriff's deputies who were pursuing Garcia-Juaregui arrived at the scene a short time later and the final gun battle ensued.
"There were shots fired at officers; officers returned fire," Orme said. "We're just thankful there weren't citizens and additional officers injured in Juab County."
The teenage girl, who did not attempt to resist arrest, was not injured.
Draper search
Utah County sheriff's investigators searched a home in Draper Thursday night. Both Garica-Juaregui and the teen girl were believed to have connections to the house, possibly staying there at various times.
Tracy said he did not know Friday what the relationship was between Garica-Juaregui and the girl.
Garica-Juaregui first arrived at the Utah State Prison on April 22, 2008, on a conviction of attempted murder, a second-degree felony, and aggravated assault, a third-degree felony. He was paroled in December of 2012.
Garcia-Juaregui was sent to prison after pleading no contest to two felony charges of attempted murder and aggravated assault with a dangerous weapon. As part of a plea deal, another case of third-degree felony assault by a prisoner that stemmed from a fight at the Utah County Jail, was dropped.
Just after midnight on Aug. 7, 2007, Springville police got a call that a man had been run over by a car, then was stabbed with a screwdriver. Garcia-Juaregui was identified as the man responsible for the altercation.
Grieving family
Revill, speaking for the family, said Garcia-Juaregui's "evil" has left "a path of unimaginable sorrow for our family."
"Cory was taken from us in a senseless act of violence doing what he loved most, serving people," Revill said, adding that the Wride family wanted to send its love and support to Sherwood and his family.
"As a family, we're struggling with this. We're having a hard time," Revill said. "We're asking a lot of questions and why this has to happen to Cory and the family. But we want you to know that as a family, we know, we're comforted to know that we'll see Cory again. And we'll be together as a family again," Revill said.
Wride grew up in American Fork and was raising his family in Benjamin on land his grandfather used to farm. His cousin, Blaine Wride, recalled talking with him Wednesday about caring for the cows.
"It's going to be tough on his family," Blaine Wride said. "Somebody like Cory, he's put in a lot of time. He's influenced a lot of lives."
Wride is survived by his wife, five children, eight grandchildren and his parents.
---
*KSL.com has not verified the accuracy of the information provided with respect to the account nor does KSL.com assure that the monies deposited to the account will be applied for the benefit of the persons named as beneficiaries. If you are considering a deposit to the account you should consult your own advisors and otherwise proceed at your own risk.</http:></http:>
×
Photos
Related Links
Related Stories