This archived news story is available only for your personal, non-commercial use. Information in the story may be outdated or superseded by additional information. Reading or replaying the story in its archived form does not constitute a republication of the story.
LAYTON — Layton drivers will soon see some changes designed to cut down on congestion in the city.
A redesign on Hill Field Road with new designated U-turns is expected to begin this summer.
Woody Woodruff, city engineer for Layton, said the road has been functioning at over capacity for many years.
With the help of the Utah Department of Transportation, Layton has decided to add ThrU Turns. Instead of turning left at a designated intersection, drivers will move through that intersection and into a "bulb out," or a lane that extends outside the normal traffic lanes and make the U-turn. From there, drivers head back toward the intersection where they would have made a left turn and make a right turn instead.
According to a UDOT informative video on the changes, three more bulb out areas will be added near Main Street and near Gordon Avenue.
Jerry Root, manager at Denny's just off Hill Field Road, said most of his business comes from people traveling south on Frontage Road or on Hill Field Road.
"I don't think it will affect me that much, except for traffic leaving the Layton Hills Mall is going to be directed out toward the bulb where they'll be bypassing me," Root said. "It's a little less convenient to get to us."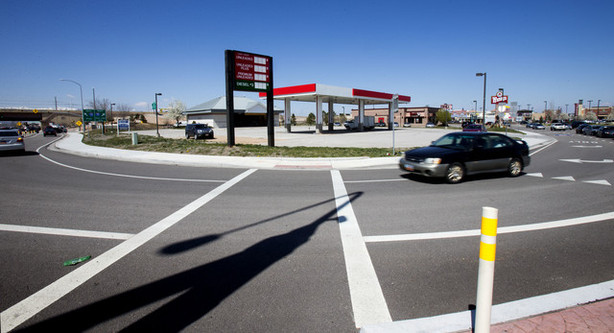 Jim Sachs, director of operations for Common Cents stores, said he agrees Hill Field Road is congested. Despite the same ThrU Turns implemented in Draper just over two years ago that shut down a Common Cents store site, Sachs said he's not worried about his business.
"I don't think we'll have as negative an impact on our store as the one in Draper did," he said. "I know we'll be able to continue doing business in Layton."
"We wanted partnership with the businesses to be able to move forward as a city because it was such a negative concept down in other communities," Woodruff said. "We wanted to have a positive working relationship with the businesses and help them understand the pros and cons."
Woodruff said the city of Layton reviewed every possible concept with UDOT, including looking at 17 intersection changes at the Gordon and Hill Field intersection alone.
Woodruff said the city also has plans to implement a single point unit interchange like the one at 9000 South in Sandy.
"Our No. 1 concern was for the businesses and making sure we improve their access," he said. "The problems right now is congestion is already impacting access and mobility into and out of our businesses."
Instead of dedicating time at the intersections with green arrows, UDOT project manager Patrick Cowley said the U-turns will push traffic further down the road and ultimately allow more traffic to move through the intersection.
"In reality, the ThrU Turns themselves allow for that greater stacking distance, or that greater queue length," he said.
Cowley said after reviewing more than two dozen different options, the ThrU Turns had the least impact that will improve traffic flow and is tailored specifically for the area.
"Doing nothing is not an option," Cowley said. "We had to do something."
Woodruff said some drivers have unwittingly adopted the idea of ThrU Turns in their efforts to avoid long lines of traffic.
He said some drivers headed west on Hill Field Road turn left on Main Street instead of waiting in long lines to turn left to enter the freeway. They opt to head south on Main Street, then make a U-turn to return to Hill Field Road to access the freeway and bypass the signalized intersection.
"You'll sit in that intersection from three to five minutes to make a left turn to get onto the freeway," Woodruff said. "People are already catching on that there's alternative ways they could do that."
×
Photos
Related Stories