Estimated read time: 5-6 minutes
This archived news story is available only for your personal, non-commercial use. Information in the story may be outdated or superseded by additional information. Reading or replaying the story in its archived form does not constitute a republication of the story.
Travis Blackwelder's life had turned into a series of medical appointments.
Blackwelder, a Brigham Young University and Harvard graduate, found himself on regular trips to clinics and hospitals connected to end-stage renal disease.
The routine was a vast departure from the frequent traveling and many activities he'd enjoyed during healthier times. The 41-year-old had been diagnosed with Type 1 diabetes as a teenager and initially struggled to manage the condition with insulin shots and a proper diet. Although a scare with vision loss steered him on a better track in his early 30s, diabetes had taken a toll on his kidney function.
As Blackwelder entered his late 30s, he found himself with late-stage kidney damage and learned he would need a kidneyand pancreas transplant to function in order for him to regain the quality of life he once enjoyed.
"I was feeling run down and tired. It was difficult to go about my regular day-to-day business," said Blackwelder, who lives in Provo and works as associate director of admissions at BYU. "Life slowed down and 2013 was an especially tough year."
Blackwelder found hope after connecting with a transplant team at University of Utah Health Care. Led by Jeff Campsen, M.D., surgical director of pancreas transplantation at the University of Utah, Blackwelder was placed on a transplant waiting list and receiving care leading up to what would be a life-changing day in Sept. 2013: The moment he received a phone call that a donor match had been found.
After nearly one year on a wait list and a few other previous leads turned out to not be the right fit for Blackwelder, he found himself at the U of U ready to undergo surgery. Campsen and team members operated for about eight hours, performing a simultaneous pancreas-kidney transplant.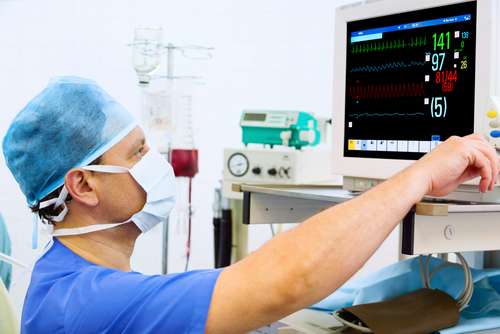 Campsen knew in a short time span that the procedure would be successful. He was able to see the transplanted pancreas was regulating glycemic control within hours.
"He'd had 30 years for diabetes to attack his kidneys and cause renal failure. Also, because he was a Type 1 diabetic, he was a brittle diabetic, which meant not only did his blood sugar go too high, his pancreas didn't compensate for when his blood sugar got too low. He experienced bouts of both hyper- and hypoglycemia, which made him a candidate for a multivisceral transplant," said Campsen.
"He was cured of his diabetes the moment we put the pancreas in. Since the operation, he hasn't had to use a single unit of insulin."
Blackwelder still gets emotional when he thinks back to the moment when he awoke from transplant surgery.
"I remember waking up and being pretty groggy and asking my wife, "Did it work?"," he said, tearing up. "And it couldn't have gone better. The pancreas started to pink up, the kidney immediately began to function. It was a great success."
Patients like Blackwelder are finding more access to resources that allow life-changing pancreas and kidney transplants as the U of U expands its pancreas transplant program. Few regional options were once available in the Intermountain West to patients in need of pancreas transplants, which is one reason Campsen began an overhaul of the U of U's program two years ago.
Today, the U of U has built its program to be the largest in Utah, carrying out 10 pancreas transplants last year alone. The pancreas transplant program takes a multidisciplinary approach, providing patients access to a team of health care professionals who are experienced in all medical and surgical aspects of transplantation. The U of U's team consists of board-certified adult and pediatric transplant nephrologists. Referrals from neighboring states including Wyoming, Nevada and Idaho are steady, with patients relieved to find a quality pancreas transplant program accessible regionally, Campsen said.
For Blackwelder, having a notable transplant program at his doorstep was appealing. He said he was impressed with the care he received during the process of being placed on the organ transplant waiting list, going through the match process and ultimately undergoing surgery.
At his six-month follow-up earlier this month, he complimented medical staff who helped him through his health challenges. He has returned to work full-time and has planned a trip to Tahiti with his wife —the first getaway in years for the couple. He also said he'll never forget the organ donor who gave him a new lease on life.
"There's not a day I don't think about that young man. There's not a day that I don't think about that family. To say I'm grateful is such a huge understatement," said Blackwelder, who received the organs of a man who died. Blackwelder received the pancreas and kidney, while others received the man's liver, heart and lung.
"I owe my life to this process. My hope and wish would be that everybody would donate their organs. I have more energy and more fight than I have had in years. Knowing what was given in order for me to be in this place, I want to live my life differently. There's another person involved —a person who gave a part of himself so I can have the life I now have. I want to take better care of myself and to be the best person I can be. "
To see other article sponsored by University of Utah Health Care click here.
Melinda Rogers is a communications specialist at the University of Utah Health Sciences Office of Public Affairs.
×