Estimated read time: 5-6 minutes
This archived news story is available only for your personal, non-commercial use. Information in the story may be outdated or superseded by additional information. Reading or replaying the story in its archived form does not constitute a republication of the story.
SALT LAKE CITY — With the help of the community, the family of a teenage boy hopes he will see the world before he loses his vision.
Brenden Sorensen, 14, was diagnosed with an aggressive case of Usher's syndrome about six months ago. The diagnosis came after the teen started bumping into things and tripping in the dark.
Usher's syndrome is a genetic disease that is characterized by hearing and vision loss over time. In America, four babies in every 100,000 have the degenerative disease, according to the National Institutes of Health. Typically, individuals with Usher's syndrome lose their sight in their 20s. Brenden, who has had some deafness in both ears his entire life, will likely lose his vision by the end of the year, doctors said.
With the diagnosis and a timetable in hand, he and his parents are trying to make the most of the time he does have in which he can see. In addition to learning braille and practicing his use of a cane, they are trying to fit in a lifetime of traveling into this year.
"As a parent, you're kind of hopeless with that kind of answer because there's nothing you can really do about it," said his father, Kipp Sorensen. "If I were losing my vision, and I think about my son losing his vision, (I think about) all the things he's going to miss out in this world and the things he's never going to be able to see. It's really driven us to do whatever is necessary to make sure he sees the most he can."
Both Kipp Sorensen and his wife — Brenden's stepmother, Aja Kayser — said the teen is a deserving candidate of such an experience. Despite his physical difficulties, he is kind, thoughtful and gentle, Kayser said.
"He's already been handed a handful of difficult situations in life and he's addressed them like a champion. He's never a victim," Kipp Sorensen said. "He doesn't hardly ever feel sorry for himself. It's always about 'How am I going to deal with this?' and moving on."
Sorensen and his father went to Japan and Thailand last year, and Kayser and Sorensen took him to Hawaii as well. His mother, Shana Mortensen, who lives in Arizona, took him to the Caribbean.
Related:
"Every kid deserves to see the world. They need to know there is more out there than just what they see in front of them," Kayser said. "They need to meet people, experience culture, see architecture and enjoy the beauties of nature and art created by countless men before them. In Brenden's case, he just gets to see the world a little differently: all at once, millions of brain pictures at one time."
They hope Brenden's good memory will keep mental pictures of the places and people he will see in the next year.
"He's really into traveling," Kayser said. "Everytime we go somewhere, he's that child who is super grateful, very observant, and remembers it really well. That's one thing that we're really excited about is that he'll remember those things and appreciate it."
Kayser said Brenden loves to read about the sights before experiencing them, and that he stops at every sign once he is there.
"He's really excited to talk to you about it," she said. "He's going to just love it and eat it all up and remember it all."
The couple is raising funds* to help Brenden go on the trip. What first began as a fundraising dinner for friends, neighbors and family has expanded to a community event featuring cuisine from all the places they hope to take Brenden. Local restaurants and companies have offered food donations and the Utah Schools for the Deaf and Blind have offered some educational activities, among others.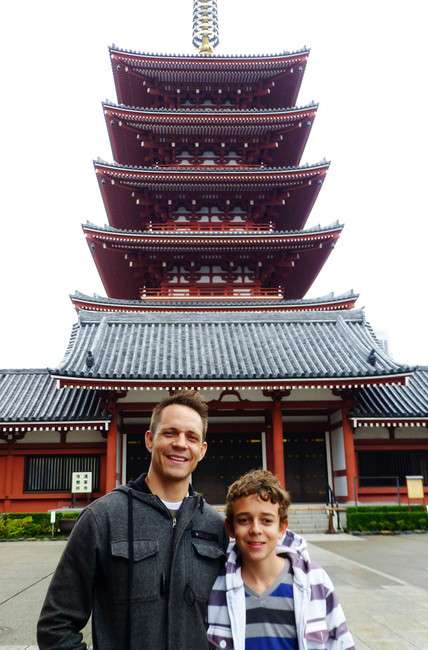 "Since I love that family so much, I want to do anything for them," said Brenden's aunt, Tasha Hew-Len.
Hew-Len and her husband, Reed Hew-Len, are donating the food and preparation for the Hawaiian portion of the dinner cuisine.
"Brenden is probably the sweetest kid. It's an unfortunate thing," Reed Hew-Len, owner of fundraising sponsor Pacific Sound Productions, said. "There couldn't be a better kid to take on this kind of future because of his humility. Such a sweet kid. Not that you want this to happen to anybody, but there are definitely certain people who … could make an adjustment and have a bright future."
Ernesto Lo Russo of Terra Mia restaurant said he knows Kipp Sorensen and Kayser, so the story "hit home" with him.
"We have been doing fundraising* and events for the communities since we opened. We try to give back to the community. We feel really blessed," Lo Russo said.
The community's response, Kipp Sorensen said, has meant the most to him as a father.
"It's been huge and it's been such a huge eye opener, the amount of people who are willing to care," Kipp Sorensen said.
He hopes the fundraiser on Saturday will show Brenden just how loved he is by the community.
"We didn't start a benefit so Brenden could know how much people care about him. We thought about the benefit so he could travel," Kipp Sorensen said. "The main thing for him to comprehend now is how much he's loved. I think that speaks louder than anything else. And we're just so grateful for all the support that people have given, mostly by their expression of love and appreciation and their love of Brenden. That means more to me and I think that would mean more to him than anything else. And that is what's really amazing about the response we've gotten."
Those interested in attending the fundraising dinner or donating to the fund can do so on the youcaring.com page.
---
*ksl.com has not verified the accuracy of the information provided with respect to the account nor does ksl.com assure that the monies deposited to the account will be applied for the benefit of the persons named as beneficiaries. If you are considering a deposit to the account you should consult your own advisors and otherwise proceed at your own risk.
×
Photos
Related links
Related stories
Most recent Utah stories