SALT LAKE CITY — Dozens of women in downtown Salt Lake City were given an uplifting surprise by two young boys with a stockpile of homemade, inspirational notes.
Monday, Feb. 17, Austin and Ethan Archer, ages 9 and 7, performed a simple but effective act of kindness by liberally handing out notes to the women they passed.
The boys were accompanied by their parents. Their mother, Cindy Archer, said that their family likes to do what she calls "Random Service Projects." She had asked her boys to come up with something nice they could do.
"They got the idea of writing some nice notes to people to make them feel better," she said.
The Sunday before, the family put together about 180 notes, written on small squares of patterned paper. They used a combination of sayings made up by the boys, some of them based on encouraging advice their mother gives them to help them through trials, and favorite quotes that the family has read in the past.
Examples of messages that the family wrote on the squares include, "You make the world a better place," "Remember to smile," "Your smile is beautiful," and "Just keep smiling, it will all work out."
"I just thought of nice words, like how I would say stuff to my friends and girls usually," Austin said.
Related:
The next day, for nearly 4 1/2 hours, the two boys passed out these notes in multiple areas along Main Street. More specifically, the boys gave the notes away exclusively to women. A few ladies rejected the offer, thinking that the boys were handing out advertisements. Most of the time, however, the women would read the note, smile, and then wave a "thank you" to the boys.
Upon receiving her note, one woman took a picture of it with her camera. A few sought out the boys to thank them, explaining that the notes they received had made a difference in their day. Two of the ladies expressed that the notes had made them so happy that they planned to pass them on to others in the future.
The boys, who had started this process nervously and first approached the women shyly, eventually they excitedly ran from one lady to another, hoping to give them one of their quotes. The last half of their quotes went much faster than the first half, their mother said. The boys started asking her for stacks of notes to find recipients for at a time. In the end, all 180 notes were given away.
Ann Salviazul was one of the women who received a note from these boys. Salviazul was out shopping with family when one of the Archer boys ran up to them. He handed Salviazul's daughter a piece of paper and then ran straight back to his mother. The two women then read the note, "You are worth it."
Like many others, they had wondered if the boys were handing out advertisements of some kind. After reading the note, they realized that it was a sweet gesture. Later, the boy showed up again, this time handing Salviazul one of his squares of paper. Her note read, "Love more."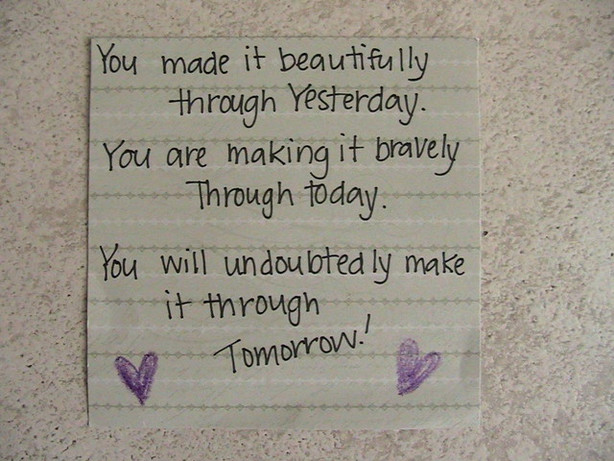 "Again, I didn't see him. He just suddenly was there, handing me this little note," Salviazul said. "He didn't have any comments, he just handed them out and scurried away."
Another one of Salviazul's daughters received a note as well, giving three women in one family these special, simple gifts.
"At first I thought maybe it was some kind of solicitation, which is what happens in a lot of public places. So, it was a really sweet surprise to realize that it was just an honest gift without expectations of any sort or trying to mold my opinions about someone else's," Salviazul said. "So, that was the really sweet part. And then the notes are just very simple, but caused me to wonder what inspired this young boy to want to hand out notes in a public area?"
"That was one of the things that they wanted to do," the boys' mother said. "We always talk about respect and women and making them feel good."
In Ethan's words, the boys did the service to "Make girls happy."
I was sitting at a table, completely wrapped up in writing, when a young, happy face appeared in front of me. Without a word, he handed me a note and then ran off, directly to another lady.
When I saw him run off to someone else and hand them a similar looking piece of paper, I figured that I had just been given an ad of some kind. I was pleasantly surprised to find that I was wrong, and that these boys were taking time out of their day to lift the spirits of those around them. Once I realized what they were doing, it was a very touching experience to watch them seek out other women to uplift.
I'm not sure which was the greater gift: uplifting thoughts given to the ladies or the lessons that these boys have gotten the chance to learn. More specifically, the almost forgotten values of respect and caring toward women.


---
Have you witnessed an extraordinary act of kindness or service? Something that made your day? Email your photos, videos and the details of the moment to crosenlof@ksl.com.
×
Photos
Related Links