Estimated read time: 5-6 minutes
This archived news story is available only for your personal, non-commercial use. Information in the story may be outdated or superseded by additional information. Reading or replaying the story in its archived form does not constitute a republication of the story.
SALT LAKE CITY — As a parent, when you take that first look at your new baby, you are in awe of the amazing things your child can do. From his first breath to his very first step, you mark each as milestones and celebrate just how much he is learning.
This was no different for parents Becky Fry, Jenny Rogers and Michelle Hilton.
When Hilton's son, Logan, was 10 months old, he held a captive audience with his big, blue eyes and infectious smile as rolled his arms rhythmically around and around, something most babies his age could not do.
However, as other children continued to learn new things and reach new milestones, each of these parents noticed that their children were not progressing the way they should.
"I noticed he wasn't a part of our world, but I had no idea what was wrong," Rogers recounted of her son at 12 months of age.
Jaden was lining up toys, wasn't speaking, didn't make eye contact and had constant, violent tantrums. Rogers described Jaden as performing "ritualistic routines" and said he would often daze off, leaving her unable to pull her son out of it.
Hilton and Fry recalled similarly the lack of eye contact or response and ritualistic type routines. It was as if their children were in their own world.
These three parents would soon find that their sons were in their own world — a world know as autism.
As small as that world may have felt for these parents, they soon found that they were not alone.
According to the Utah Autism Coalition, a recent study by the Centers for Disease Control found that Utah leads the nation with the highest autism rates, with one in 47 children being affected by autism. The national prevalence rate for autism is one in 88.
While having a diagnosis was a great first step toward getting the help their children needed, these parents have found that help is not so easy to come by.
---
We should invest in these children because if we don't, people will be caring for them for many years. They're physically healthy, capable of long lives and contributing to society, but often only with help.
–Jenny Rogers, parent
---
With Utah being one of 13 states not requiring insurers to provide coverage for treatment of autism, parents face the task of covering the cost.
With extensive treatments over the course of five years — costing her family tens of thousands of dollars a year out of pocket — Rogers' son Jaden is in the second grade, mainstreamed without any aid and doing remarkably well.
"We should invest in these children because if we don't, people will be caring for them for many years," Rogers said. "They're physically healthy, capable of long lives and contributing to society, but often only with help."
Statistics agree that treatments do help.
On the Utah Autism Coalition website it says, "Studies have shown that individuals with autism who receive intensive evidence-based intervention and therapy have 80-90 percent success rates at enabling people to manage the symptoms of autism. Studies also show that 47 percent who received these therapies attained normal intellectual functioning, whereas only 2 percent who did not receive these therapies attained normal intellectual functioning."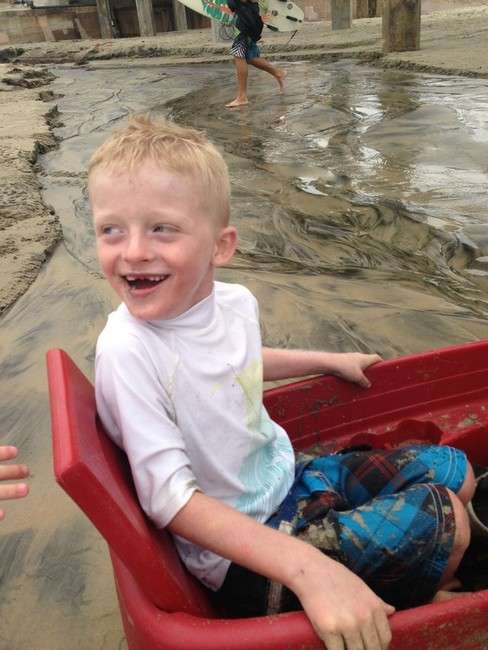 Hilton and Fry have found recent help for their sons through a pilot program provided to state employees. This program covers 80 percent of treatment. Unfortunately, the program ends in June of this year. But the Legislature taking up the issue (Senate Bill 57) in its current session, which began January 2014.
The bill has had a difficult time passing the Senate. Opponents argue that care for individuals with autism is the responsibility of parents and the school systems, with others having raised concerns that mandating coverage for autism will significantly increase insurance premiums.
About SB57, Fry wrote on her blog, "SB57 is not about a mandate. … It is not about politics. It is about a sweet little blonde boy named Bridger. He is my son. He has autism. His smile and laugh will intoxicate you. His tantrum in the grocery store will make you roll your eyes and walk quickly the other way feeling relieved you are not me. SB57 is about a 5, almost 6-year-old boy who has not yet called me "mommy" because he cannot speak, however I hope from the deepest part of my soul that someday he will. That is what SB57 is about."
These three parents, and other parents of children with autism, need the community's help. "Everyone knows someone who is affected by autism," Hilton said. "We ask that people in the community help by being proactive and educated about these issues. If so inclined, we would love it if people would call and email their representatives to ask for support. In doing so, we can help these children be productive members of society."
To know more about autism and to be updated on current issues, visit the websites for Utah Autism Coalition or Autism Speaks.
---
![](http://media.bonnint.net/slc/2505/250517/25051768\.jpg)

About the Author: Arianne Brown -------------------------------

Arianne Brown is a mother of six who loves running the beautiful trails around Utah. For more articles by Arianne, "like" her Facebook page, follow her on Twitter @arimom5, or visit her blog, timetofititin.com. If you have a story to share, contact her at ariannebrown1@gmail.com.

×
Photos
Related links
Related stories
Most recent Utah stories