This archived news story is available only for your personal, non-commercial use. Information in the story may be outdated or superseded by additional information. Reading or replaying the story in its archived form does not constitute a republication of the story.
AMERICAN FORK — Cory Wride was a quiet country boy and a gentleman who lived for his family, for helping others, and who preferred to lead by example rather than words.
"There were three things that were important to Cory," his father, Blake Wride, said Sunday. "The important things in life for Cory were his family, his faith and serving other people. That was what he was about. He did it well, but he did it quietly. There is no place that he'd rather be than home with his family. He cherished that, just to hang out and be there.
As the family of the 44-year-old Utah County sheriff's sergeant shot and killed Thursday in the line of duty prepare for his funeral, they sat down with KSL and the Deseret News to talk about the legacy Cory Wride leaves behind. It was a life, his mother, Kathy Wride said, filled with integrity.
"He was very much a person who lived the kind of a life that any mom would be proud of. He was tender and kind and gentle. The most important thing in his life was his family, his wife and his children. And he exemplified a life of giving," she said.
Preparing to serve
Wride was born in San Juan County. Even though his family moved to American Fork when he was 2, San Juan County remained an outdoor paradise that they still visited often.
From an early age, Wride's parents said their son knew he wanted to be a police officer.
"I actually was not really excited about law enforcement at that time, I guess because a mom knows of the dangers. But it was almost inbred in him, That's what he wanted to do," said Kathy Wride, whose brother was a longtime member of the Spanish Fork Police Department.
Cory Wride's parents said their son had an inner desire to serve people that needed to be fulfilled.
---
I think part of the police department that attracted him was knowing that in that capacity he could reach out to others in kindness and be helpful.
–Kathy Wride, Cory Wride's mother
---
"Cory grew up really kind of shy and a child that was comfortable watching before he joined in. And he has a very, very kind heart and gentle spirit. And I think part of the police department that attracted him was knowing that in that capacity he could reach out to others in kindness and be helpful," his mother said.
"Looking back now, as we've reflected on things, I don't think it was at all about the glory. He didn't need that. I really think it was something probably at that time that even he didn't understand, but did later, that he liked people, and he wanted to serve and be of service of them," Blake Wride added.
Cory Wride joined the Utah Army National Guard after high school, following in his father's footsteps. Blake Wride served more than three decades with the Guard. Cory then went on an LDS mission to New York City, a place that he had had a premonition he would be sent to, and a place his family fondly remembers chuckling over, thinking about the "Utah cowboy" being sent to The Big Apple.
After his mission, he became certified as a law enforcement officer in Utah and got a part-time job with the Department of Corrections. He was offered a full-time job, and was about to take it, when the Utah County Sheriff's Office called and offered him a position. Wride was just a year shy of serving 20 years with them when he was killed.
Wride loved the outdoors and pheasant hunting with his family. For the past eight years, they had gone to South Dakota to hunt.
A family man
But more than anything, he loved his wife, Nanette, and his children.
Related:
"His family was his world. He and Nan had a beautiful love affair. She was his queen and he treated her as such," Kathy Wride said. "He called her several times a day just to check in and see how she was doing and always with an 'I love you, can't wait to get home.'"
Cory Wride would often bring roses home for his wife and 15-year-old daughter, Kylie. Over the weekend, Wride's sons brought their grieving mother and sister roses, just as their father would have done.
"He was a good example in teaching, especially the boys, in how to treat a lady, or a young woman, or their mom. You see a reflection of what he taught them by how they open the door for their mom and show her those kinds of courtesies. And that's the kind of dad he was, he taught by example," Kathy Wride said.
And while Wride loved being a police officer, he rarely talked about his job with his family.
"He took his work very seriously but he also kept it very private, and I think that had a lot to do with the situations that law enforcement officers are a part of that doesn't necessarily need to be shared with everybody, the hardships that they deal with," his sister, Anne Curtis, recalled.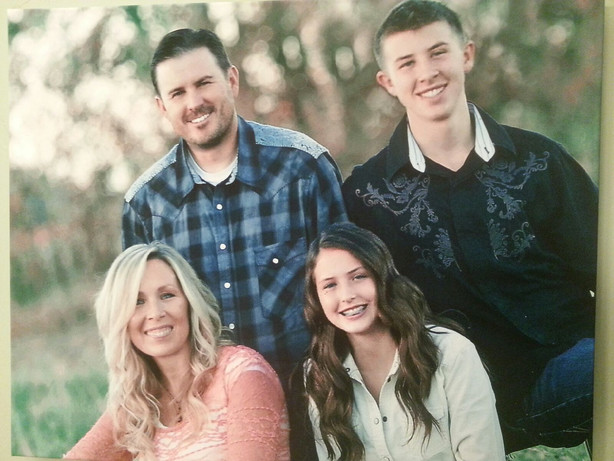 "He never ever shared things with us. I learned not to press," his father added.
But over the past few days, Wride's parents have heard many stories of their son's kindness and how he treated all people, even suspects, with respect. Kathy Wride said the stories have been "therapeutic" for her.
"We are just so proud of his gentle spirit and the integrity that he had in his career and we are impressed with the number of lives he's touched for good. We hope that's how he's remembered. He's been a quiet giant," she said.
Service to others
Stories have been told of Cory Wride stopping to help an elderly gentleman with his yard work because it appeared he was struggling. Wride would often stop and help motorists that appeared to be stranded on the side of the road.
On Thursday, as he had so many other times in the past, Wride stopped to assist what he thought was a stranded motorist in Eagle Mountain. But while Wride struggled to identify who was in the stopped pick-up, a handgun was unknowingly pointed out the back window at him. Wride was shot twice and killed in his patrol car.
"To say there isn't anger at something like this at some point is to either not be telling the truth or not facing reality. How can you not have anger? Your son has been taken away from you. That's not supposed to happen. So there was a time when the perpetrator was still alive I said, 'I just want to look him in the eye.' Not say anything," Blake Wride said.
---
Yes, there's anger. You need to have that. But you have to work through it and you have to let it go because it doesn't do any good. Cory would be the first to say, 'Why are you being angry? It isn't going to change things. It isn't going to make it any better.'
–Blake Wride, Cory Wride's father
---
"I realize that you have to get past that. Yes, there's anger. You need to have that. But you have to work through it and you have to let it go because it doesn't do any good. Cory would be the first to say, 'Why are you being angry? It isn't going to change things. It isn't going to make it any better.'"
"For me," the officer's mother said, "the anger is the fact Cory was taken way too young, too soon. That first night it was very difficult to sleep. And I was thinking how difficult this was and how sad I was for all the things Cory will miss with his two younger children, especially because he'll never see Kylie go to her first prom. He won't see Tyson graduate this coming May from high school. He'll never the things they'll accomplish in their lifetime.
"And then a thought came into my mind that there's also another family that's grieving. And that's the individual who took his life. And my heart aches for that mom and those siblings too because they're going through very similar things and feelings we are," Kathy Wride said.
Blake Wride said it was almost as if he son knew something bad was about to happen. He remembers a week before the shooting, his son called him while working a late night shift, saying how much he missed his family and needed to be home with them.
The next day, he invited his parents over for dinner and to give an LDS priesthood blessing to his wife who had been feeling ill. Blake Wride said there was a melancholy feeling that wasn't quite normal for his son.
"I just felt that there was this, I call it this melancholy feeling, just a serious atmosphere. But now I think I can look back and I personally, everybody might feel differently than me, that that was what we've come to call the tender mercies of the Lord in helping him know, and maybe even prepare that something was coming, and it did."
"And I think it's important for people to know that while this is tragic and horrific and something that we and the sheriff's department - and they are grieving so bad - will never get over. But there is some tenderness here. Cory was doing what he needed to do and I think he was doing it correctly and he went without even knowing he was gone."
Cory Wride's funeral will be held Wednesday at the UCCU Events Center at Utah Valley University in Orem. Blake Wride said early word was an estimated 10,000 family members, friends, fellow law enforcers and members of the public were expected to attend.
#tvtease
×
Photos
Related Stories