OREM — Each day, as cousins Golden Harper and Jeremy Howlett lace up their Altra running shoes, it is a reminder of just how far things have come.
The son of elite marathoners and shoe store owners, Harper was taught the mechanics of running early on. "Run like the Kenyans" is what his father, Hawk, would tell him. Harper knew just what that meant: don't over-stride or heel-strike.
This was easier said than done. With many of the running shoes having a much higher heel-to-toe ratio, Harper found himself heel striking and falling victim to injury.
An elite athlete himself, competing in marathons and ultramarathons, Harper wanted to find the perfect shoe that promoted a more natural running stride while still providing enough cushion.
He came up blank. No shoe companies were offering what he was looking for.
Instead of resorting to running in "high heels" as he called them, Harper "zero-dropped" his shoes by cutting the heel elevation out of them. "It was effortless," Harper said. "I had shoes on but I ran naturally like I was barefoot! I wanted everyone to feel that feeling of being able to run natural."
Harper and some of the employees at the store started cutting shoes flat for people to try at their running store, and within months, more than 1,000 people had paid the local shoemaker $20-$60 to cut the heel elevation out of their shoes.
Harper knew he had something great and set out to create and market what he had named Altra Zero Drop, stemming from the innovation of "AL-tered shoes" and his love for ul-TRA marathons.
The shoes had a foot-shaped toe box for more room in the front, as well as a cushioned, zero-drop sole.
However, after proposing the concept to several companies that showed no interest, he spoke to his cousin, Jeremy Howlett. "Let's just do it ourselves," Howlett told him.
An outdoorsman, Howlett also had a backgroundin marketing, with a business degree from UVU, and experience as a social manager and investment adviser.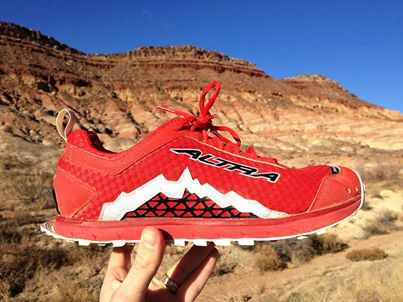 Howlett also had other things motivating his decision to go forward with the project: his family and his health. As the father of three young children, Howlett was pushing 205 pounds and found it hard to keep up with his active family, including his wife, Leslie, another elite athlete.
The concept of zero drop came at the right time for Howlett, allowing him to exercise comfortably, losing 40 pounds in the process.
Coupled with innovation, drive, personal triumphs and terrific business sense, the two cousins set out to build their brand.
And build it, they did.
Since the launch of the first shoes in spring of 2011, Altra Zero Drop running shoes has grown to eighth place in the running shoe market amidst brands that have been around longer than the creators themselves.
"We are all around the country and world now, Howlett's wife, Leslie said. "It's remarkable and really cool to think about."
Those joining Altra include Brian Beckstead and his wife, Zanna; Seth Wold and his wife, Megan; and Harper's new wife, Britta.
To find more about Altra Zero Drop, go to Altrazerodrop.com.

Arianne Brown is mother of six kids. She writes columns on family and fitness and a weekly story for KSL. To read more articles, like her Facebook page https://www.facebook.com/WriterArianneBrown, go to her blog, timetofititin.com, Twitter @arimom5
×
Photos
Related Links
Related Stories