Estimated read time: 2-3 minutes
This archived news story is available only for your personal, non-commercial use. Information in the story may be outdated or superseded by additional information. Reading or replaying the story in its archived form does not constitute a republication of the story.
Sam Penrod reportingA lawsuit filed today by the city of Gunnison seeks damages in the millions of dollars. It's the latest result of last summer's discovery of the gasoline leak that residents are calling a catastrophe.
Gunnison's attorney says the lawsuit will ensure the community recovers from the economic and environmental damage to the city. Top Stop insists it is doing everything possible to clean up the contamination and that the lawsuit is motivated simply by money.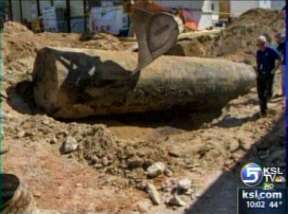 A small leak in a gasoline tank allowed more than 19,000 gallons of gas to escape into the ground for several weeks last summer in Gunnison. It's a disaster that Gunnison City's attorney, Peter Stirba, insists resulted from Top Stop ignoring maintenance on its underground tanks and states that at least three other Top Stop stations have a history of gas leaks.
Stirba says, "It's sort of remarkable. If you just look at the state records and what is available to the public, Top Stop had a history of going back years, of not complying with regulations and otherwise not complying with law."
The lawsuit claims that on two separate days in July 2007, Top Stop posted a sign informing customers it was out of gas. But the company did not pay attention to daily inventory reports signaling a serious problem.
Stirba says, "We know, and it's been reported to the state now, that in June of last year, Top Stop either knew or should have known that it lost over 2,000 gallons of gasoline. That's right there in their inventory reports, and yet it took until August of last year before they even reported any kind of leak in their tanks."
More than $1-million has already been spent by a state insurance fund for the cleanup, and now Top Stop is responsible for the rest of the expenses.
The plaintiffs want a jury to find Top Stop liable for damage to their property and health.
"We're sort of through the crisis stage and now we're in the damages stage. And obviously many businesses in the city, many individuals, have been affected in terms of this release and have been impacted and are seeking monetary damages for what they've lost," Stirba said.
Top Stop's owner says the company will defend these accusations in court and is confident it has the evidence to show it was an accident and not due to negligence. He also says Top Stop remains committed to the cleanup of the leak in Gunnison.
E-mail: spenrod@ksl.com
×
Related links
Most recent Utah stories