Estimated read time: 3-4 minutes
This archived news story is available only for your personal, non-commercial use. Information in the story may be outdated or superseded by additional information. Reading or replaying the story in its archived form does not constitute a republication of the story.
WEST VALLEY CITY — A local gun manufacturer is gaining attention after announcing its decision to turn down a multimillion-dollar deal to legally supply Pakistan with precision rifles.
Desert Tech was approached with the opportunity to sell precision rifles to Pakistan in November. The company turned the deal down this week because of fears the guns could eventually be used against U.S. troops.
"The company was founded on the principle of keeping Americans and our allied forces safe," said sales manager Mike Davis. "We're not saying that Pakistan would get the weapons and do anything bad with them, but there's just a heavy set of unrest over there."
The contract would have been lucrative and the current United States administration supports foreign military arms sales to Pakistan forces, but Davis said after internal discussion they decided it wouldn't be a good fit for their company. Some of the employees are veterans who have been to the Middle East and seen the situation first hand. Other employees have family members and friends currently serving in military engagements in the region.
#poll
"As a business owner you always want to be successful, but I think ethically and morally you want to go about it the right way and stick behind your founding principles," Davis said.
A post by founder Nick Young on the company's Facebook page on Tuesday has gone viral, with more than 2,000 likes and 1,000 shares so far. In the post Young asked readers if they thought the company's concerns about selling rifles to Pakistan were legitimate.
Even though Young and other employees felt turning down the deal was the right thing for the company, Davis said it was a difficult decision to make because of the amount of money involved.
"(Young) made that decision and he put the post out there, I think, because he wanted to see if he made the right choice," Davis said. "Sometimes going with your heart and what you feel about something is the hardest thing to do."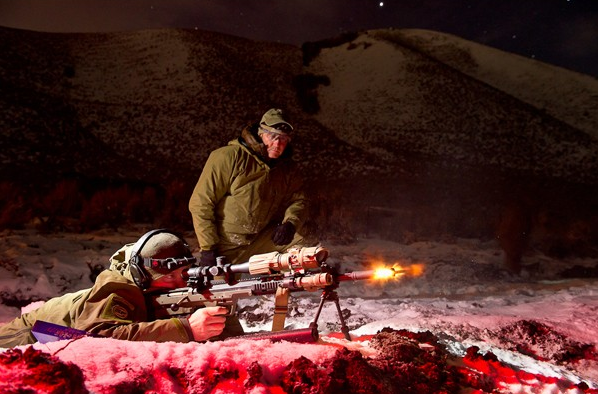 Weapons sales to allied nations are nothing new but it can be complicated, especially in a country with an al-Qaida presence.
"Pakistan is an ally," said Colonel Steven R. Watt. "We do put a significant amount of aid into Pakistan. There's a continual struggle about the amount of support and assistance we actually get. I've got to admire Desert Tactical for potentially turning down what could have been a very lucrative contract in the interest of protecting American service members."
Davis said they were surprised by the response they received and have been very humbled by the support.
"The feedback has been tremendous — we've had literally thousands of emails and shares from military members (and) everybody just really respecting the decision we made," he said.
The guns — precision bolt action center fire rifles — can change caliber within minutes and have the capacity to shoot as far as 3,000 yards.
The arms, ammunition and training company contracts with private citizens, law enforcement and agencies worldwide. Desert Tech has had some military contracts with other countries but declined to reveal specifics.
Desert Tech, formerly known as Desert Tactical Arms, was founded in 2007 and is located in West Valley City. Young is originally from the Salt Lake City area.
"We're very fortunate to be from Utah and we're very proud to be a Utah-based company," Davis said.
Contributing: Ashley Kewish and Whitney Evans
×
Photos
Related links
Most recent Utah stories