Estimated read time: 4-5 minutes
This archived news story is available only for your personal, non-commercial use. Information in the story may be outdated or superseded by additional information. Reading or replaying the story in its archived form does not constitute a republication of the story.
PROVO, Utah (AP) — As the cold bite of the December air graces the foothills of the Wasatch Front, little is occurring within the gates of Salt Lake City's Hogle Zoo. Snow covers most of the area early one Wednesday morning, and not a single soul is seen walking the grounds in search of a particular habitat.
Despite the brisk weather, however, operations at the zoo must continue as normal for the sake of the various animals kept within.
Over toward the eastern side of the grounds, Eric Peterson works with a pair the zoo's African Elephants. With the only spectators consisting of a couple of other keepers and a wandering rooster, Peterson interacts with the elephants in an extraordinary manner. As the magnificent creatures lumber over to him, they react to commands with an immediate response. Christie, a 27-year-old elephant brought to the zoo in the '80s, is checked from head to toe as she lifts her feet into the air. The sight of the elephants in such a snowy scene is surreal and unusual, but the connection between Peterson and Christie stands outs.
"Elephants are big, strong creatures that have the ability to change people's lives," Peterson said. "They changed my life."
Peterson, who commutes from American Fork each day, works as the zoo's elephant manager. Along with overseeing the care of the three elephants, he is also affiliated with the zoo's rhinoceroses. This job is not his first regarding animals, and the fascination for their care began at a young age.
"I always have had a love for animals," Peterson said. "I grew up with dogs and when I got older I started with reptiles."
Upon coming back to Utah County after moving away as a child, Peterson's interest in animal care started to flourish. He began to show dogs around age 20, and in 1992 he took his first job at Hogle Zoo as a volunteer. This service eventually led to a job in the zoo's nursery, where he started by raising cougar cubs and eventually a wide assortment of animals.
---
Elephants are big, strong creatures that have the ability to change people's lives. They changed my life.
–Eric Peterson
---
"After I worked in the nursery I was a relief keeper for a year and a half," Peterson said. "I worked in all the areas around the zoo, so I got experience in what I wanted to do and didn't want to do."
It wasn't until one of the keepers went on leave that Peterson found his interest in elephants. Ever since then, however, his connection with the animals has grown strong.
Working in six-day intervals, Peterson works on a number of different levels with each elephant and rhino. Every morning the habitat must be cleaned and each animal fed. Daily baths are required and sometimes some medical checkups. The elephants must also receive one-on-one time with Peterson so that he can work out both their muscles and brain. These exercises are quite important to an elephant's health in a zoo.
Although the animal's care is the top priority for the keepers, there is most certainly another part of the job that holds an extreme importance.
"Zoos play an important part not only in a community but worldwide," Peterson said. "Zoos are very important for giving people an opportunity to see animals that they may never see and raising awareness about how important those animals are."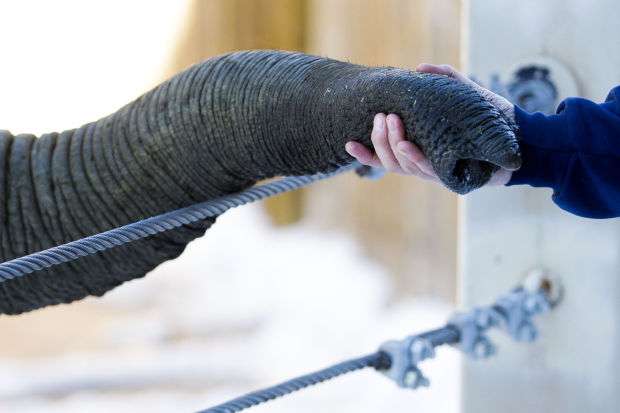 According to Peterson, about 25,000 elephants are killed every year in the wild. With an estimate of only about 400,000 left, there is a distinct possibility that within 20 years the species could be extinct. Peterson believes that the most rewarding part of his job is being able to educate and interact with people in relation to the animals. An increased connection within the public to both elephants and rhinos is vital to their safety.
"The way you educate people is to entertain them," Peterson said. "You can't just throw education at them because they won't listen, but if you can entertain them and throw in education then you can do it."
This is a big part of the job for zookeepers. During the summertime two demos are held each day for the visiting public to view an interaction between humans and elephants. During this time, information is provided about the species and their endangerment.
"I look at our elephants and rhinos as ambassadors for hopefully saving the species," Peterson said.
Peterson continues to expand his knowledge about elephants by attending national conferences and hopes to become a certified instructor for teaching others about their training. In 2009 Zuri, an elephant, was born into the zoo and was viewed as a huge success for the endangered elephants.
Three years later, Peterson cares for the young African elephant as well as its mom and the oldest elephant of the species in North America. As he maintains his work with the animals though, Peterson will surely continue to make an impact on their lives just as they have impacted his.
___
Information from: The Daily Herald, http://www.heraldextra.com (Copyright 2013 The Associated Press. All rights reserved. This material may not be published, broadcast, rewritten or redistributed.) 12/20/2013 2:51:15 PM (GMT -7:00)
×
Photos
Related stories
Most recent Utah stories