SALT LAKE CITY — Ten veterinarians watched closely as Utah's Hogle Zoo zookeepers performed daily training with Eli, a V8-juice-loving orangutan with a five-year streak correctly predicting the Super Bowl.
Zookeepers do behavioral training every day with Eli so he can help them care for him. He shows his teeth, sticks out his arm for blood drawing and puts up his arms for routine palpitations – a maneuver that actually helped zookeepers discover he had breast cancer.
"Through training and positive reinforcement you can actually teach the animals to be active participants in their health care," said Dawn Neptune, behavioral programs manager at Utah's Hogle Zoo. "We can teach them behaviors like opening their mouth to looking at their teeth, drawing blood, getting injections for medications, body positioning so we can do X-rays and hoof trims and all sorts of stuff."
The observing veterinarians were just 10 of more than 400 veterinarians from 27 countries that came to Salt Lake City for the 2013 American Association of Zoo Veterinarians 45th annual conference.
Hogle Zoo is hosting the weeklong conference, which runs through Friday, offering networking opportunities for specialists and bringing zoo veterinarians continuing education as was the case Sunday morning in a session with Neptune and Dr. Nancy Carpenter, the zoo's associate director of animal health.
"They were a really good group of people," Neptune said. "They asked great questions and had really diverse experience levels. We had one student from Taipei and one from Mexico, and we had some veterinary students, and then we had some vets from the world-famous San Diego Zoo."
The vets also got to work with the zoo's polar bear, porcupines, tamarins, tigers that got injections; a giraffe that got a hoof trim and seals and sea lions that had routine training, which the public can see three times a day.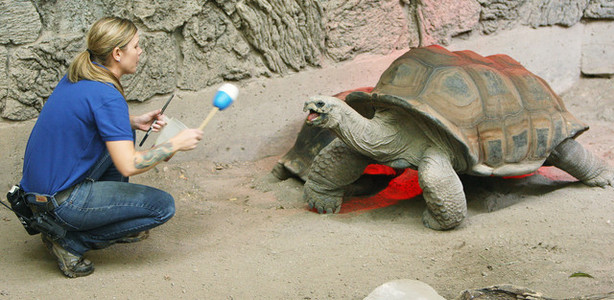 "We're really trying to get vets more exposed to the benefits of working with their keeper staff and training with the animals to facilitate some of those procedures," Neptune said.
Zoo staff said the zoo is ahead of the curve when it comes to training. As far as they know, the zoo was the first facility in the world to get a voluntary blood draw from a female gorilla through training.
The conference's daily sessions in downtown Salt Lake City focus on topics like emergency preparedness, nutrition and clinical medicine. Nearly 130 papers will be presented over the week and cover everything from hummingbird anesthesia to rhinoceros liver biopsies.
"In about in seven years time, 50 percent of your (medical) knowledge is obsolete, so it's imperative that veterinarians keep up with all of the developments in their field," said Robert Hilsenroth, executive director of the American Association of Zoo Veterinarians. "That's what this conference is all about."
Hilsenroth said the biggest thing attendees will come away with is knowledge, as well as the ability to apply cutting-edge diagnostic techniques, treatments and management.
"It's one of those things that people never think about," Hilsenroth said. "You go to the zoo and enjoy looking at the animals, and you never think of all that goes into maintaining the health and welfare of those animals. That's what we do, and we need to do the best job we can."

×
Photos
Related Stories