Estimated read time: 3-4 minutes
This archived news story is available only for your personal, non-commercial use. Information in the story may be outdated or superseded by additional information. Reading or replaying the story in its archived form does not constitute a republication of the story.
CINNCINNATI — A widowed man in Ohio thought of a creative way to keep his late wife's memory alive for their daughter when they had to say goodbye to the house they bought right before they were married.
Ali Nunery was just 31 years old when she passed away from a rare form of lung cancer in 2011. She was gone less than a year after her diagnosis and left behind her 1-year-old daughter Olivia and husband Ben.
Ben decided that he and Olivia needed to move to a bigger home in a better school district this past November. But he didn't want to let go of the memories he had with Ali in the house they bought right before they were married in 2009.
"I was just really looking for a way to say farewell to the house, and have some things that Olivia and I can have to ... remember the house," Ben told TODAY.com. "When Ali and I got married, we closed on the house the day before our wedding, so we did wedding photos in the empty house."
Ben approached his sister-in-law Melanie Tracy Pace, who took their wedding day photos, with an idea to take photos in the empty house with Olivia, just like he and Ali had done on their wedding day.
"(It was) probably the best idea he's ever had since knowing me," Pace wrote on her blog.
She enthusiastically agreed to the idea and had her husband, Adam, come and help her take pictures. The results are truly touching and beautiful.
"It immediately brought up memories of being there the first time," Ben said. "They were really good memories I cherish and want to remember. In a lot of ways, it felt like Ali was there; and doing that with Olivia I felt a closeness with both of them."
Pace said that she still feels Ali's presence all the time, and that Ali's token sign is always a feather. So when Pace took Olivia upstairs to her room to take some pictures, she directed Olivia to a spot by the window where Ali used to stand and rock Olivia and was stunned when Olivia bent down and picked up a white feather.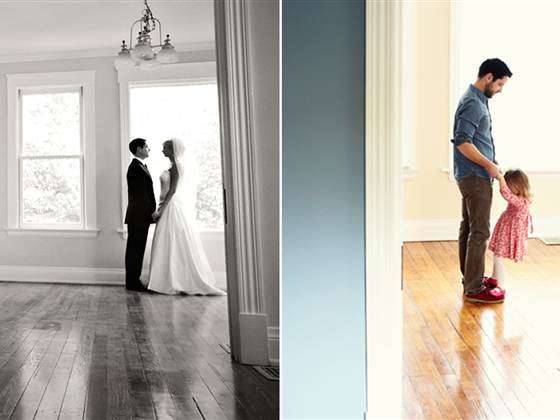 "It's almost like she was nudging me along as I was shooting, telling me which places to go and what to use as props," Pace told TODAY.com. "It was a very overwhelming feeling to have her so close even if she was not physically there."
As soon as Pace posted the photos on her blog, the reactions were swift and overwhelmingly positive. Ben took to his blog to write about the experience.
"Many people have asked me how I felt while doing that photo session. What I want them to know is that this isn't a story about grief and loss and hurt," he wrote. "Yes, I've gone through those emotions and still do but that's not what I want people to see in these photos. This is a story about love."
Ben said he's been touched by the outpouring of love that they've received since the photos have gone viral.
"Blown away, overwhelmed, shocked, delighted ... just some of the words that I would use to described how I'm feeling right now," Ben wrote on his Facebook page. "The truth is, it can't be put into words. Gone over two years and Ali continues to move people. To all those thousands of people posting comments and sending me messages ... from the bottom of my heart, thank you. It has meant the world."
×
Photos
Related links
Related stories
Most recent Family stories