Estimated read time: 2-3 minutes
This archived news story is available only for your personal, non-commercial use. Information in the story may be outdated or superseded by additional information. Reading or replaying the story in its archived form does not constitute a republication of the story.
ROCKVILLE, Washington County — Geologists with the Utah Geological Survey were quick on the scene of Thursday's rock slide in Rockville that left two people dead.
During the next few days, specialists will conduct an extensive investigation of the area to determine the size and type of rock involved and whether the cliff above the town has stabilized.
"Rock slides are relatively common in Utah," said Steve Bowman, the Geologic Hazards Program manager for the Utah Geological Survey. "They commonly occur on these steep, rocky slopes where we have these cliffs."
And Rockville has certainly seen its share of slides.
"In Rockville there's been almost one every year, at least a small one," Bowman said. "And every couple of years, a much larger rock fall."
Bowman said the most likely cause of this slide was the freezing and thawing of snow and ice that worked its way into the cracks, which then expanded, causing the rocks to dislodge.
State geologists were able to view the Rockville slide area from a helicopter, and they believe the area is still active, according to Bowman.
"Our geologists were able to get up into the air and get a bird's eye view and found boulders visually that looked like they could come down the slope. So we're probably not out of the woods yet," Bowman said.
There have been a number of close calls involving falling boulders and humans in Utah as cities and towns are growing across the Wasatch Front.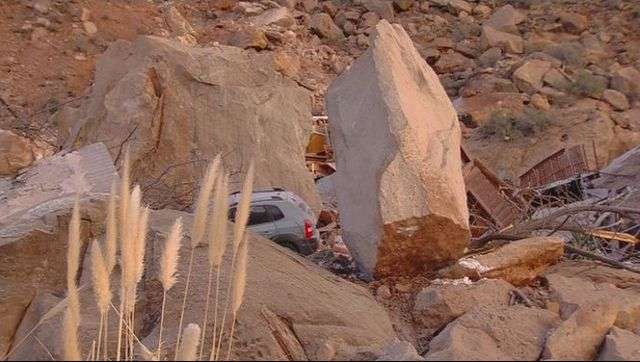 In 1995, and again in 1999, boulders came loose and rumbled down a hillside into a neighborhood near Y Mountain in Provo, causing extensive damage to a house. In this area, the homes were not directly beneath a steep cliff, but big rocks were nearby.
"The rock that's exposed can be very far away from these homes, giving a false sense of security to these people," said Jessica Castleton, a geologist with the Utah Geological Survey." But these rocks can travel very far distances if they break off and pick up a lot of speed as they're coming down the mountains."
The Utah Geological Survey has studied and mapped rock fall and slide areas for years. Each new event, such as Rockville, provides valuable information.
"These events can help us determine what causes these rock falls, how large they can be, if they tend to be a smaller scale in certain areas or larger scales in other areas, as well as their triggering factors (and) if they occur with freeze-thaw events or precipitations events," Castleton said. "Sometimes rock fall occurs with no obvious triggering factor. So to try to determine when they're most likely to occur is one of our main priorities."
×
Photos
Related stories
Most recent Utah stories