Estimated read time: 4-5 minutes
This archived news story is available only for your personal, non-commercial use. Information in the story may be outdated or superseded by additional information. Reading or replaying the story in its archived form does not constitute a republication of the story.
TOOELE — There's something new in the air over Tooele and city officials believe it is going to save lives.
"It's going to save lives and it's going to make our community a safer place," said Tooele Mayor Patrick Dunlavy. He welcomed a new aerial safety net to the city on Tuesday, with a partnership between the city and University of Utah Health Care.
AirMed, the U.'s medical transport program, will now base one of its air medical helicopters in Tooele, to eliminate the up to 20 minutes of travel time it takes to fly to the city from Salt Lake City.
"We see people on the worst day of their lives and knowing we can get there that much sooner to provide the critical care they need is good," said AirMed flight nurse Amanda Lawrence. She said outcomes are not always favorable, but at least they can give victims a fighting chance.
AirMed's approximately 150 employees — including nurses, paramedics and pilots, as well as program management — transport about 2,500 patients each year with its fleet of five helicopters and two airplanes based throughout northern Utah and Wyoming. About 200 to 225 calls come from the Tooele valley and surrounding regions.
With Tuesday's inaugural flights for city officials and the media, Tooele became home to AirMed's sixth base, joining similar remote operations in Park City and Evanston, and hospital-based endeavors in Payson, Ogden and at the University of Utah.
The helipad, emblazoned with a bright red "U," sits on a corner of 5.5 acres of land the city recently purchased with plans to build a new fire station for its volunteer team when it outgrows its current facility behind city hall. The new AirMed base, at 145 E. 1000 North, will be staffed with a flight nurse, a paramedic and a pilot, and one Bell 407 helicopter 24-7.
"I like to think that we make a difference," Lawrence said. AirMed promises to be off the ground within 10 minutes of receiving a call, but it is often sooner, she said. "But safety is our top priority, not only in getting patients from point A to point B, but keeping ourselves safe as well."
---
Hopefully none of us ever have to use this, but isn't it great knowing it's there?
–Mayor Patrick Dunlavy, Tooele
---
Weather and wind conditions also play a part in arrival times, even grounding flights completely at times, Lawrence said.
In the 40 years since AirMed was established, its pilots have crashed twice, in 1983 and in 1998, both of which were weather-related. In all, the organization lost four crew members.
Life Flight, the air transport team for Intermountain Healthcare, has also had two fatal crashes in its 35-year history, both in 2003, one of which was weather-related and en route to pick up a Wendover crash victim.
"Having the aircraft in Tooele is going to allow us to provide that care to the citizens there and in the surrounding areas in a more timely manner," said Frankie Hurst, program manager for AirMed. Until now, AirMed has responded to calls in Tooele from its University of Utah base, which "takes them at least 20 minutes to respond," Hurst said. "Twenty minutes in a life or death situation could mean someone's life."
The helicopters provide urgent critical care for patients needing attention for a variety of issues, including emergency trauma situations, burns, pediatric medical incidents and high-risk pregnancies.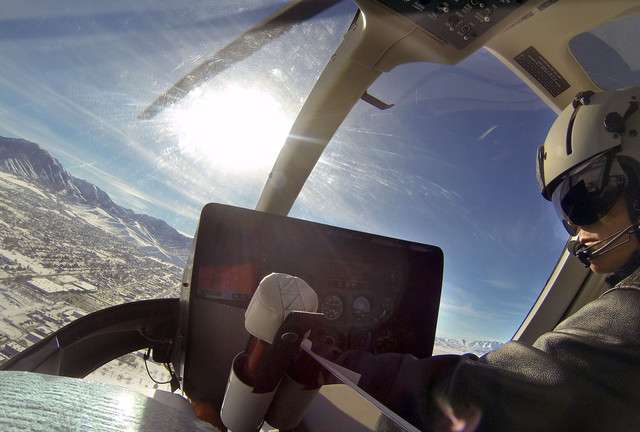 AirMed transports about 10 percent of calls that originate in Tooele to the city's own Mountain West Medical Center. The remainder of patients picked up along the Interstate 80 stretch and beyond are taken to other hospitals, including University Hospital, which is one of two Level 1 trauma centers in the state. In the past 12 months, the organization has teamed up for patient care with 185 different hospitals, police, fire and emergency medical services agencies.
"Air access allows us to better meet the needs of this community," Hurst said, adding that the partnership, resulting in a conditional use permit issued by the city, has been in the works for more than a year.
"When we made this decision, we had one thing in mind and that is the well-being and safety of our community — the citizens who live here," Dunlavy said. "Hopefully none of us ever have to use this, but isn't it great knowing it's there?"
×
Photos
Related links
Related stories
Most recent Utah stories