Estimated read time: 3-4 minutes
This archived news story is available only for your personal, non-commercial use. Information in the story may be outdated or superseded by additional information. Reading or replaying the story in its archived form does not constitute a republication of the story.
SALT LAKE CITY — Eight-year-old DoJah, a pit bull mix, wriggled on her back and waved her paws in the air while getting used to wearing a black sweater from the Blue Sky Institute's annual community coat exchange Friday.
DoJah's owner, Elric Damon, said his beloved traveling companion had been getting cold since leaving San Francisco. When he spotted the tables piled with donated coats and sweaters at Library Square, he eagerly chose one for his dog.
Damon, passing through Salt Lake City on his way to New Mexico to see his 3-year-old daughter for the first time in a year, didn't take anything for himself. Pointing to his backpack, he said he had plenty of warm clothing.
"She's been cold. She knows what it's for. It'll keep her warm," Damon said as DoJah finally settled down and snuggled at his feet for a few moments in the sunny plaza outside the Salt Lake City Library.
The pair, accompanied by several friends from the road including an accordion player, were among more than a dozen people who stopped at the Black Friday coat exchange to pick out cold-weather gear.
Goel Gonzelz, a day laborer who arrived in Salt Lake City eight months ago, showed off his find, a green parka with a gray fleece lining that fit perfectly.
"Better for the cold. It's cold. It's freezing," Gonzelz said as he pulled the coat tighter. "I live outside. But no more." He said he planned to seek out a bed in the homeless shelter.
Gonzelz arrived even before the giveaway started at 10 a.m. after hearing from friends on the street about the annual event. "I believe there are good people here. They have a good heart," he said.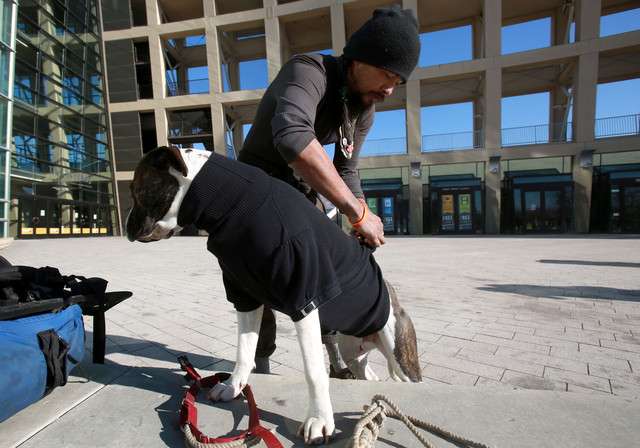 For most of the three-hour event, volunteers outnumbered participants.
Organizer Deanna Taylor, head of the small non-profit that has sponsored the annual coat exchange since 2005, said the plaza was unusually quiet because the library was closed.
Even so, Taylor said the volunteers, which included several families and a group of students from the Oakley School in Summit County, still were able to make a difference on a day usually devoted to shopping for bargains.
"I don't buy anything on Black Friday," said Taylor, a director at City Academy, a downtown charter school. "I feel there is such madness is getting people to buy stuff."
Taylor said the coat drive teaches students and other participants the value of reducing, reusing and recycling their purchases as well as of helping the less fortunate.
Isabelle Boyd, 13, of North Salt Lake, came to help out at the event. Boyd said she'd probably be out shopping with her friends had her aunt and uncle not asked her to come along with them.
"Some things are more important, to help people," Boyd said after straightening out the piles of donated goods. "It's kind of sad they don't have a home to come to for the Thanksgiving holiday."
Her aunt, Emily Daughton, also brought along 9 1/2-month old Kessie. Daughton said it was important to her and her husband, Ethan, that Kessie learn the importance of giving back to the community.
"She'll know. She'll know when she's older that we did this stuff," Daughton said.
The coats and sweaters that weren't distributed Friday were expected to be dropped off at the Crossroads Urban Center as well as at a refugee project. Some were taken to Pioneer Park to be handed out there to the homeless.
Taylor also had $40 in cash to donate to the Crossroads Urban Center, given to her by a women crossing through the plaza on her way to the Dead Sea Scrolls exhibition at The Leonardo.
Email: lroche@ksl.com
×
Photos
Most recent Utah stories