This archived news story is available only for your personal, non-commercial use. Information in the story may be outdated or superseded by additional information. Reading or replaying the story in its archived form does not constitute a republication of the story.
AMERICAN FORK — A church that has given to the community for nearly 150 years is getting a facelift with help from its congregation and neighbors.
For the last 15 years, the American Fork Community Presbyterian Church has undergone renovations and improvements to keep it functioning and beautifications to the interiors and exteriors. Currently, the small congregation is raising money to replace the sagging stained glass windows on the side of the church. And they are doing so with an old-fashioned bazaar, bake sale and quilt show this weekend.
The church was founded in 1877 and built in 1881, acting as the first schoolhouse in American Fork. In its 136 years it has acted as a place of worship and education, as well as a center for children with autism spectrum disorder. It also has its place in pop culture, as the church in the 1984 film "Footloose".
"Good news is it's a beautiful old building, but the bad news is it's a beautiful old building," said Pastor Alan Hammond.
As Hammond spoke Wednesday, he looked at a 2-inch triangular piece of stained glass that had come loose from its place in the bottom of the church's main window about five years ago, just after he started his ministry at the church. That, he said, was the motivator for replacing the old windows. In 2010, they replaced that window above the pulpit.
"The side windows are aged and starting to fall apart as well," he said.
Fundraiser information:
American Fork Community Presbyterian Church 75 N. 100 East, American Fork Thursday and Friday, 10 a.m. to 8 p.m. Saturday, 10 a.m. to 6 p.m. Bake sale, craft bazaar and quilt show Eat at Chick-Fil-A in American Fork on Monday, Nov. 11, and mention the church and they will donate as well. For more information, visit the event's Facebook page.
The fundraiser for the four side windows began when congregation member and Pleasant Grove resident Ella Lung approached the church leadership with her plan to raise the $11,000 they needed. Lung, an experienced quilter, said she would like to hold a quilt show to raise the funds. From there, it accumulated into the three-day event at the church.
"I think it's very encouraging to see how much one person with a vision and drive can do to help our small community, and in a sense help American Fork," Hammond said. "I think that is perhaps an important part of the story. Ella had the vision, she's put it together. We now have an incredible room of quilts to be shown and many to be purchased and all types of other crafts. One person does make an incredible difference. And sometimes, I think we forget about that fact."
The congregation of about 50 people and its regular visitors have raised funds for renovations and improvements in the past, and the congregation has raised most of the funds for this project as well. They recognize, however, the benefit of involving the community in the effort.
"It opened up our campus to the community and has gone from a little bit of an eyesore to a welcoming part of the community," Hammond said. "Next, it is a far more pleasant place to gather for worship, to open up for other people, there's an opera group that occasionally uses our sanctuary for concerts, things like that. And our large main stained glass window is a very large portrayal of Jesus … to have that there in the sanctuary, it really does draw the eye, draws our focus, everything we do, hopefully is and reminds us to be Christ-centered. I think the beauty of the art helps our worship and keeps us focused on Christ, which is what we're about."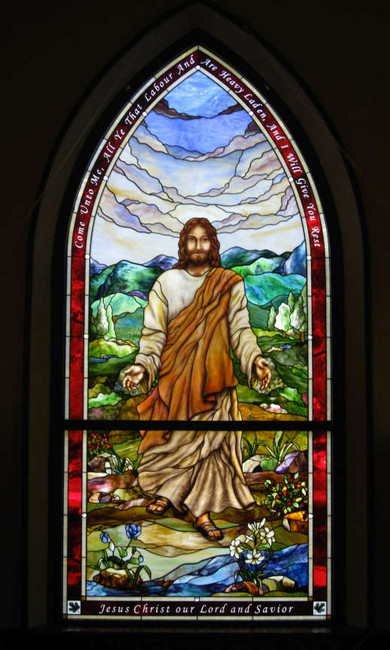 Lung, who attends the church with her family, said the church is special to her because of the role it has played in her life. She was married there 26 years ago when the church still had red shag carpet and red velvet cushion on the pews.
She said when she heard that the church needed to raise money for a new project, she knew she wanted to help.
"I love making quilts and I love helping people and I love, love, love that church. It's such an awesome building. The building inspired me," Lung said. "I think it's just a wonderful piece of history in the community. It's not the same as every other church around. I think its historical value and its architectural value is beyond any value of money."
As Lung set her plans in motion, she said the community reached out to help the church she loves. Together, they have made about 25 quilts. She has quilted at least 23 of them herself over the last two months.
Lung and Hammond said the community has helped the congregation in the past with improvements and it has been a positive experience each time.
"It really is both us trying to maintain this historic part of the community, but also the community has responded wonderfully and helped us in these various projects as well," Hammond said. "(It's) absolutely wonderful. I think it's important to mention that people are very supportive, very willing to help out. That's really an encouraging sign."
This time was no exception. Women from all over American Fork donated their time to sew and bind the quilts, one woman who was shuttering her quilting store even donated $1,500 worth of fabric, Lung said.
"Everyone around is LDS and I think it's great that we have others around to build a community, not just one type of faith," she said. "The community has been so awesome in coming together and helping us. It's been a really spiritual experience to come together as a community and not just as a faith. It just put me and the other ladies who showed up in tears because they came to help us and we're not LDS. They've really, really reached out."
The fundraiser begins Thursday and runs through Saturday at the church.
×
Photos
Related Links