SALT LAKE CITY — Halloween is approaching and with it brings the stress of picking out the perfect costume. For those with kids, finding great costumes for the whole family can add an extra layer of worry during the month of October. Heading to the stores and buying a get-up off the rack may be easy, but for those with more than one child, the cost of store-bought costumes can add up quick.
The thought of homemade costumes can throw some of us non-creative types into a deep depression. Sewing is a wonderful craft for those with the knack, but for those without, it can be a source of serious nail biting. While sewing a homemade knight-riding-a-horse costume might not be in the stars for all of us, most have enough accessories laying around the house to put together a decent homemade costume without ever having to break out the sewing machine or heading to the store.
Elephant
A baby elephant is cute in any circumstance, but one walking around on Halloween is sure to please. An elephant costume is easy to construct from household items. Most kids own a pair of grey sweat pants or a grey hoodie. If a grey shirt is available, simply cut out a pink oblong circle from construction paper and tape, pin, or glue it to the tummy area. Cut the ears out of construction paper and color them grey with crayons, markers or paint. The ears can be attached to the hood of a sweatshirt.
If no grey clothing is available, try using silver duct tape over a pair of pants or a t-shirt. Be careful to cover the cloth areas entirely but not to leave any of the adhesive sides exposed. Also, clothes that are covered in duct tape will most likely not be useable again, so grab something old that can be thrown away after Halloween.
Paper Doll
A paper doll costume requires only paper, not cloth or other expensive materials. If there happens to be a few sheets of poster board around the house, you'll be good to go. Construction or computer paper will work in a pinch, but stiffer paper will hold the shape of the doll better.
History of Halloween costumes
---

Ancient European Celts are said to have worn animal skins to confuse spirits and avoid being possessed on Samhain eve—what we know as Halloween.
On this night, costumed Celts were supposed to have gone door to door asking for food and drink, a precursor to modern day trick-or-treating.
Info taken from National Geographic.com
A step-by-step tutorial on the popular craft blog Spoonful walks costume-makers through the process. A paper doll costume is a good one to make with the kids, as there is a fair amount of drawing, gluing, and taping involved. This costume is both fun and easy, allowing makers to completely customize the design and look of the get-up.
Pirate
Ahoy! A pirate costume is sure to please any child heading out for a night of trick-or-treating. The assembly is simple and requires little actual crafting. Start with an oversized white button-down shirt, a few sizes too big. For an easy pirate vest, cut the sleeves off an old t-shirt, cut the middle section of the shirt in half, and voila—a vest ye have. For pirate vest photos, check out this DIY pirate costume tutorial on kidoinfo.com.
No pirate costume would be complete without some sort of dashing headdress. A paper pirate hat is a simple project, or make things even easier and use an old bandana. Accessorize the costume with gold jewelry and scarves, and set out of a night of high tides and daring sugar intake.
Cowboy/Cowgirl
For the lil' partner in the family, nothing says Happy Halloween like a Western-themed costume. A good cowboy or cowgirl getup relies on three key items: a hat, a button-down (preferably plaid) cotton or flannel shirt, and a pair of Western-looking boots. While we might not have all these items laying around the house, there are ways to fake it so they look like the real deal, but are actually forgeries.
If a good Western-looking 10-gallon hat isn't something you have on hand, make one out of paper. There are many fun tutorials online, including this one that explains how to make a cowboy hat out of papier-mache.
For the Western shirt, bold, bright colors work best. Most kids have a button-down shirt on hand, but if not, a neighbor is sure to have one that could be borrowed. Classic cow folk wore flannel and plaid was always en vogue in the Wild West.
Boots may be harder to come by. For the urban cowboy, boots can be made out of brown paper bags. Cut out the shape of a boot times two, let the little cowboy or cowgirl decorate it, and then tape or glue the cutouts along the sides of a pair of jeans to give the illusion of boots.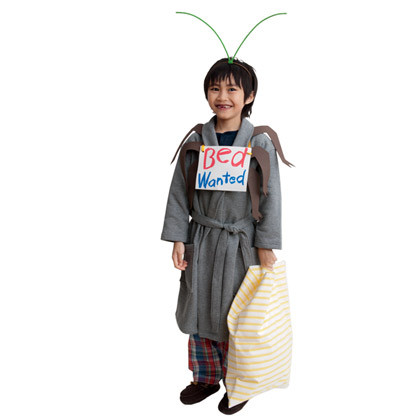 Bed Bug
Nothing is scarier than a bed bug, especially a 3- or 4-foot tall one. This costume comes together simply and will be sure to draw some laughs. For the costume itself, use any set of classic looking pajamas or a bathrobe. Use a grease pencil or some eyeliner and smudge some dirt marks on the face to really sell the costume.
To create the 'bug' part of the bed bug, simply make some antennae with green or brown pipe cleaners and attach them to an old plastic headband. If no headband is available, attach the pipe cleaners to a band of paper, made to fit around the head.
A tutorial on Spoonful shows some creative extras to really punch up the comedy of the costume, including a sign that says, "Bed wanted".
Halloween shouldn't be a time to stress out. Costumes can be made at home out of everyday items and look just as fun and creative as the ones bought in stores for lots of dough.
×
Photos
Related Links
Related Stories