LEHI — Rachel and Jeff Whitchurch were excited when they found out they were expecting their second child. After five years and three miscarriages, the couple was more than ready to welcome another son into their family.
The Whitchurch's first son was born at 35 weeks, after Rachel's water broke unexpectedly. Doctors assured the parents the event was a fluke and there was little to worry about with their current pregnancy. However, the day the baby reached 28 weeks gestation, Rachel's water again broke early.
The couple rushed to Timpanogos Regional Hospital in Orem. Rachel was immediately checked into the labor and delivery unit and was told the baby could be born at any time. A birth at 28 weeks could mean any number of health problems for the baby, and the Whitchurch's braced themselves for the worst.
"We had multiple doctors, nurses, and specialists talk to us and warn us of the risks and problems that we should expect if our baby was born that day or the next," Rachel said.
Doctors put Rachel on bed rest in the hospital and gave her steroids to help the baby's lungs grow. She was also given medication to stop the contractions. The neonatal team told Jeff and Rachel that the baby would most likely be born within the next couple of hours or days, but the hope was to have him stay put for at least 48 hours.
---
After two days we were told that the longest we could hope for would be a week and if we lasted 10 days it would be a miracle.
–Rachel Whitchurch
---
"After two days we were told that the longest we could hope for would be a week and if we lasted 10 days it would be a miracle," Rachel said.
The doctors told the couple that every day the baby could stay inside Rachel was worth 3 days he wouldn't have to spend in the NICU.
"I was being given the opportunity to sit in a hospital bed so he didn't have to," Rachel said. "All the pain, loneliness, stress, fear, needles, medicine, etc., was worth it because I could take my child's place."
Rachel defied all odds and spent the next 39 days, over five weeks, in the hospital. She was on almost solid bed rest. She said the days were long and at times tedious, but knowing what she was doing and why she was doing it kept her going.
"If he had been born at 28 weeks, he would've been in the hospital for months and months feeling scared and lonely, being poked by needles, trying to grow and develop his little body into what it needed to be," Rachel said.
Dr. Mark Saunders was Rachel's OBGYN. He said her case was unusual.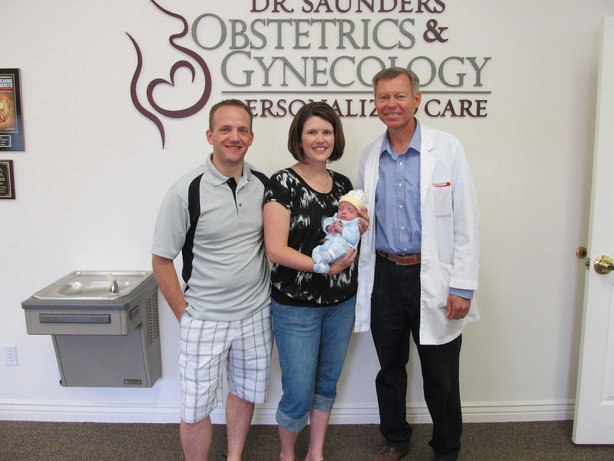 "She was probably in the five percent of women who are able to keep the baby in the womb past seven days of the sack of waters breaking," Saunders said. "We gave her steroids to help with fetal immaturity and to help prevent infection."
Saunders said the biggest risk of early water rupture is infection.
"Infection can get into the uterus and can cause problems. Once the water breaks there is a much higher risk of infection," Saunders said. "In this case, there was still some fluid left in the womb so we had patience and and tried to gain as much fetal maturity as possible."
Saunders said he rarely prescribes bed rest, but in a case like this, there were few options. After Rachel spent five weeks in the hospital, Saunders delivered the baby via cesarean-section.
After spending five more weeks in the hospital after his birth, The Whitchurch's baby, whom they named Gideon, is now six months old and healthy and happy.
"With faith and prayers and amazing medical staff, our sweet little boy was born at 33 weeks instead of 28 weeks," Rachel said. "He was only 3 pounds when he was born, but he was healthy, breathing, and fighting from the beginning. My doctors called me and our little Gideon both miracles."
×
Photos
Related Stories