This archived news story is available only for your personal, non-commercial use. Information in the story may be outdated or superseded by additional information. Reading or replaying the story in its archived form does not constitute a republication of the story.
Autumn is a fun season in Utah. The weather is perfectly crisp, big orange pumpkins are ripe in the fields and children can spend hours choosing the perfect costume for Halloween. In recent years, corn mazes, pumpkin patches, hayrides and other fall activities have become increasingly popular ways for Utah families to celebrate the season.
From one end of the state to the other, here is a list of fun fall family destinations throughout Utah.
Cache County
1. American West Heritage Center
There are few destinations on this list that offer more fun family activities. Enjoy a corn maze, hay jump, giant slide, pony rides, BB shooting range, gourd launch, the Haunted Hollow and more. Visit during the Fall Festival on Oct. 18-19 for even more old-fashioned fun. Open Sept. 27-Oct. 31. www.awhc.org.
2. Little Bear Bottoms
Little Bear Bottoms in Wellsville is a family farm that transforms into a fun fall destination each year. It has three corn mazes, a hay fort, a spooky barn ride and a pumpkin patch. See for yourself if the Haunted River Trail is really "the best spook alley in Cache County." Opens Sept. 27. www.lbbcornmaze.com.
Box Elder County
3. Ebelleste Forest at Brigham City Bowling
Ebelleste Forest is a haunted miniature-golf course at Brigham City Bowling. It's a "nine-hole black light course featuring a haunted forest on the outskirts of an ancient castle." The haunted features are intended for ages 6 and up; parents are encouraged to use their own discretion. The Haunted Miniature Golf Course is available Sept. 13-Oct. 31. www.brighamcitybowling.com.
Weber County
4. Union Station
Related Stories:
Ogden's Union Station has several Halloween events on its calendar. For witches young and old, Union Station will host a Witches Tea Party in October. Dress up and enjoy Halloween-themed refreshments. Teens and adults may enjoy the ghost tours offered on weekends. Ticket sales benefit the Union Station Foundation. Date: Oct. 26. www.unionstation.org
Davis County
5. Black Island Farms
Black Island Farms in Syracuse is home to 26 acres of corn mazes — both haunted and not. Take a hayride to choose your own pumpkin from the field and enjoy family time in the play yard, where you'll find a petting zoo, corn slide, train rides, pig races and more. Open Sept. 27-Oct. 31. www.blackislandfarms.com
6. Frightmares
Lagoon's Frightmares puts a fun Halloween twist on Utah's favorite amusement park. Enjoy all your favorite rides, plus from a variety of spooky walk-through experiences. Choose among the not-at-all scary Spook-a-Boo Walk-Thru, the very scary Nightwalk or several in between. Character dining is also available. Open weekends, Sept. 20-Oct. 30. www.lagoonpark.com
7. Pack Farms
Pack Farms has been helping local families find their Halloween pumpkins since 1958. In addition to the pumpkin patch, there is also a hay maze. This is a popular destination for school groups and families because admission is free. The only charge is for pumpkins and other purchases. Open Sept. 28 - Oct. 30. www.packfarms.com
8. Pumpkin Haven
Related Stories:
Pumpkin Haven in Layton is a good place to find different varieties of pumpkins, plus kid-pleasing activities such as a bounce house, petting zoo, straw maze, corn box and more. This attraction is especially well suited for younger children. Open Sept. 20-Oct. 31. www.pumpkinhaven.com
9. Tri-City Nursery Straw Maze
This Kaysville destination antes up the interest to its straw bale maze by adding a "mystery clue hunt." Look for hidden rooms, clues and the maze mascot, "Skully." Pedal-cart racing, slides and other fun family activities are also available. Open Sept. 13-Oct. 31. www.facebook.com/tricitystrawmaze.
Salt Lake County
10. Crazy Corn Maze
The Crazy Corn Maze in West Jordan is celebrating 15 years, and this year it is bigger than ever. In addition to the corn maze, a pumpkin patch and a bigger and better Haunted Trail will be available. Open now through Oct. 31. www.utahmaze.com
11. Gardner Village
Witchfest is a beloved tradition for many Utah families. Enjoy witch displays or Breakfast with a Witch with the family. The Witches Night Out or Witchapalooza make a fun girls' night out. Tickets to special events may sell out quickly. Open Sept. 13-Oct. 31. www.gardnervillage.com
12. Petersen Family Farm
This working Riverton farm has a pumpkin patch, hayrides, straw pyramid, apple slingshot, mini corn maze and a petting zoo. Most of these activities are inexpensive or free. Open Sept. 28-Oct. 31. www.petersenfamilyfarm.com.
13. Pumpkin Point Farms
The goal of this family farm in Riverton has always been to provide good family fun for an affordable price. Eleven acres of pumpkins are priced by size, with small ones available for 50 cents. The small corn maze and hayrides are free with pumpkin purchases. Don't miss the historic tractor collection. Open Sept. 28-Oct. 31. www.pumpkinpointfarms.com
14. Pumpkin Days at Wheeler Farm
Wheeler Farm is a good family destination year-round — especially for young families — but Pumpkin Days are especially fun. In addition to the usual animal attractions, enjoy wagon rides, a hay maze and pumpkin patch. Vote for your favorite scarecrow at the Festival of Scarecrows. On Oct. 28, dogs and their families are invited to Bark-tober Fest. Open Sept. 28-Oct. 31. www.wheelerfarm.com
15. Harvest Season at This is the Place Heritage Park
Enjoy special autumn activities at This is the Place Heritage Park in Salt Lake City. During the day, fun activities including pony rides, a petting zoo and playground entertain families amid the historic buildings. Little Haunts is a special costume event for children that will be held Oct. 17-19. On evenings through October, the Haunted Village takes haunted houses to a whole new level. Open Sept. 3-Oct. 26. www.thisistheplace.org
16. Halloween Hoot at Tracy Aviary
On select dates in October, Tracy Aviary in Salt Lake City will host the annual Halloween Hoot. Enjoy a Halloween-themed bird show, scary story time, Halloween crafts and fun face paint. Visitors in costume get a 50 percent discount. Open select dates in October. www.tracyaviary.org.
17. Garden after Dark at Red Butte Garden
It's a botanical whodunit at Garden After Dark at Red Butte Garden in Salt Lake City. On select dates in October, this fun clue hunt features family activities, live performers and carnivorous plants. Wear your costume! Dates: Oct. 17-19 and 24-26. www.redbuttegarden.org
Utah County
18. Cornbelly's at Thanksgiving Point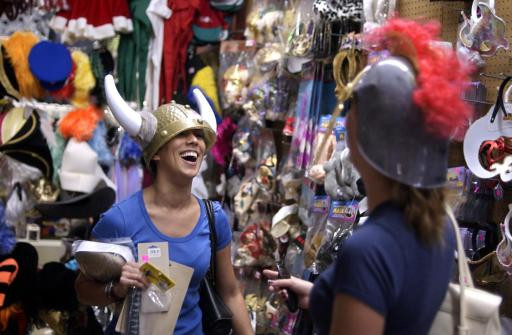 This is the corn maze that started the corn-maze craze in Utah. Cornbelly's at Thanksgiving Point is one of the biggest fall destinations in Utah, with too many activities to list here. The theme of this year's corn maze is "U vs. Y — Rivals Forever." Check Cornbelly's calendar for special events throughout the month. Open Oct. 4 - Nov. 2. www.cornbellys.com
19. Hee Haw Farms
Hee Haw Farms in Pleasant Grove offers lots of fun activities for all ages, in addition to its corn maze and pumpkin patch. Choose from the Haunted Hayride or Trick-or-Treat Hayride. Try your aim at Barnyard Paintball or the Rump Rope lassos. Little ones are likely to enjoy pony rides and the corn box. Open Sept. 27-Nov. 2. www.heehawfarms.com
20. Pumpkinland at Vineyard Garden Center
Pumpkinland has been a local tradition in Orem for 35 years. This year, come for the pumpkins and stay for the corn maze, inflatables, displays and Light Alley — a nonspooky spook alley. Come in costume for a discount. Open Sept. 30-Nov. 3. www.vineyardgardencenter.wordpress.com.
21. Rowley's Red Barn Pumpkin Patch
Look for the big red barn near Santaquin to find this fun pumpkin patch. Ride the hay wagon to the pumpkin patch, then choose your pumpkins and enjoy the photo ops while your kids play on the slide, straw pyramid and more. Cider and hot doughnuts are for sale back at the barn. Open Sept. 28-Oct. 30. www.southridgefarms.com
22. Country Farm Fest
Cowboy poetry, a dutch-oven cook-off, a treasure hunt and a pumpkin weigh-off are just a few of the events that will be held at this special event in Payson. This is fun family entertainment and a good way to teach children about where food comes from and life on a farm. Open select weekends in October. www.acountryfarm.com
23. Full Moon Lift Rides at Sundance Resort
The full moon will rise just before Halloween this year. Enjoy the full moon above and Halloween scenes below from the ski lift at Sundance Resort. Lift operators will be in costume, so feel free to wear yours. Open Oct. 24-31. www.sundanceresort.com.
24. Halloween Cruise on the Provo River
CLAS Ropes Course is offering a family friendly Halloween river cruise with more than 100 lighted jack-o'-lanterns, scary storytelling by the captain and a pirate attack. Large group reservations are available and walk-ins are welcome each evening in October. Open Oct. 1-31. www.clasropes.com
Summit County
25. Park City Howl-o-ween Parade and Ghost Tours
On Halloween Day, Park City will host a costume parade for dogs and their families on Historic Main Street. Show off both your family's and your pet's costumes and then trick or treat at local businesses. For older kids and adults, ghost tours are also available every night through October. Open now through Oct. 31. www.historicparkcity.org or www.parkcityghosttours.com
Sanpete County
26. Beck Family Farms
This family farm in Centerfield has been the place to find pumpkins in Sanpete County for 32 years. Choose your Halloween pumpkin from the field where it grows and then let the kids have fun in the straw maze. Beck Family Farms sells 57 varieties of pumpkin and 53 types of winter squash. Open now through Nov. 9. 435-979-4985
Duchesne County
27. Bluebell Corn Maze
Bluebell Corn Maze in Roosevelt is located in a rural part of the state, but its corn maze and activities rival the big ones on the Wasatch Front. Family attractions include a pumpkin patch, slides, goat walk, hayride, cow train, corn box, launchers and more. Creep Farm — a haunted cornfield — begins in October. Opens Sept. 21. www.bluebellcornmaze.com
Grand County
28. Moab's Pumpkin Chuckin Festival
If choosing your own pumpkin from the field is fun, launching it from a catapult must be awesome. This Moab event sponsored by the Youth Garden Project attracts visitors from all over the United States. In addition to flying pumpkins, attendees can enjoy vendors, live bluegrass music, costume contests and more. Date: Oct. 26. www.youthgardenproject.org/pumpkinchuckin
Sevier County
29. Corn Maze Company
The Corn Maze Company in Sigurd features two mazes, which come in regular and haunted varieties. It has a different theme every year; this year's is "Surprise!" Other fun family activities include a hay maze, slide, corn pit and train ride for kids. Open Oct. 4-31. www.cornmazecompanyllc.com
Iron County
30. Judd Pumpkin Patch
This pumpkin patch is nestled in the foothills of Paragonah. The hayride includes a tour of the farm and neighborhood, and if you're lucky you may spot deer or other wildlife as well. Lots of pumpkin varieties, a farmer's market and a petting zoo make this a fun destination for families. Opens Sept. 27. www.juddpumpkins.blogspot.com.
Washington County
31. Staheli Family Farm
With a corn maze, pumpkin patch, petting zoo, Field of Screams and more, Staheli Family Farm in Washington is the largest Halloween destination of its kind in Southern Utah. The farm also hosts special seasonal events, such as Breakfast with a Witch, Witches' Night Out and a Pumpkin Festival. Open Sept. 28-Nov. 2. www.stahelifamilyfarm.com
Do you know of another fun local pumpkin patch, corn maze or other fall family activity? Please tell us about it in the comments.
Allison Laypath is an expert on family travel and author of the family travel blog tipsforfamilytrips.com. With her family, Allison especially enjoys road trips, national parks and local field trips. Email Allison at allison@tipsforfamilytrips.com.
×
Photos
Related Stories