SALT LAKE CITY — The state of Utah is in the throes of rivalry week. BYU and Utah will face off in football this coming weekend in what will be the last installment of the rivalry until the fall of 2016. Pranks and goading abound, and some of us are just looking forward to Monday when the water cooler will be a place for refreshment, not for alma mater sports banter.
In the midst of the rivalry stand two iconic mascots. One is a fuzzy figure with cat-like reflexes. The other is a proud hawk with a big beak and a penchant for acrobatics. Both Cosmo and Swoop have interesting histories. The former has been around since the early 20th century. The latter is much younger.
Cosmo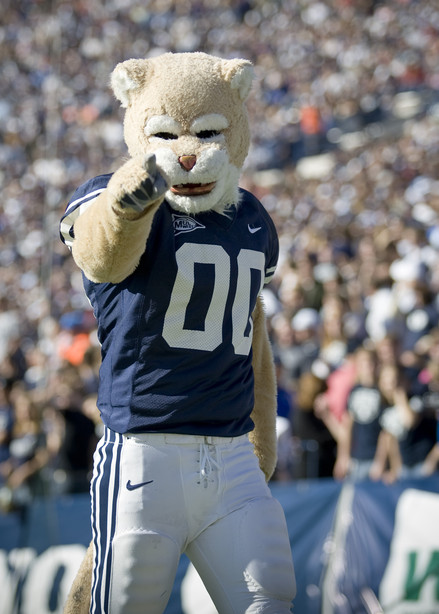 BYU restarted its football program in 1920 after a 20-year hiatus. Searching for a way to boost school spirit, administrators turned to local animal life. The cougar was chosen as the school's official mascot in 1924 when a school geologist captured two young cougar kittens and brought them back to campus.
The two youngsters were named Cleo and Tarbo, according to the site, and the nickname of 'Cougars' was given to the school's athletic teams. In 1953, school athletic directors came up with the version of Cosmo we know today.
"The brainchild of pep chairman Dwayne Stevenson, Cosmo supposedly got his name from the cosmic forces of the universe and was here to help increase the prowess of the BYU athletic teams," the site says.
Cosmo has made appearances at hundreds of events over the years. The human identity of Cosmo is kept a secret throughout the school year. In recent years, the demand on Cosmo's time has lead to the creation of two Cosmos, played by two different individuals.
Swoop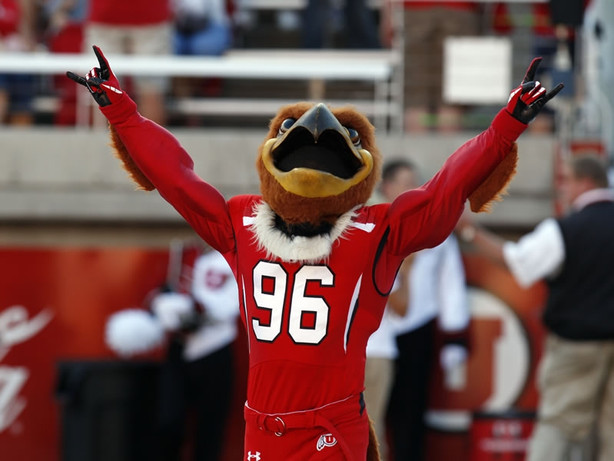 The University of Utah has been through a few mascots over the years. School athletic teams have been nicknamed "The Utes," a name used under the direct permission of the tribal council of the Ute tribe. Originally the university used an American Indian as the mascot for sports teams, but the figure was dropped in the 1970s out of sensitivity concerns.
During the 1980s, a character named "The Crimson Warrior" was used at football games. The Crimson Warrior would ride in on horseback before football games and throw a lance in a bale of hay.
In 1996 the school introduced Swoop, a red-tailed hawk, as their new official mascot. Red-tailed hawks are indigenous to Utah.
The school was given permission to use the hawk as its mascot under the express permission of the tribal council of the Ute tribe.
×
Related Stories